Lions handle Lyncs in four
LYNDEN — Loud and unable to communicate. It's just what the Lions ordered.
The annual rivalry match between the Lynden and Lynden Christian volleyball teams brought the usual intensity it does year in and year out. 
This time around, it was the Lions who were able to withstand the literal noise and find themselves on top in a four-set victory (20-25, 25-18, 25-16, 25-23).
With the win, the Lions improved to 3-2 while the Lyncs dropped to 2-3. 
Lynden and Lynden Christian went back and forth in the first set with the Lyncs clinging to a one-point 21-20 lead. Three consecutive errors from the Lions couldn't have come at a more costly time, as the Lyncs took a 24-20 lead and closed out the set on their next serve. 
"We served well and we passed well. We did a good job keeping Lynden out of system," Lynden Christian coach Kristy Van Egdom said. "They have great hitters, so any time you can keep them out of system it works."
The Lions stormed out of the gate in the second set, scoring the first nine points before the Lyncs had an answer. 
Lynden stretched its lead to 16-4 before forcing a Lynden Christian timeout. 
"We talked about being on a tightrope and when you're on one you can't pay attention to the crowd," Lynden coach Chris Elsner said. "You just have to focus one step at a time and they refocused, attacked and played our game."
Lynden Christian wouldn't just fold over in the second set. After the Lyncs' timeout, they rattled off a 13-5 run to cut the Lions' lead down to 21-17. 
The Lions closed out the set on a 4-1 run to even things up at one game apiece. 
"There's so many people and so much noise, so we just wanted to focus on playing as one for each other and being intentional," Lynden sophomore Ashley Shumate said.
Lynden found its rhythm in that second set and wouldn't lose it in the third. The Lions jumped out to a 7-3 lead and following a Lynden Christian timeout, went on a 5-1 run to go up 12-4. 
There was no slowing down as the Lions cruised to the 25-16 win in the third to go up 2-1 overall.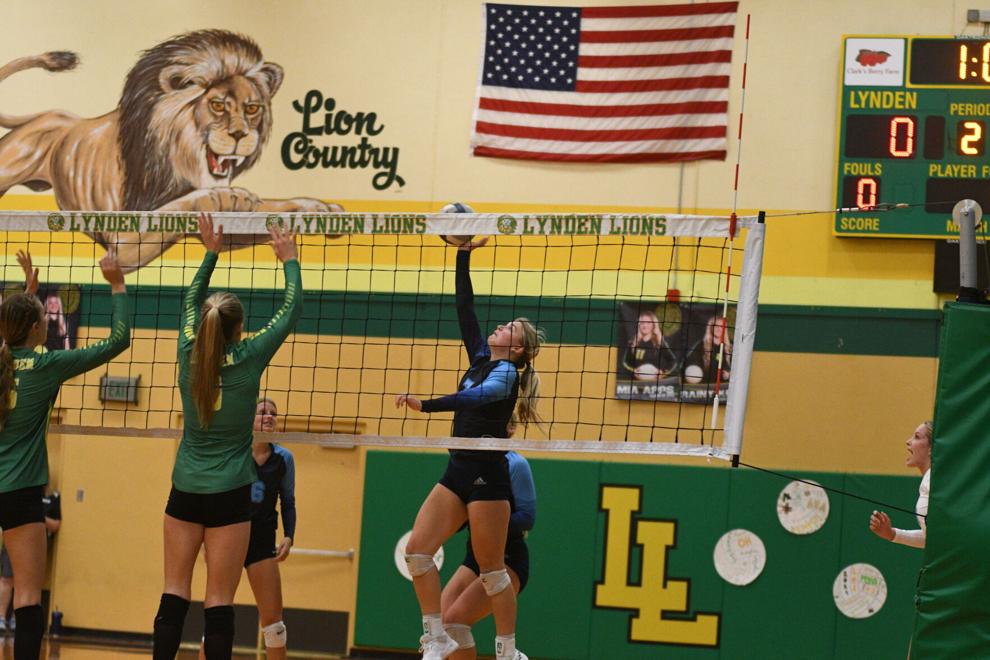 "We definitely struggle when we go from highs and lows throughout the game," Lynden junior Lucy White said. "If we just keep it consistent, high energy with a positive attitude it really helps us."
But what would a crosstown rivalry be without a little drama?
The fourth set was filled with points and runs traded all the way down to the last with neither team able to build a substantial lead. 
Tied at 8-8, Lynden Christian took the lead and held it through a 15-13 advantage. Lynden fought back to a 15-15 tie and the two teams took turns scoring until they were tied again at 21 all. 
A huge kill from Shumate gave the Lions a 22-21 lead and Lynden sealed the deal on the set and match not much later. 
"(Shumate's) really specifically been working on fast swings and it showed tonight," Elsner said. "She came out, swung fast and found the court."
Shumate had a career-high 24 kills in the match. Sophomore Haylee Koetje posted a double-double with 10 kills and 14 digs. White also set a new career-high of 14 digs to go with four aces. 
Being in different classifications and able to play each other every year, in the environment it fosters, only helps both squads. 
"This makes us better. Not being able to hear each other on the court makes us better," Elsner said. "We run to that kind of opportunity, it's awesome. I wish we could play them again."
Van Egdom said it's the atmosphere of the rivalry. 
"To be able to play under that pressure is a skill and you have to learn how to play there," she said. "We don't have a lot of returners and I think you learn a lot from a game like this, win or lose, to be able to play with that pressure of the fans, the town, just all of it."
Leading the Lyncs in kills was Reganne Arnold with seven. Reagan Schouten and Malia Johnson each had five. Sofia Rader led Lynden Christian with six aces.
The Lions will travel Monday to play Nooksack Valley and the Lyncs will host Sehome also on Monday.