Lynden gridiron speedster has a story to tell — a year after hamstring injury, Steven DiLorenzo runs 320 yards
LYNDEN ­— As soon as he felt the pop, he knew something terrible had happened.
Steven DiLorenzo, a 5-foot-7, 170-pound junior for Lynden, was playing the defensive line against Archbishop Murphy on Sept. 21, 2018. Going up against a lineman almost twice his size, DiLorenzo was pushed backward and tried to go down to one knee. 
But instead of his left foot planting, it slid forward in the wet grass and he ended up doing the splits. The Wildcats' offensive lineman fell on top of him and then the pop happened. DiLorenzo could tell right away it wasn't a blown-out knee or broken leg.
"I knew it was a hamstring. I just didn't think it was as bad as it was," he said.
DiLorenzo tried to pull himself to his feet, but his left leg wouldn't move. He had to be carried to the sideline. The next morning, he went to a physical therapist in town, thinking he'd be out of action maybe a month at maximum. The therapist told him he had to go see a doctor.
An MRI done the following day determined that DiLorenzo's hamstring muscle had been torn clean off one of his pelvic bones. 
It was just four games into the football season and DiLorenzo had taken over the starting tailback job, earned by breaking off an 85-yard touchdown jaunt on the third play of the game in the season opener.
Now the reality hit him that he would have to wait nearly a year to get back onto the football playing field.
"It was horrible," Di-Lorenzo said. "It was really hard, mentally. You just want to be better."
Surgery consisted of reattaching his hamstring to his pelvis with three screws. DiLorenzo was on crutches for the next three months and had to wear a brace that kept his leg from straightening all the way to prevent the hamstring from being stretched too far.
It wasn't until four months into recovery that he could lightly jog, starting with short distances a few times a week and slowly working up to once a day.
Lynden head football coach Blake Van Dalen was monitoring his star player's progress. "I'll never forget the first day he came to me and said, 'I can jog,'" VanDalen said.
He was making gains in recovery, but the thought still lingered in the back of his head: Would he ever be the same as he was before the injury? Would he have the same explosiveness? Doctors couldn't give him that answer.
"I was just trying to figure out how I was going to come back, and how my leg would be when I'm fully recovered," DiLorenzo said. "I was hoping it wouldn't ruin my performance and speed."
Six months after surgery, he was finally able to run. At about 10 months, he could finally sprint. But even then, he was terrified of what might happen. His worst nightmare was a reinjury and having to start all over again.
"It took me a while to get the guts to actually sprint," DiLorenzo said. "It was scary. You have it in the back of your mind that it could tear again."
When Lynden Lions spring football camp started in June 2019, he knew he still wasn't at 100 percent. He didn't have that burst that won him the starting tailback job a year earlier.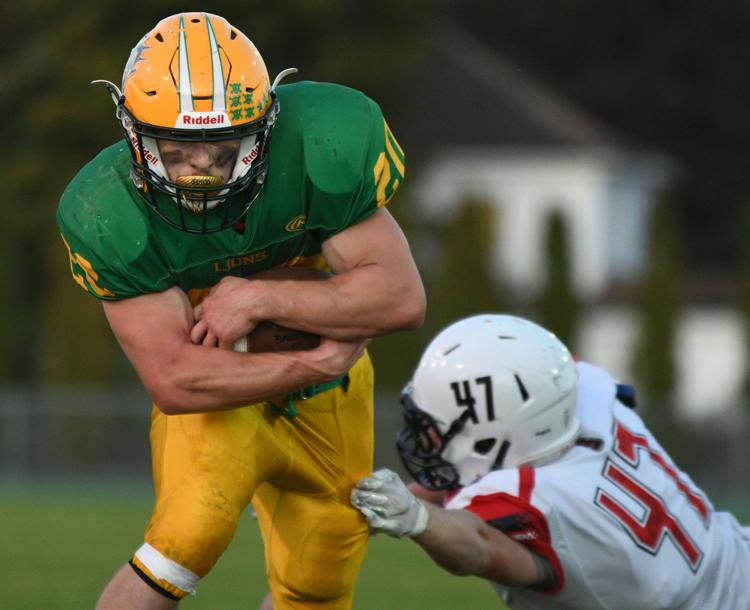 DiLorenzo still didn't feel back to full strength through the first two games of the current 2019 season either. Yet he managed to score two touchdowns and tally 78 and 92 yards rushing in the two games.
It wasn't until eighth-ranked Lynden's showdown with then-second-ranked Steilacoom on Sept. 20 that DiLorenzo finally felt like he was in peak condition.
It was now almost a year to the date, 364 days, since the injury. He felt so well that he told senior kicker Marko Samoukovic about it pregame.
"I was feeling really good coming into the game," DiLorenzo said. "My legs were feeling really good."
DiLorenzo took the opening snap of the game up the gut for a 30-yard run. He would go on to score on touchdown runs of 3, 14 and 65 yards. Everyone watching knew he was having an incredible game, but no one knew just exactly how spectacular until the Lynden coaching staff reviewed game film the next morning. 
The phone call that Saturday morning woke DiLorenzo up from a dead sleep. It was coach VanDalen. He had good news that couldn't wait.
VanDalen told his running back that his dominant performance the night before had reset the record books. DiLorenzo had broken the school's single-game rushing mark with a 320-yard performance. His average run was 12.8 yards.
The previous record holder, Nick Ellis, ran for 311 yards against Anacortes in 1996. What made DiLorenzo's achievement even more impressive was that Ellis had a fullback blocking for him, Ben Elenbaas. Lynden's offense now doesn't feature a fullback.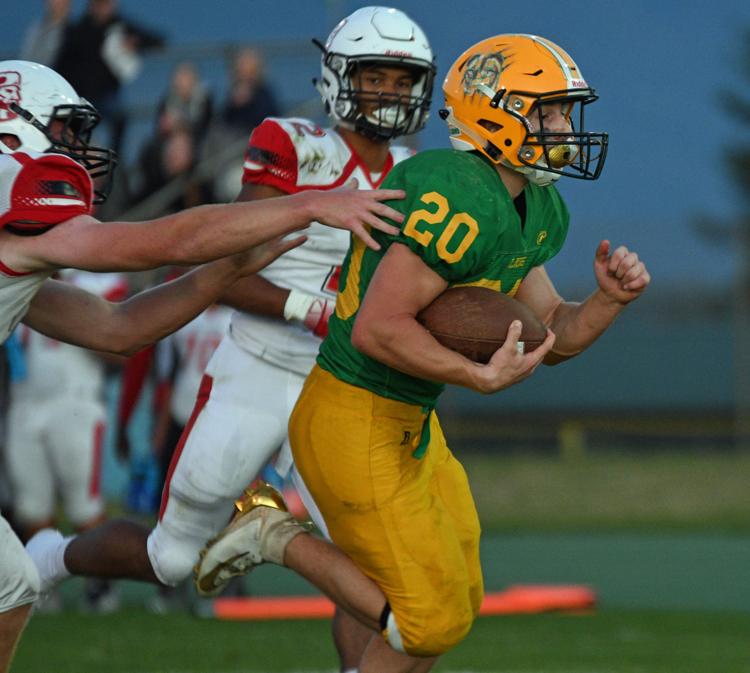 His year of hard work had paid off. But DiLorenzo doesn't credit himself for the success that night.
"The blocking of our offensive line was amazing," DiLorenzo said. "There were big holes that anybody could go through."
DiLorenzo now has accumulated 613 yards rushing and five touchdowns on 75 carries through four games. He followed up his record-breaking feat by rushing for 123 yards on 23 carries in a low-scoring win over No. 2 Archbishop Murphy last Friday, Sept. 27.
The Lions do not let him play defense anymore. He's too valuable offensively.
When coach VanDalen talks about what DiLorenzo brings to the team, it's his physical attributes that stand out, despite his smaller stature. And it's not just his 4.6 second 40-yard dash speed. He has a low center of gravity and pad level, is extremely fast, has strong leg drive and a devastating stiff-arm, is difficult to bring down and has great instincts, the coach says.
"Physically, he brings all the attributes you want in an elite running back," VanDalen said. "He has a God-given ability, but he matches that with extremely hard work."
And because of his size, he's hard for defenders to locate behind Lynden's massive offensive linemen, together totaling 1,265 pounds.
It all starts in the weight room for DiLorenzo, who began taking lifting seriously as a freshman when some of the upperclassmen took him under their tutelage and helped instill a work ethic that he carries to this day.
"I would not be as good as I am now without lifting weights," DiLorenzo said. "Lifting weights in football is a huge part of it."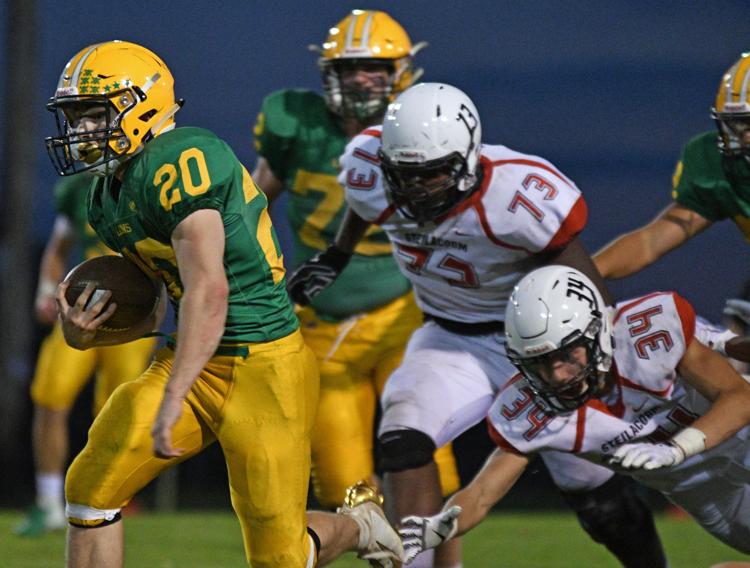 DiLorenzo is 15 pounds away from tying two of Lynden's all-time lifting records. He is second on the all-time bench press list at 355 pounds. He's tied for fourth on incline at 315 pounds with Bryce Sterk, a 2014 graduate who is now a 6-foot-5, 260-pound defensive end at Montana State University. 
"If you walked into our weight room, you wouldn't  notice him based on him being loud, telling stories or dancing," VanDalen said. "You'd notice him because, 'Whoa, who's that kid over there that's undersized but is lifting more weight than anybody else in the room?'"
DiLorenzo is a guy of few words, VanDalen says. He doesn't lead with talk, he leads by effort.
Lynden had another 120 yards of rushing besides DiLorenzo's 320 against Steilacoom, by quarterbacks Brock Heppner and Baylor Ayres. Who paved the way for the two QBs? DiLorenzo. He was the leading rusher and blocker that night.
His selflessness has earned the respect of his teammates. He puts his body on the line for his team and he knows they'll do the same for him.
"I don't know one kid on our team that doesn't absolutely love him," VanDalen said. "People want to block for him and people want to cheer for him."