Lions overcome slow first half to take down West Valley Spokane
MOUNT VERNON — Coming off a district championship win against Burlington-Edison last week, the Lynden girls basketball team had played one of its most complete games all season. 
The Lions that played in that game were seemingly absent for the first half of their regional matchup Saturday afternoon against West Valley Spokane, but Lynden turned a corner in the second half and played like the No. 1 team in the state. 
Easy layups were bouncing off the glass and not finding the net in the first half and the Lions trailed 12-8 after the first quarter. 
They couldn't get much going in the second quarter either and still looked out of sync, trailing 24-16, but all it took was one reminder from coach Rob Adams at halftime for the Lions to turn it around. 
"At the end of the day, we just did this a month ago in front of 3,000 people where we didn't play well and weren't able to readjust at halftime and we lost," Adams said. "Unless you want to have that same feeling again, take a deep breath and let's go play."
Senior Ruby VanderHaak drilled a 3-pointer to open the second half and that was only the start of what would become a 15-1 run. 
Junior Faith Baar hit a layup with 5:03 left in the third quarter to give the Lions a 26-25 lead they wouldn't give up. Lynden outscored West Valley 23-5 in the third quarter to gain control.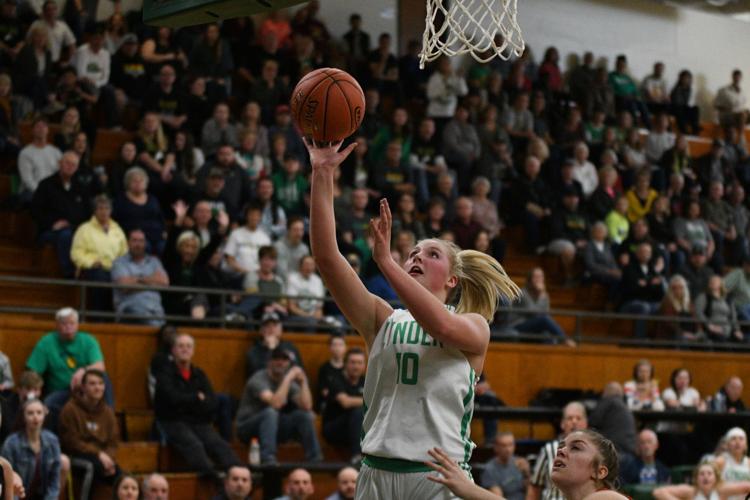 "In the first half, we were so wound up or tight with play that we just didn't play very well," Adams said. "We have a resilient bunch and they realized they didn't want to do 16 minutes like that, so we regrouped and I thought from the first pass of the third quarter we played pretty well."
VanderHaak scored a game-high 16 points in addition to two assists and two rebounds. Baar pulled down 11 rebounds and scored seven. Senior Liv Tjoelker scored nine to go with four rebounds and two assists. 
Adams said he didn't want to make excuses for the Lions' first half play, but he thought not playing in the last week had some impact. 
"We just didn't come out ready to go," he said. "We hadn't played in over a week and we looked like we hadn't played in a week."
VanderHaak said nobody on the team wanted the same result from the last time they weren't able to adjust at halftime. 
"Sometimes it takes a little [to get going] and we're glad we got it out here rather than Thursday," she said. "We just started attacking more and trusting each other to be there. We shared the ball and got everyone open shots."
The Lions next game will be at 10:30 a.m. Thursday, March 5, at the SunDome in Yakima. Getting the first day off isn't as important to Adams as it is to other coaches. He said playing the first day of the tournament gives teams an edge. 
"I think playing on Wednesday is huge," he said. "Statistically, the teams that win on Wednesday, it's like 70-78 percent of them get to Saturday and that's trophy day. You have an advantage because you're already over there."