Lyncs finish first week of the season 2-0
LYNDEN — Coming back to play at home for the first time in more than a year brought some jitters for the Lynden Christian volleyball team Thursday night taking on Sedro-Woolley, but those nerves wouldn't last long. The Lyncs found their stride by the second set and wouldn't let up as they beat the Cubs 3-0 in straight sets (25-17, 25-5, 25-18). 
Being back in their home gym was exciting, but given the new COVID regulations that have to be followed, it added on to the nerves already being felt, head coach Kim Grycel said. 
"Coming back home was at first a little bit stressful getting everything ready and going," she said. "It felt really fun to have fans and spectators and people in the gym. It's amazing how normal, but yet un-normal it felt to look across and see them. It was great. It's fun to get all the girls out there on the court."
The Lyncs and Cubs went back and forth in the first set trading points. Lynden Christian led 14-11 at a Sedro-Woolley timeout and found enough rhythm after to take the first set 25-17. 
Any adjustments between the first and second set were apparent immediately as the Lyncs took control from the start and cruised through to a 25-5 win to take a 2-0 lead.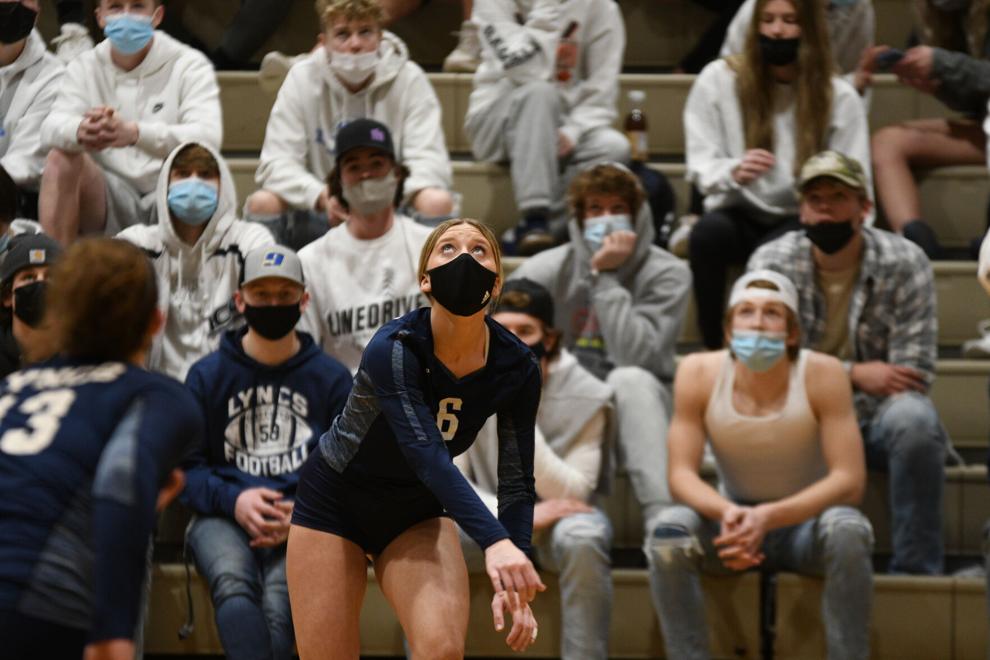 Senior outside hitter Liv King said the biggest difference between the first and second set was they were able to calm down as a team and play their game. 
"It was some girls' first home varsity game so with our fans here they got a little bit nervous," King said. "The second game we calmed down and realized we need to play at our level and not sink to anyone else's level."
Senior Emma VanderVoort led the Lyncs in kills with seven to go along with three blocks. Seniors Kenadi Fay and King both had six kills and Fay added 10 digs. Junior Reagan Schouten racked up five kills and five blocks. 
Senior Paige TeVelde dished out to her teammates all night long tallying 18 assists and added three aces.
"She's incredible," Grycel said of TeVelde. "She's always telling everybody what to do, always has a smile on her face and she has really helped, along with all the seniors, to make this season competitive and exciting, but yet understand the importance of them developing the players after them."
Serving has been an early strong suit for the Lyncs and Grycel said they were able to execute that well in the second set after minimizing their unforced errors from the first.
Lynden Christian picked up its second win in as many matches after beating Burlington-Edison 3-2 Tuesday night.
In the early going of the season Grycel said she likes the communication she's seeing on the court from her players.
"That's a lot due to my leadership I have out there," she said. 
In a normal year, the Lyncs would be working with the goal of capturing another state title, but with no state tournament this year, they've focused on development and getting to play with the seven seniors on the team.
"[We want] the kids in our program to get to spend time and experience life with these seniors and getting the seniors to switch from 'We're going to just win everything' to 'We're going to pass on a legacy of hard work and what it means and looks like to be an LC varsity volleyball player,'" Grycel said. "They've done a great job."
King said with only 11 games left in the season they just want to enjoy themselves and play to win. 
"This is going to be a lot of girls' last varsity games and last volleyball games," she said. "We're just trying to have a good time and play all out."
Lynden Christian will hit the court again Monday for its next match traveling to Mount Vernon for a 7 p.m. start.