BELLINGHAM – Lynden boys soccer surrendered four second-half goals in a 7-2 loss to Sammamish in the opening round of the district playoffs at Phillips 66 Soccer Park on Saturday.
The third-seeded Lions are still in contention and need two-straight wins to qualify for state. They take on No. 2 seed Bellingham at 7 p.m., Tuesday, at Civic Field in a loser-out match. A win against the Red Raiders (10-6-1) would set up a winner-to-state, loser-out contest on May 9 against the loser of Sehome-Burlington Edison.
On Saturday, the Lions (11-4-2) were no match for Sammamish's (6-10) physicality at the point of attack.
"This is our worst loss of the year," Lynden coach Drew Smiley said. "I don't know if we were ready for the physicality these guys brought up from the south. We just need to get a lot more physical. That's been the theme all year."
The Totems jumped out to a 2-0 lead with a goal in the 20th minute, followed by another just 30 seconds later to take an early advantage. It was a puzzling hole for the Lions to find themselves in as Lynden controlled play for most of the first half.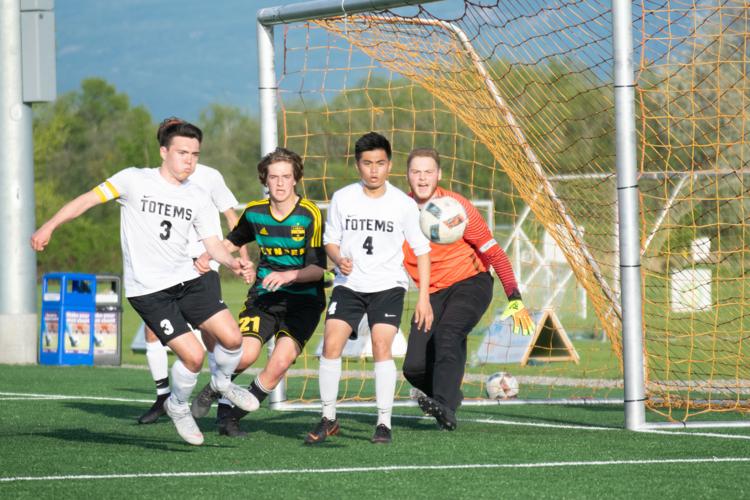 "I thought we were dominating the game at that point, even though we were down by two goals," Smiley said.
Senior defender Ethan Jamison finally got Lynden on the scoreboard in the 13th minute on a  cross from junior defender Damian Parris to make it 2-1, helping regain momentum for the Lions.
"I just timed my run good and had a good flick on it," Jamison said. "I was excited at the time, but it kind of switched after that. I was excited. I think it got the whole team riled up."
Parris then notched a goal of his own on a corner kick with four minutes to go before the break that evened the score at 2-2.
"We didn't really change anything," Smiley said. "The stuff just started going in for us."
The Totems responded less than a minute later with a goal in the third minute to regain the lead for good.
"We just kind of melted at that point," Smiley said. "We played well for the first half. Didn't put away our chances, then it ended up biting us in the back. Then we threw guys up and the score got out of control."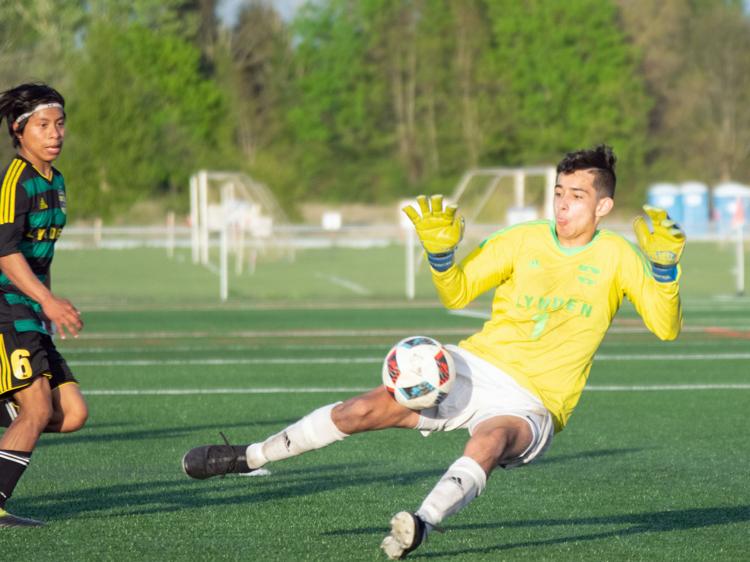 It was all Sammamish after that. Totems' freshman Anthony Suazo tallied back-to-back goals to start the second half, in the 30th and 25th minutes, putting Sammamish up 4-2. The Totems tacked on two more goals in the 17th and 8th minutes to put the game away.
Jamison said that first goal from Suazo after the half was the back breaker.
"Their goal kind of shook us up a little bit," Jamison said. "I don't think we kept the momentum going. We slowed down and that's kind of been a theme. We slow down and they speed up. We can't do that anymore. We just have to keep the momentum going at 110 percent."
Smiley said it helps they face a familiar foe in Bellingham next, a team they beat 1-0 in the season opener, but lost 4-1 to in the regular season finale on April 29.
"We're comfortable with them," Smiley said. "They're from our own conference. We need to beat Bellingham then win another game, so it's going to be tough."
Lynden looks to make its first state appearance since winning the 2A state title in 2011, a drought Smiley and his team are looking to break. Jamison said the turnaround needs to start against Bellingham on Tuesday.
"I think it's good for us because we know how they play, but they also know how we play," Jamison said. "We've beaten them before, so I think we have a really good chance of beating them again. We just have to come out with the right mentality."