Lions will play Lindbergh for 3rd/5th place Saturday
YAKIMA — Eight minutes was the difference in the semifinal matchup Friday night between the Lynden boys and North Kitsap.
The Lions were in control for the first three quarters and led 47-33 heading into the final quarter, but a different North Kitsap team hit the court for the final eight minutes. 
Lynden watched its 14-point lead dwindle as the Vikings shot 100 percent from the field and outscored the Lions 29-9 in the fourth quarter to hand them a 62-56 loss and strip away the Lions' chances at a three-peat. 
"They're a momentum team and once [North Kitsap's Jonas] La Tour got going from three, it's almost like it spread to everybody," Lynden coach Brian Roper said. "We struggled to score and couldn't make the free throw and missed some layups."
Up until the fourth quarter, the game was playing out how most of the Lions' games have this season. They were finding junior Liam Hanenburg and senior Brock Heppner inside which opened up the occasional 3-pointer. 
The Vikings were triple-teaming Hanenburg for most of the night, which left Heppner and the rest of the team open on the floor which led to easy baskets for the Lions. 
Scoring a team-high 17 points was sophomore Jordan Medcalf. Heppner and Hanenburg scored 16 each. Hanenburg also grabbed 11 rebounds for a double-double. 
Heppner drained a 3-pointer at the buzzer to give the Lions a 34-21 at the intermission.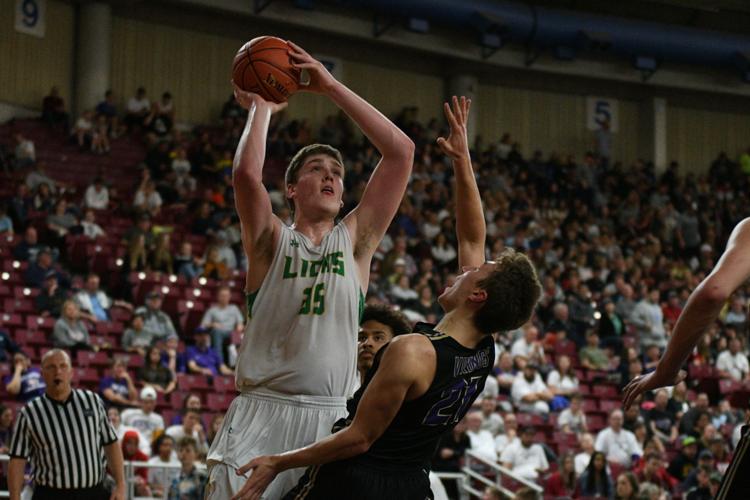 "We were able to get the shots we wanted and were doing a good job keeping them out of the paint and staying out on their shooters," Roper said of the first three quarters. 
Losing North Kitsap's La Tour in coverage ignited the Vikings' big run in the fourth quarter, Roper said. 
"After they hit a couple of shots it looked like a new team," he said. "Multiple guys were hitting threes, they were getting to the rim and perhaps we got a little bit tired. Sometimes you have to tip your hat. We've seen them do it to the first two teams they played, so we knew they had it in them. We just weren't able to get enough hands up on shots."
The Lions shot 42.3 percent from the field and 25 percent from 3-point range while the Vikings shot 47.8 percent from the field and a scorching 66.7 percent from beyond the arc.
Lynden will play for 3rd/5th place at 1 p.m. Saturday against Lindbergh. 
"Our guys are hurting right now," Roper said. "We'll give a good effort tomorrow and they'll make us proud like they always do."