Brock Heppner and Liam Hanenburg both with 21 points and nine rebounds
MOUNT VERNON — Before its district title game Saturday night against Lakewood, the Lynden boys basketball team was looking at a photo of a previous Lions team that won the district championship. 
The current Lions want to leave a legacy the way that team did, Lynden coach Brian Roper said. 
Capturing the district title with a 62-52 win over the Cougars is a good starting point for this Lynden squad. 
"We were just looking at team pictures this morning of a 1960 district title team with Howard Heppner, Bob Kildall and John Clark," Roper said. "We're proud to be part of that tradition and that legacy. Maybe 60 years from now, high school kids will look at [the 2020 team's] picture and say 'Hey, we want to be like this team.'"
It was close at the start with both teams mostly trading baskets for the first quarter. Lakewood, coming off an upset win over No. 1 ranked Burlington-Edison earlier in the week, didn't take any time off with its sharp shooting from anywhere on the floor. 
The Lions trailed the Cougars 16-13 after the first quarter. Senior Brock Heppner said the Lions briefly got away from their game plan in the first eight minutes. 
"We knew they were hot coming in off their game [against Burlington-Edison]," he said. "They hit some shots early, but we just had to settle down offensively and keep going inside. [We had to] just pound it into Liam [Hanenburg] early. Once we did that, it kind of opened up."
A 3-pointer from Heppner gave the Lions the lead with just over five minutes left in the first half. Lynden would hold the advantage for the rest of the game. 
Heppner and Hanenburg scored 21 points each to go with nine rebounds apiece, both game-highs, to lead Lynden. 
The duo of Heppner and Hanenburg in the paint has been a problem for opposing teams all season and it's hard to say if that'll change anytime soon. 
"Those guys are a good tandem. They play off each other well," Roper said. "Liam draws so much attention that it clears up space for Brock to be able to get through and to the rim. It's a tough cover between the two of them."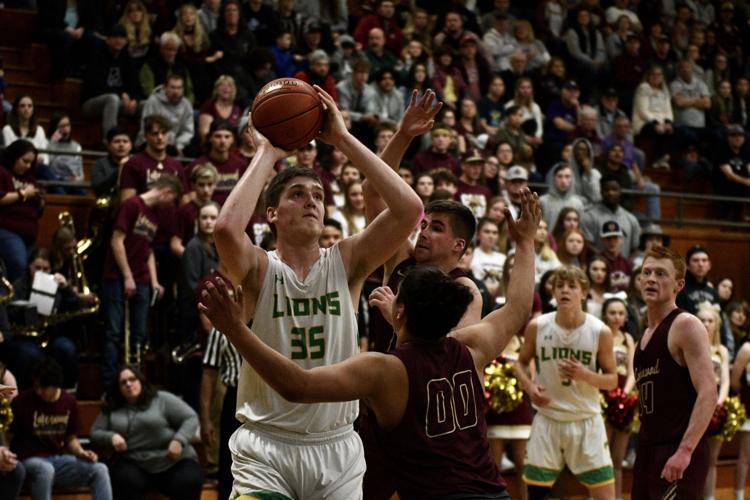 Heppner said it's a difficult matchup because, yes, Hanenburg is tall, but he also has the skill to go with it. 
"It's a nice luxury and you gotta use it to your advantage," Heppner said. 
Lynden held the Cougars to 21 percent (6-of-29) shooting from beyond the arc and 34 percent (19-of-56) overall. The Lions shot 25 percent (4-of-16) from three and 51 percent (25-of-49) overall. 
Roper praised the defensive effort of the Lions for slowing down a team that shoots the ball as well as Lakewood does. 
"They're a tough team to match because they put five shooters on the court, so you really have to scramble and help each other," he said. "Our communication was good and we just didn't have that many breakdowns defensively."
Hanenburg found himself in foul trouble toward the end of the first half and picked up his fourth about midway through the third quarter and had to head to the bench. The Lions didn't miss a beat with him off the floor. 
Senior Harley Vandenberg stepped in and knocked down a pair of free throws to go with three rebounds during his time on the court. 
"I thought Harley came in and gave us great minutes," Roper said. "Sometimes he doesn't play as much, but he was ready when his name was called. That's why you have a team. You never know which guy is going to be ready to step up. He was really effective for us when we needed him the most."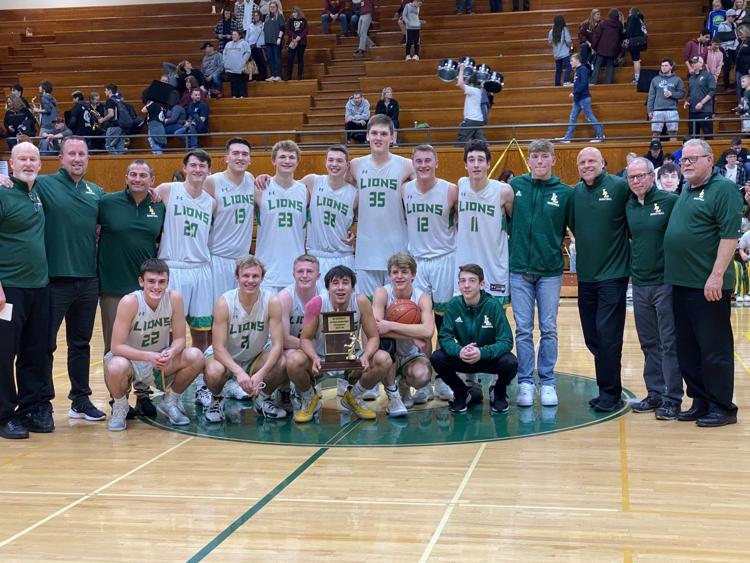 For Heppner, it was his second straight year cutting down the net after a district title, but the difference this year is he is one of the senior leaders of this team. He said he enjoys being the guy the younger players look up to.
"I love those guys last year, but I might be having a little more fun this year with these guys," Heppner said.
On deck for Lynden is the regional round of the state tournament next weekend. The Lions will likely be the No. 1 seed and will look to move one step closer to cutting down another set of nets in two weeks in Yakima.