Lynden Christian takes down Nooksack Valley for second time this week
LYNDEN — Winning two sets won't win you the match. It's an obvious fact, but it's something the Lynden Christian volleyball team has had to embrace in full this past week. 
After being upset by Meridian at home last weekend in five sets and being pushed to five sets again earlier this week by Nooksack Valley, the Lyncs found a clean finish in a rematch with Nooksack Valley in the District 1 tournament winning in four sets (22-25, 25-12, 25-17, 25-19). 
Lynden Christian (12-4) came out strong in the first set taking an 11-6 lead before the Pioneers (9-7) called a timeout. It was a back-and-forth affair after that, but with the Lyncs starting to gain momentum, the Pioneers rattled off an 8-4 run to tie the set at 16-16. 
The Lyncs went on a run of their own to take the lead back, but the Pioneers fought back to take the first set 25-22. 
Lyncs' outside hitter Liv King said she thought they dropped the first set because communication on the court broke down. 
"Talking with the team after that first set, we thought we lost that one because we stopped talking and got hesitant and tight on our offense," King said. "We decided 'This is our court, let's gel, let's own this place and talk it up.'"
The Lyncs stormed back to take the second set 25-12 looking much more like a complete team. 
"This group all year has struggled a little bit with just believing in themselves since we graduated all of our starters from last year, besides Liv King and Liv Mellema," Lynden Christian coach Kim Grycel said. "It's just taken a little bit for them to believe and that tough loss against Meridian last Saturday was playing in there tonight. We had the early lead and I just said 'Let's settle down. You can do this.'"
The third and fourth sets were more of a battle with both teams going on timely runs. When either team looked like they were about to start running away with the set, the other bounced back to keep it close. 
The Lyncs bounced back at the right times, taking the sets by scores of 25-17 and 25-19. 
King said Nooksack Valley ran a different defense from their match earlier in the week and that threw off the team for a bit. 
"We had a rough start on that," King said. "We didn't know where to hit or anything. We brought it in as a team and we beat them a few days ago so we knew we could beat them again."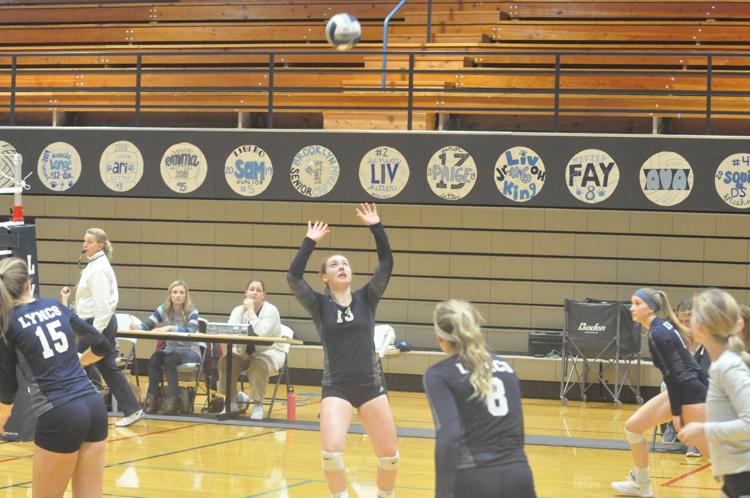 It seemed like King, Mellema and outside hitter Kenadi Fay were flying all over the court for the Lyncs the entire match and it showed on the stat sheet. 
King led the team with 16 kills while Mellema and Fay had eight kills each. Mellema also had eight blocks and Fay racked up 23 digs in the match. Paige TeVelde led the team with six aces.
"Those three girls are kind of the core and pace setting of the team," Grycel said. "I was especially impressed with Liv Mellema. The last time we played Nooksack we went to our outsides a lot. Tonight she had eight kills, no errors and eight big blocks. She really stepped up big tonight. [King] and Fay, our outsides, are just solid all the time and work really hard."
The win means Lynden Christian advances to the District 1 championship on Tuesday and will advance to the bi-district tournament regardless of the result. Nooksack Valley's season is still alive, but the Pioneers must win twice to advance to bi-districts.