Lynden Christian capitalizes on Lynden errors in win
LYNDEN — It won't be reflected in the final score, but the Lynden and Lynden Christian volleyball match was a battle down to the final point Saturday afternoon. 
The Lyncs and Lions both came into the match with undefeated 9-0 records tied for first place in the Northwest Conference, but it was the Lions who would be leaving Jake Maberry gymnasium with their first loss. 
Lynden Christian swept Lynden with scores of 25-18, 25-17 and 25-22 to pick up its 10th win of the season and take sole possession of the conference lead. 
Having played the previous night against King's, the Lyncs were back out competing on the court about 20 hours later. 
Lynden Christian coach Kim Grycel said she wasn't worried about the team wanting to win, but was concerned with the quick turnaround. 
"I was just worried if they were going to have tired legs or make unforced errors because they're tired," Grycel said. "It was nice, we got it done in three last night and then tonight. It got close at the end, but I was glad we put them away in three. They're a very talented team with some young talent and with Anna (VanderYacht) and Faith (Baar), some older talent."
The Lyncs held a slim 19-18 lead in the first set before a 6-0 run gave them a 1-0 match lead over the Lions. 
Lynden jumped out to a 5-1 lead in the second set, but another timely run from Lynden Christian tied it up at 5-5. 
The Lions scored the next three points for an 8-5 lead. Then, the experience of Lynden Christian started to show as the Lyncs tied it up at 10 apiece on their way to the 25-17 set win.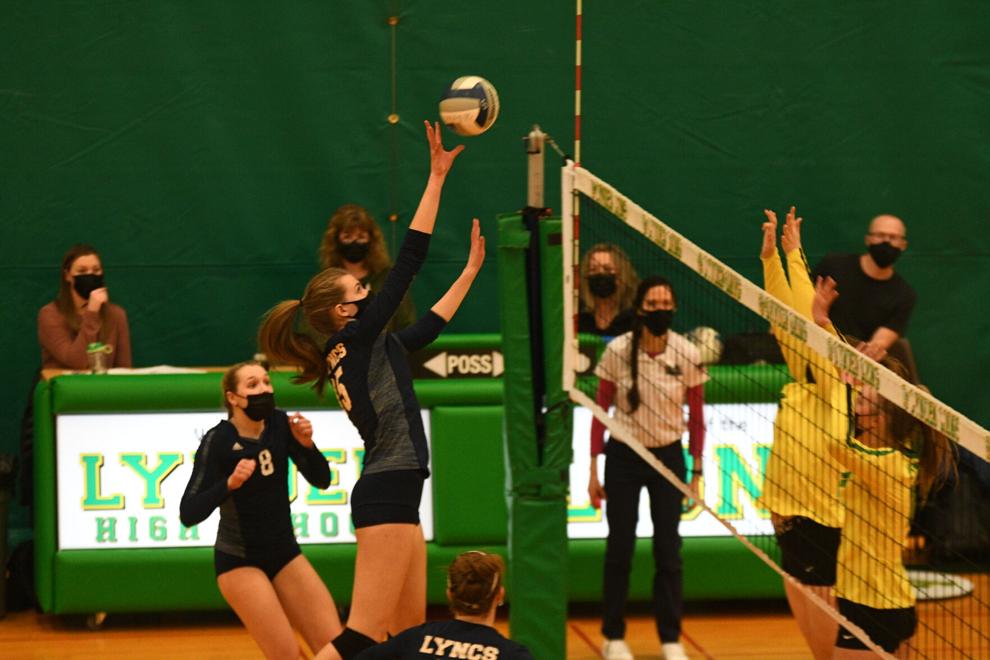 "Us seniors have been playing together for a very long time and that really shows," Lyncs senior Kenadi Fay said. "We talk a lot before the games about how we want to play for each other and come together in every point and every game. That's just our focus."
Lions coach Chris Elsner said she was proud of the way her team fought against the senior-loaded Lyncs. 
"We were in the locker room saying had you walked in the gym and not looked at the score I don't know that you could tell who was winning or losing," Elsner said. "We battled. I'm so proud of the way we fought for every point. To do that with the youth we have and senior leadership was awesome."
Lynden caught a late surge in a back-and-forth third set, but the Lions couldn't put together a big run to take a commanding lead and Lynden Christian came away with a 25-22 win.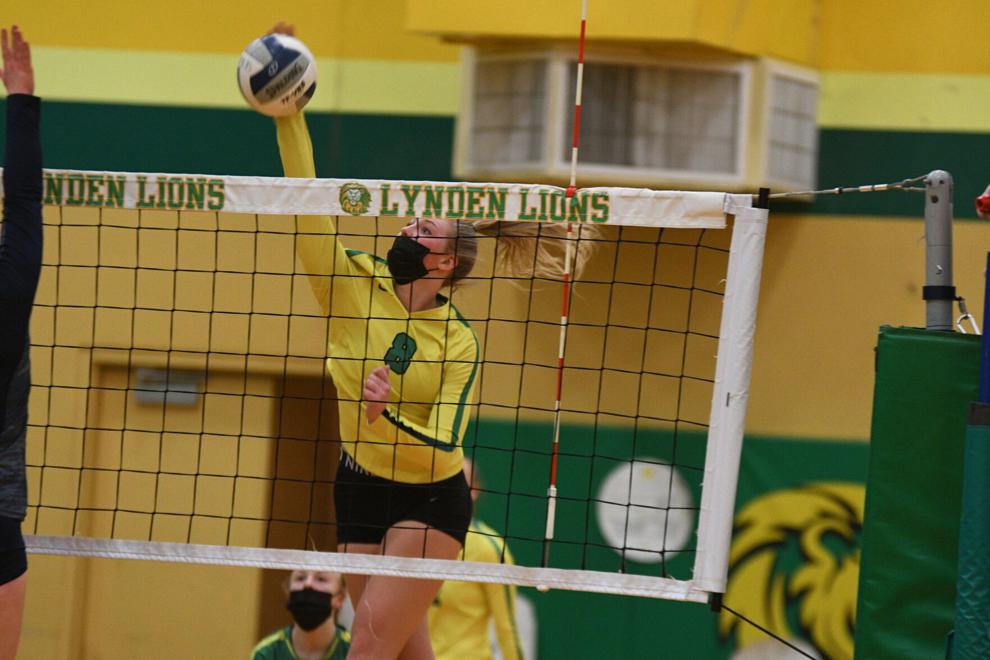 Lions senior Anna VanderYacht said you have to give credit to the Lyncs because they're not a team that makes mistakes.
"Every single person out there on our team fought their hardest," VanderYacht said. "The fight and grit each player has was incredible tonight. Every single person from Grace Rice with the set and Faith (Baar) putting it away, it takes all of that and sometimes when we lose that one element it doesn't flow right."
With the top two teams in the conference going at it, both coaches knew they were going to have to execute their game plans almost perfectly. 
Grycel said she wanted the Lyncs to key in on VanderYacht and senior Faith Baar. 
"Anna and Faith have been on varsity since they were freshmen. They're experienced," Grycel said. "We knew we were going to have to slow them down and try to attack other places we felt we could score."
Leading the way for the Lyncs was senior Liv King with 15 kills and 10 digs. Fay had 10 digs in addition to three kills. Senior Emma VandeVoort added seven kills on a .700 hitting percentage. 
Elsner said the game came down to Lynden not being able to manage errors during critical times. A team as young as the Lions is going to have their struggles in bigger moments, but Elsner said that's going to come with experience. 
"It's in these moments when you grow," she said. "It's when you don't get to where you want to be that you get to reflect and become even better. It's exciting to take this and learn from it, especially for the freshmen. Of course we would have liked to come out with the W, but it was a great night for us to come out and compete."
Baar said this game against Lynden Christian showed the Lions what they need to work on heading into the last week of the season. 
"Limiting our mistakes is a big part of that," Baar said. "That's something we're working on and we know that's something we need to get better at."
Baar led the Lions with 13 kills and three blocks in the match while VanderYacht tallied 10 kills and eight digs. Freshman Grace Rice had 29 assists to go with nine digs and sophomore Lucy White added three aces and six digs. 
Lynden will take on Bellingham, Blaine and Nooksack Valley in the last week of the season with all matches being played on the road. 
The Lyncs will close out their season with matches against Nooksack Valley, Meridian and Blaine this upcoming week with a chance to secure the Northwest Conference title.