Seventh-seeded Lyncs to play undefeated No. 10 seed Cascade Christian
Lynden — Lynden Christian football had no trouble in their winner-to-state district match, running straight through Cedar Park Christian of Bothell in a decisive 56-7 shellacking at the LC home field on Friday.
The one-loss Lyncs (8-1) were given a somewhat confusing No. 7 seed in the state playoffs, after battling in the 1A Northwest Conference, which is widely and perennially considered the fiercest 1A league in the state. 
They face an even more baffling No. 10 seed selection in undefeated Cascade Christian (8-0) of Puyallup at 7 p.m. Friday at Civic Field.
"They're a really good 10 seed, trust me," LC coach Dan Kaemingk said. "The type of team you'd see if you made it to the second or third round, certainly not the first round."
Not only have the Cougars remained perfect on the season, they have a Yale commit for quarterback in 6-foot-3, 227-pound Parker Johnson.
The senior slinger has thrown for 2,300 passing yards, 23 TDs and 3 INTs this season. It's the third-straight year he's surpassed 2,000 yards passing. Also 378 yards rushing on 32 carries.
He's helped the Cougars top seven 1A schools in the Nisqually League, dropping big numbers on their opponents along the way, averaging 46 points per game while allowing an average of just 12. They've scored 33 or more points in seven of their eight games and have scored 60-plus three times, while allowing 18 total points their last five matches.
Lynden Christian is coming off its second co-NWC championship and second straight state playoff appearance.
Kaemingk said the Cougars' offense this year is similar to Nooksack Valley's, in that they like to air it out in shotgun and spread formations.
"It's two evenly-matched teams," Kaemingk said. "Really impressed with what they do offensively and defensively. Offensively very diversified. The best passing game, easily, that we've seen all year."
The Lyncs have won six straight after losing to Mount Baker on Sept. 27. During that stretch the Lyncs have scored 33 or more points five times and have pitched two shutouts. The Lyncs average 33.8 points per game and allow just 7.3.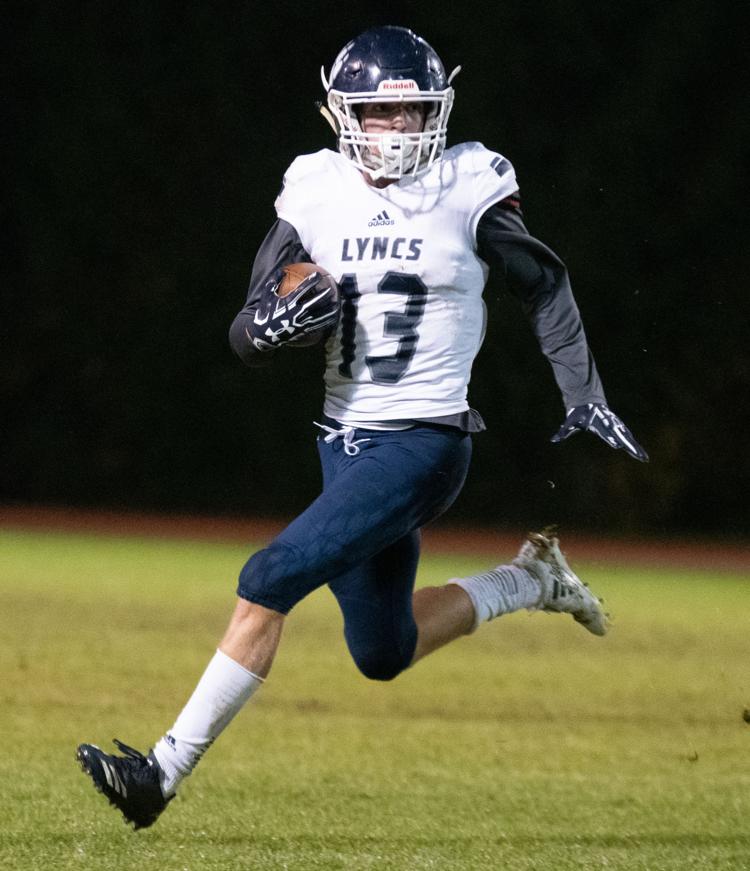 It's a rematch of last year's state playoff opener where the Lyncs took a 20-0 win over Cascade Christian, en route to a state semifinal appearance.
Kaemingk compares Johnson's arm talent to two quarterbacks he faced a couple years ago who are both now playing at the next level: Nooksack Valley's Casey Bauman, who's now the starter for Montana State University, and Meridian's Simon Burkett, who's a backup at Eastern Washington University.
"With a team like that that's so prolific at throwing the ball, you can't get too far ahead of yourself," Kaemingk said. "We've got to control their run game and make them one dimensional. We're expecting Johnson to get a few and hoping we can limit the damage."