Lyncs keep rolling with another conference win
LYNDEN — All gas, no breaks. The Lynden Christian boys basketball team has played five games in the last six days and six in the last nine. Fatigue was a worry heading into the Lyncs' game against Nooksack Valley Monday night. 
Lynden Christian (13-3, 9-1 Northwest Conference) found a way to grind out the full 32 minutes of the game though, edging out the Pioneers (9-7, 3-6 NWC) 67-51, leaving the gym with its 10th straight victory. 
If the Lyncs were tired, it certainly didn't show in the first quarter. The Pioneers scored the first four points of the game, but would be held scoreless for the next 21. Lynden Christian scored 16 straight before the end of the quarter, and then scored five more before Nooksack Valley found the basket again. 
The Lyncs defense was clicking all night, swarming to the basketball and forcing the Pioneers to take difficult shots. 
Senior Andrew DeVries said there wasn't anything in particular from Nooksack Valley they were focused on, it was just their defense playing well. 
"It really came down to our defense and our press," DeVries said. "A big focus for us this year has been keeping people in front and bringing energy. It wasn't necessarily something we saw from them, I think it's something we brought."
The Lyncs led 16-4 after one frame and 31-13 at the break. Then, their busy schedule caught up and the fatigue set in. 
DeVries said he felt it in the first quarter and looked to the bench to be subbed out because his legs couldn't keep up with him. 
"It was a huge worry," Lyncs coach Roger DeBoer said of the team getting tired. "For us to be at our best, we have to play extremely hard. It doesn't matter if we rotate 8-10 kids, we're still going to get really tired in that amount of time."
Lynden Christian wasn't as sharp in the second half, but the Lyncs had built a comfortable enough lead to not let the game slip away.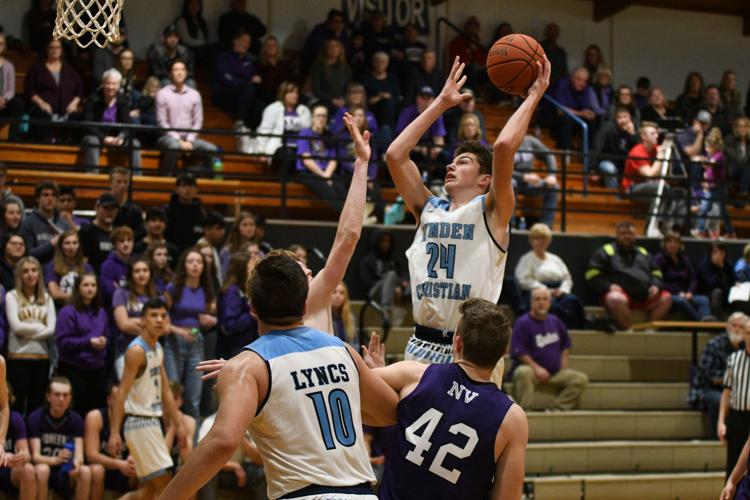 Despite the tired legs and bodies of the Lyncs, DeBoer said his team still provided opportunities for themselves even if they didn't capitalize on all of them.
"We obviously didn't shoot the ball well tonight which is very uncharacteristic for us, but I think it's also characteristic of a team that's played six games in nine days," he said. 
DeVries credited the coaching staff in preparing them for the busiest stretch of their schedule. 
"Our coaching staff has been around a long time so they know what it takes to play a lot of games in minimal days," DeVries said. "It could have been a lot worse, but we really listened to what coach had to say with drinking water and stretching. It's a little thing, but it helps a lot."
The Lyncs have found their chemistry with each other and it's starting to show every time they step on the court.
"This is a group of guys that's getting closer and closer with each other all the time," DeBoer said. "When you get that, you have more to fight for and they're starting to really see their excitement to fight for each other and go through the grind together. They just want to give everything they've got for each other and as a coach that's incredibly rewarding to watch." 
The Lyncs now get a few days off before they take on Lynden Friday at LC.