Lynden Christian cruises to 38-20 win over Onalaska
LYNDEN – The Lyncs returned to the football field Saturday afternoon following a nine-day hiatus, earning a solid win against the Onalaska Loggers.
The Loggers, a 2B program, made the trip to Lynden Christian on less than a week's notice. Both teams were in search of a contest following previous cancellations.
LC went into the game after missing all organized team activities for nine days. They were able to get two practices in before game day rolled around.
"I really did not know what we were going to get here," said Dan Kaemingk, the Lyncs' head coach. "I watched [Onalaska on tape] and went 'oh boy that is not the team you want to play coming off nine days off.' They are just tough."
Kaemingk called it a "typewriter game," with Onalaska's run-first offensive scheme. The Loggers threw only two passes the whole afternoon. The team employs a hefty three-running back backfield, keeping things downhill.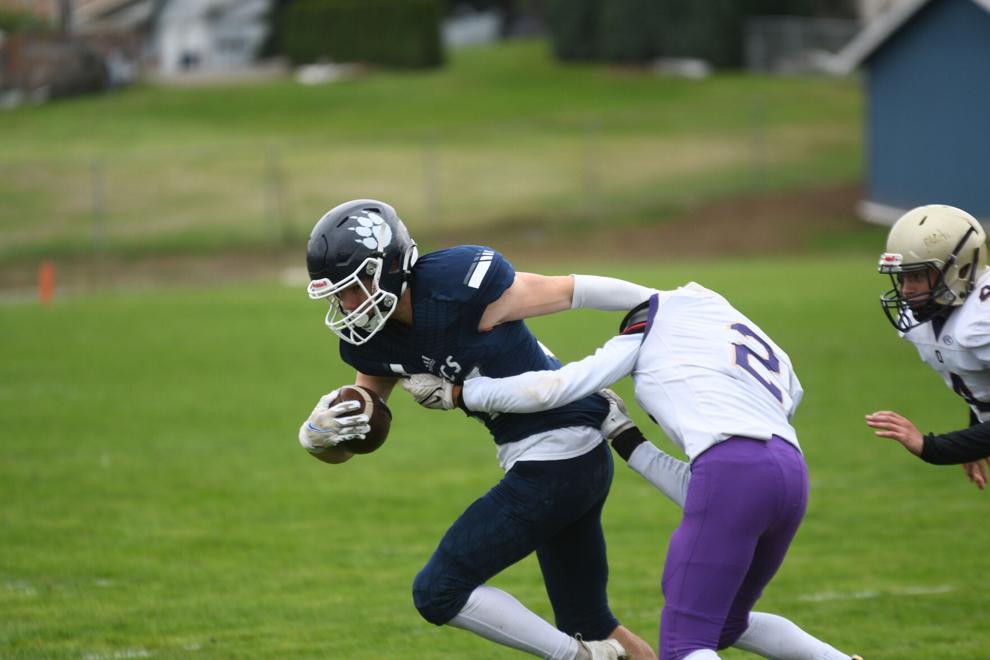 Lyncs senior wide receiver Tyler Sipma said the team was prepared for the counter-method.
"Coach [Kaemingk] said it was going to be 92% run [from Onalaska] so we knew that coming into the game which was good," Sipma said. "We put a lot of guys in the run box and that stopped them."
Sipma said him and his teammates were able to get together to run some plays and routes during their time off which helped them stay fresh.
For a time, Onalaska's gameplan kept up with the Lyncs.
The first quarter began with both teams trading punts on more than one occasion. Onalaska struck first with 1:34 left in the period on a 2-yard dive by Loggers senior fullback Marshall Haight.
The Lyncs denied their two-point conversion attempt, and Onalaska led 6-0 at the end of one.
LC didn't take long to respond. Lyncs senior quarterback Will Colwell found his senior wide receiver Jamison Hintz for an 11-yard strike 40 seconds into the second quarter. The point after attempt was no good, and the game was tied at six.
The offense had found its footing. Senior wide receiver Sam Penner made a magnificent grab bending backwards on a 31-yard Colwell pass that put LC inside Onalaska's 10-yard line.
A few plays later, senior running back Caleb Ryan found the end zone on the ground from a yard out. LC pushed their lead to seven halfway through the second quarter.
Onalaska responded with a 13-yard touchdown run from senior running back Gunnar Talley. The Loggers went for two again but were rejected a second time. LC led 13-12 with under two minutes in the half.
The Lyncs weren't satisfied.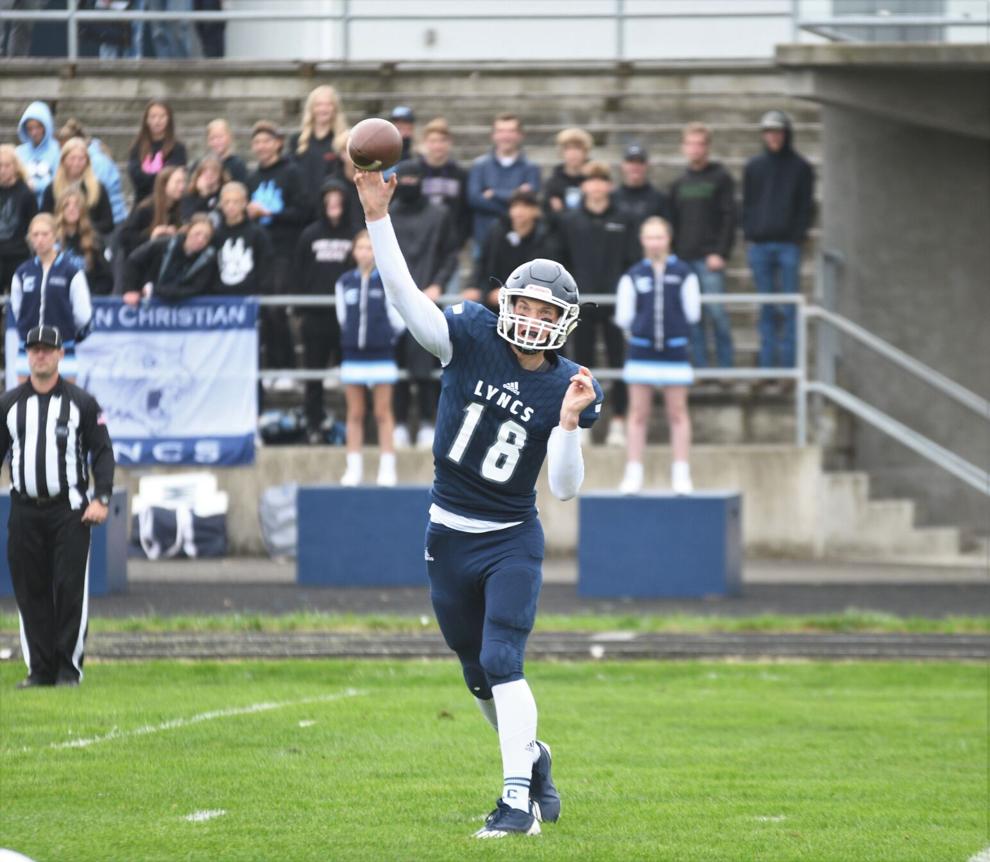 Colwell found Hintz for a 30-yard completion followed by a 34-yard touchdown strike to Sipma. LC led 19-12 at halftime after a failed two-point conversion attempt.
The Lyncs mounted a long drive early in the third quarter that was capped off by a short touchdown run from tight-end Kade Eldridge. The junior was taking carries out of the backfield most of the game. LC extended their lead to 26-12.
On Onalaska's next drive, LC forced a fumble that was recovered senior defensive end Andrew Jewell. They were set up on the Loggers' 18-yard line.
Sipma got his second score of the afternoon on a 12-yard fly sweep, pushing the Lyncs' lead to 20 with a missed point after attempt.
The two teams grew stagnant on offense for the remainder of the third quarter.
Action picked back up with 43 seconds left in the third when Lyncs senior Zac Owen picked up an Onalaska punt that bounced at the midfield line, returning it 50 yards for a touchdown. LC took a 38-12 lead into the end of the period.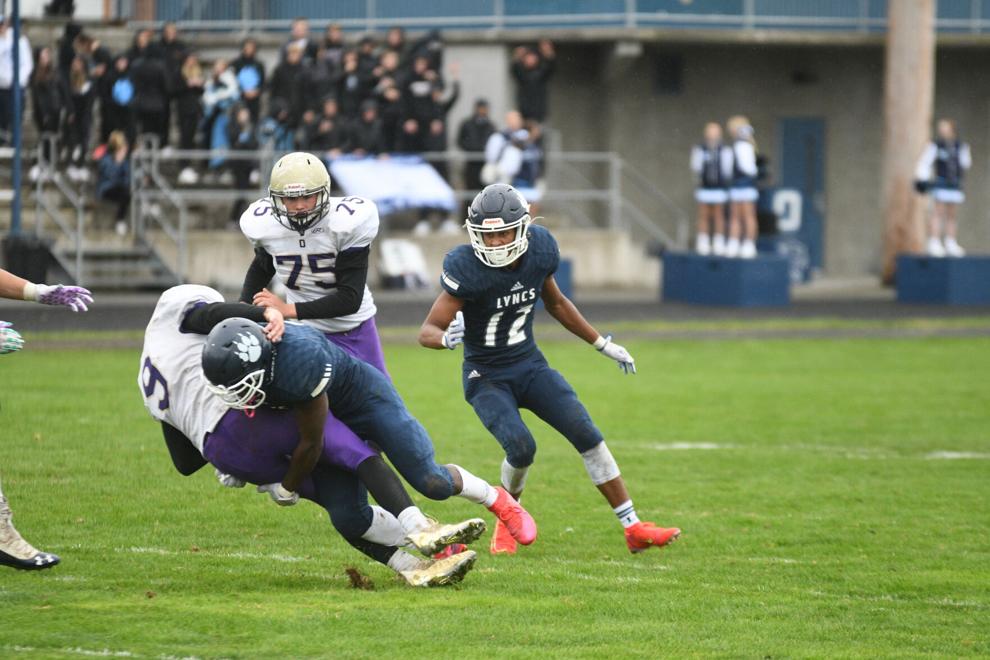 Loggers sophomore quarterback Kayden Mozingo got the last score of the game on a 16-yard touchdown run with eight minutes to play. Onalaska converted on the two-point attempt, making it 38-20.
LC would kneel it out at the end and begin the celebration of a win and just getting to play some football.
"The coaches did a great job preparing us in the limited time we had," Colwell stated.
Colwell said the fact his team has played less games than most teams is in the back of their minds, but it doesn't faze them.
"We know we're just as prepared as the other teams," he said. "We know there's a challenge, but we're ready to face that challenge head on."
Kaemingk explained how the game was a huge break for the team to get some practice in before their tough matchup next week.
"I'm going to have a bunch of sore kids," Kaemingk said. "But we needed this game because initially we weren't going to be able to play until next Wednesday … I can't begin to tell you how thankful I am."
The Lyncs moved to 2-2 overall and will travel to Nooksack Valley (3-3 overall, 1-1 league) next Friday, Oct. 15, for their first in-conference battle of the season.