Goal-line stand powers Lyncs to 42-12 win in state opener
BELLINGHAM — What was billed as a matchup between two Class 1A football powerhouses, who may have gotten worse seeds than they deserved, ended up being a lopsided thrashing.
Seventh-seeded Lynden Christian erupted for 28 unanswered points over a 13-minute stretch to rout 10th-seeded Cascade Christian 42-12 in a state playoff opener at Civic Stadium Friday.
"The way we played and the way we showed up is, I still have to process it," Lyncs senior corner Jude Veltkamp said. "It's astounding to say we just put up 42 points on them — what might be one of the best teams in the state."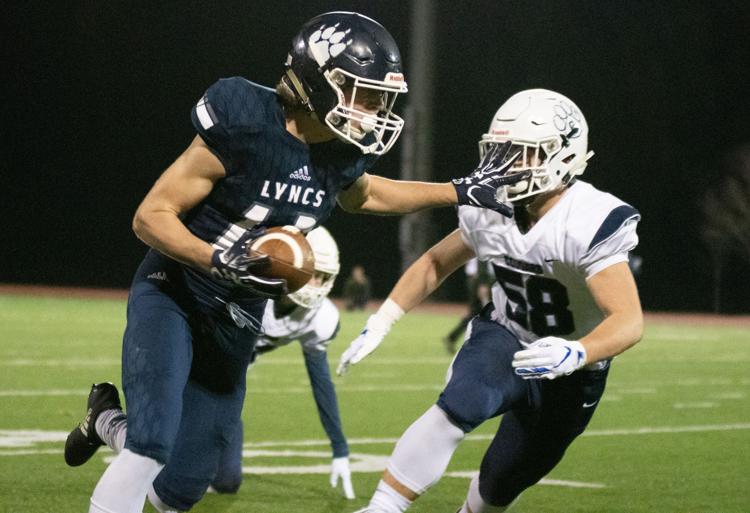 The Lyncs (9-1) face undefeated No. 2 seed La Salle (11-0) at a date, time and location still to be determined.
Friday's victory didn't come down to the wire like it appeared it would for most the first half. No. It was decided by a goal-line battle with less than a minute to go before the half.
Holding a 14-6 lead, Lyncs' defensive back Shale Whittern knocked Cougars' brute of a halfback Toretto Metzger-Magalei out of bounds at the one-yard line.
The Lyncs stuffed Cascade five-straight times at the goal line, highlighted by Zach Sipma blowing up Cougars' Parker Johnson on a quarterback sneak, to seize the momentum and preserve the lead going into the break.
"It's a sneak, it's a guaranteed touchdown, and [Sipma] rips through a lineman and just stuff them," Veltkamp said.
It broke Cascade's spirit and stole the momentum for the Lyncs, who carried the tempo the rest of the way. Lyncs' coach Dan Kaemingk called the goal-line stand as good as any he's been a part of.
"As you can imagine, our kids were pretty jacked at the half," Kaemingk said.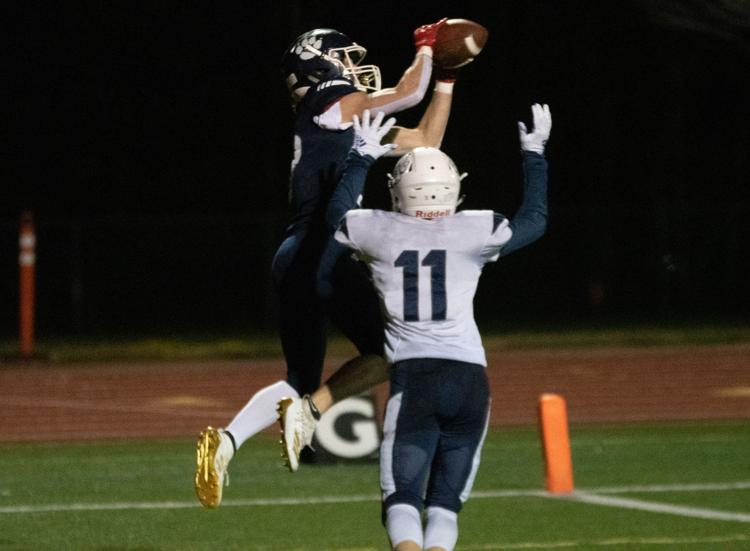 It was all Lynden Christian from then on.
The Lyncs scored on the opening drive of the second half when backup QB Logan Dykstra went over the top of the Cougars' defense to Tanner Feenstra for a 30-yard TD strike to put LC up 21-6.
It was the first seven points of a 28-point barrage by the Lyncs over the next 13 minutes. Easton Stremler broke off a 20-yard touchdown run; Jackson Apol, back for just his second game since suffering a preseason injury, picked off Johnson, setting up Tanner Feenstra's 14-yard TD reception from Trajan Schouten.
Schouten, who was 6-of-10 passing for 120 yards and 3 TDs, sealed the Lyncs' scoring early in the fourth quarter with a nine-yard TD pass to Jackson Corkill which put a stamp on LC's decisive victory.
What was even more impressive than Lynden Christian's offensive pyrotechnics was its lockdown defense, which shut down Cougars' QB Johnson, a four-year starter who's playing football at Yale next year.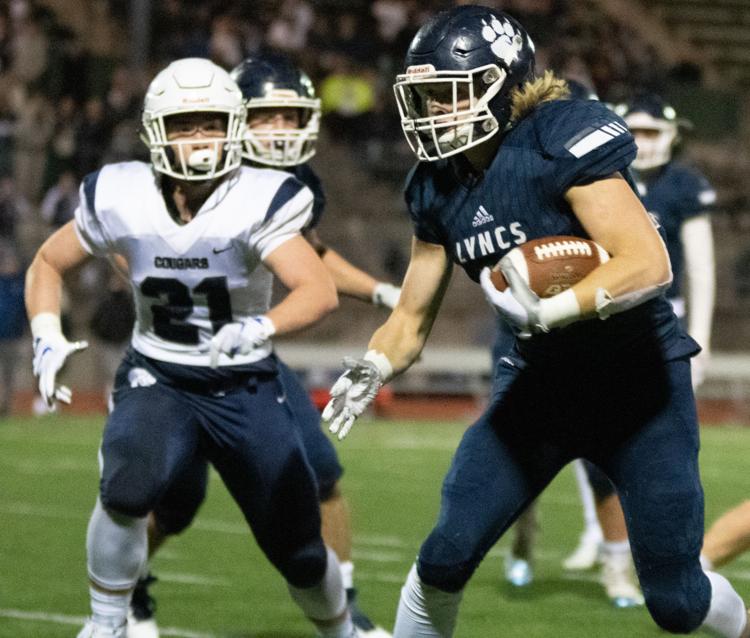 "We've got kids that really like the battle," Kaemingk said. "When you tell them how good the guy is you're going to play they smile at you and say, 'OK, let's go.' It's not going to change. It's going to stay that way next week and see how far we can get."
Cascade was without Johnson last year when the two teams met in the state opener, a 20-0 victory for Lynden Christian. But LC, which brought back most of its team from last season, had too much depth and experience for the Cougars.
Johnson got yardage but the Lyncs put the clamps down when it mattered. LC sniffed out and crashed Cascade's first four fourth-down attempts, including the goal-line stop.
Kaemingk and Veltkamp both credited LC's scout offense for preparing them for Johnson, who Kaemingk compared to Nooksack Valley alum Casey Bauman and Meridian alum Simon Burkett.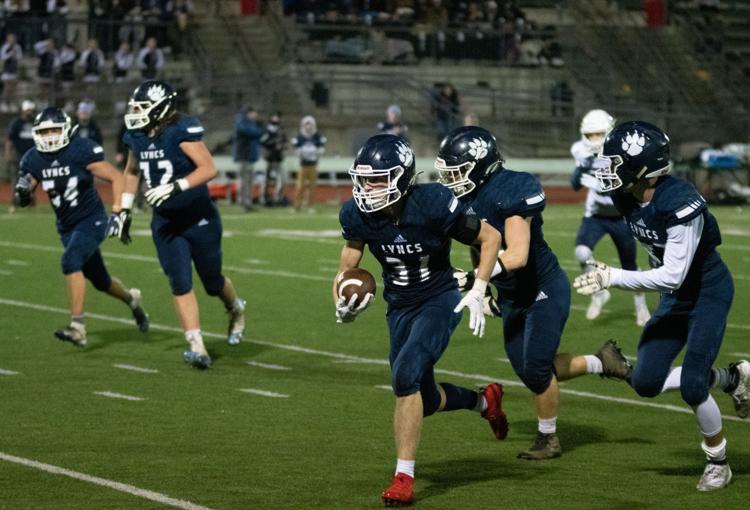 Will Colwell, LC's 6-foot-3 sophomore third-string quarterback, mimicked the 6-foot-4 Johnson in Wednesday's and Thursday's practice at Civic Stadium, giving the Lyncs an idea of what to expect.
Colwell ended up doing that and more.
"Our scout quarterback just ripped us apart," Kaemingk said. "I couldn't even sleep. I went up to Will Colwell and said, 'Will, good job.'"
Veltkamp, who blanketed the Cougars' receivers all night, said Colwell tore their defense apart this week.
"When [Johnson] made a good throw we'd still be all over it because we were used to having perfect balls thrown from Colwell," Veltkamp said. "That was one of the biggest factors why we were able to do what we did."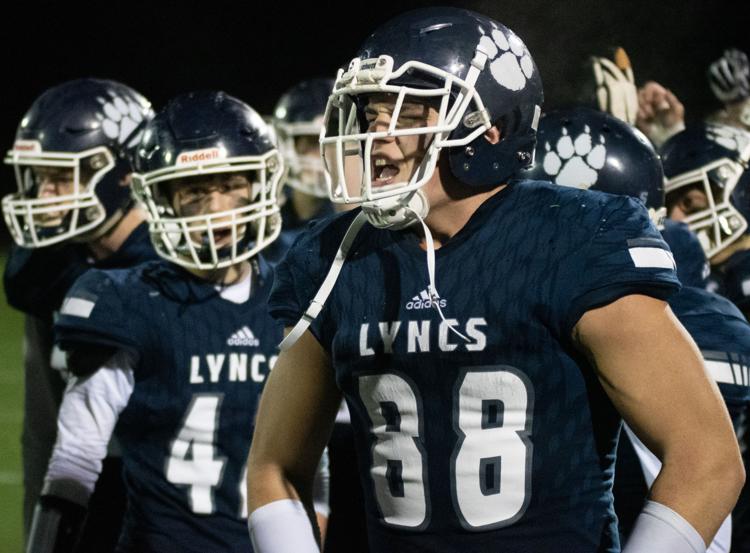 The Lyncs ran for 177 yards and threw for 161 as a team, according to Whatcom Preps. Stremler led the rushing attack, with nine carries for 58 yards and a score. Apol had four carries for 42 yards and a TD. David Bootsma rushed four times for 15 yards. Dykstra was 2-of-6 passing for 41 yards and a TD.
Corkill hauled in three passes for 68 yards and a score. Feenstra had 44 yards receiving on two catches, both touchdowns. Bryce Bouwman had a 39-yard reception.
The Lyncs will relish the win tonight and start preparing for an undefeated La Salle squad that was awarded the No. 2 seed. The Lightning also feature a four-year starter at quarterback in Kieran Kershaw.
"I know very little [about La Salle]," Kaemingk said. "They're the No. 2 team, so they must be amazing. I'm going to go home, have my pizza, watch this game, smile, try to sleep and I'm going to go to work tomorrow."