Lynden Christian faces undefeated top-seed Royal on Saturday
LYNDEN ­— Last year it was all new for Lynden Christian football.
The 10-3 Lyncs had garnered a co-league title and advanced to the state semifinals, ending a 16-year drought in both respects. Playing in a big-time playoff game was unfamiliar.
A year later and the wide-eyed amazement of making a deep run in the state playoffs has faded.
The No. 7 Lyncs (11-1), making their first state title appearance in 22 years, know what to expect this time as they await their 1A state championship matchup with top-seeded Royal (13-0) at noon on Saturday at Harry E. Lang Stadium in Lakewood.
"They're more about, 'OK, we've been here before. This is what we want to accomplish,'" Lyncs coach Dan Kaemingk said. "It's a group of kids that were so influenced by last year's deep run that it allowed them to have more success this year."
Kaemingk is hoping that experience will pay off as they prepare to face top-seeded Royal, a perennial powerhouse that's returning to the state title game for the fourth time in five years.
LC's fortitude showed in its last two matches, weathering a sluggish first-quarter to upset No. 2 La Salle 31-7 in the quarterfinals. And again last week in a 14-7 battle with No. 6 Deer Park, overcoming a turnover that led to a touchdown, an 11-1 penalty disadvantage and a TD that was called back.
"Those are valuable experiences to have as you head into the final game," Kaemingk said. "Our kids were not going to allow us to not be successful. Would we have done that last year? I'd like to think so. But last year's deep run fostered an attitude this year of real determination."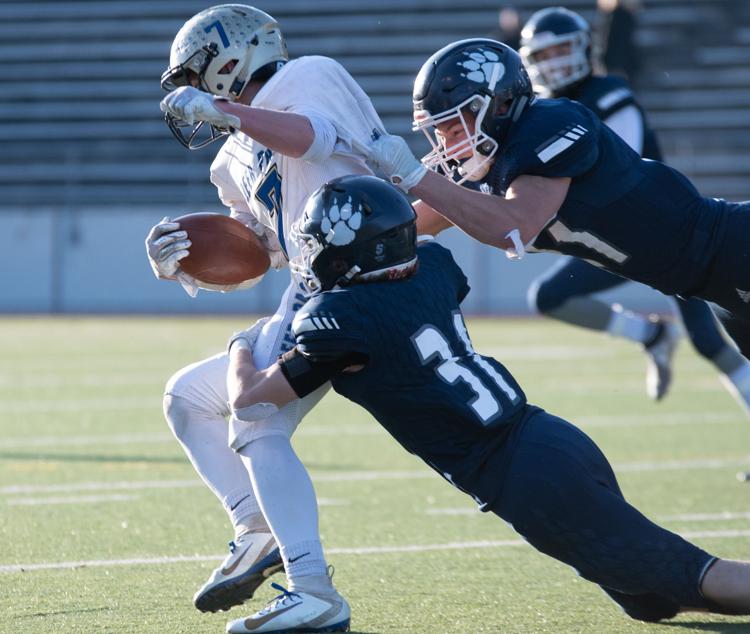 All three of LC's state playoff opponents (Cascade Christian, La Salle and Deer Park) were previously unbeaten. But none of those compare to what the Lyncs are set to face against Royal.
The Knights have rattled off a 66-1 record over the last five years, including a state-best 53-game win streak that ended against eventual state champion Colville in last year's semifinals. They've won six of the last 15 1A state championships, are 8-3 all-time in the title game and have won in each of their last three appearances.
"This is a lot like what you see with Lynden Christian and Lynden boys and girls basketball," Kaemingk said. "This is a team that's there every year. There's not a year you can go to the 1A playoffs and not see Royal somewhere with a really low number next to them."
The Knights are led by junior quarterback Caleb Christensen (6-foot-2, 200 pounds), who's continuing a long line of talented Royal signal-callers.
A Knights QB has won first-team all-league honors every year since 1999, a list that includes 1A state Player of the Year winners in Alex Myrick (2012) and Kaden Jenks (2016).
And Christensen might be the best. The first-year QB has thrown for 48 touchdowns this season after tossing four TDs in a 42-0 rout of Connell in the semifinals, breaking the school's single-season passing TD record. He is 141-of-203 passing for 2,696 yards with just five interceptions.
His favorite target is junior wideout Cooper Christensen (6-foot-1, 185 pounds), who has 46 receptions for 1,220 yards and 22 TDs.
LC's last two opponents were run-heavy teams, and in both cases the Lyncs formidable defense was able to shut down their ground attacks and force them into the uncomfortable situation of throwing it.
"Royal doesn't present any of those deficiencies," Kaemingk said. "Really impressed with the arm talent of [Caleb Christensen]."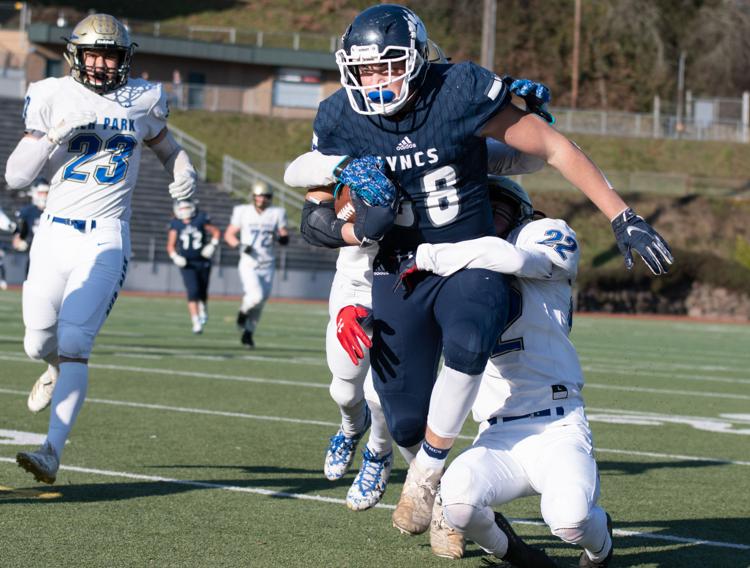 The Knights' offense is about a 60-40 pass-to-run ration. Though they like to air it out more often than they pound away on the ground, their run concepts are impressive, Kaemingk said.
Senior running back Lorenzo Myrick (5-foot-10, 175 pounds) has complemented the Knights' passing attack with 763 rushing yards and 18 total TDs on 119 carries.
It's a combination that's helped the Knights average 56 points per game while outscoring opponents 726-35. Their offense has put up over 60 points six times this season. They have wreaked havoc each of their state playoff opponents, which includes a 64-7 win over Charles Wright in the state opener, a 62-6 blowout of previously-unbeaten Omak and a 42-0 thumping of Connell.
It's a product of the Knights' diversified arsenal. They go from shotgun, from under center, with one-back and two-back sets. They bunch off tight then spread out defenders and air it out with empty sets. It reminds Kaemingk of one offense he faced this season, based on variety of the sets to the creativity of the looks.
"Really thankful for the opportunity to play coach [Bob] Ames' [Meridian] team a couple times, because that gives us an idea of how we need to approach it," Kaemingk said.
Royal's defense is equally effective, recording seven shutouts in 13 games while allowing an average of 3.5 points per game.The Knights have allowed double-digit scoring just once this year, a 21-16 victory over Class 2A Ellensburg in the season opener.
If any team can go toe-to-toe with the Knights' defense and slow their offensive attack it's Lynden Christian, which returns 12 starters from last season's semifinal run.
The Lyncs' defense has been the hallmark of the team this season, limiting opponents to just 7.7 points per game, including just 33 total points in four playoff matches.
They've also neutralized one prolific quarterback already in Cascade Christian's Yale-bound Parker Johnson, a two-star prospect who has passed for over 2,000 yards in three consecutive seasons. LC shut down four-year starter Johnson and the Cougars' offense that entered averaging 46 points per game, limiting them to just 12 points in a 42-12 stomping.
The Lyncs defense then put the clamps a La Salle offense that had scored 42 or more points nine times, including a 75-point outburst, to just seven points in the quarterfinals.
LC is led defensively by senior defensive lineman Zach Sipma, who has 10.5 sacks, 57 total tackles, 11.5 for loss, 1 INT, 1 forced fumble and 1 fumble recovery, according to Whatcom Preps.
Also spearheading the defensive charge is senior linebacker Will Faber, who has 94 total tackles, 9.5 for loss, 6.5 sacks, 1 forced fumble and 1 fumble recovery.
Offensively the Lyncs have utilized a balanced assault with second-year senior slinger Trajan Schouten and senior tailback Easton Stremler.
Schouten has gone 137-for-235 passing for 1,894 yards, 23 TDs and 9 interceptions to lead an offense that is averaging 32.2 points per game.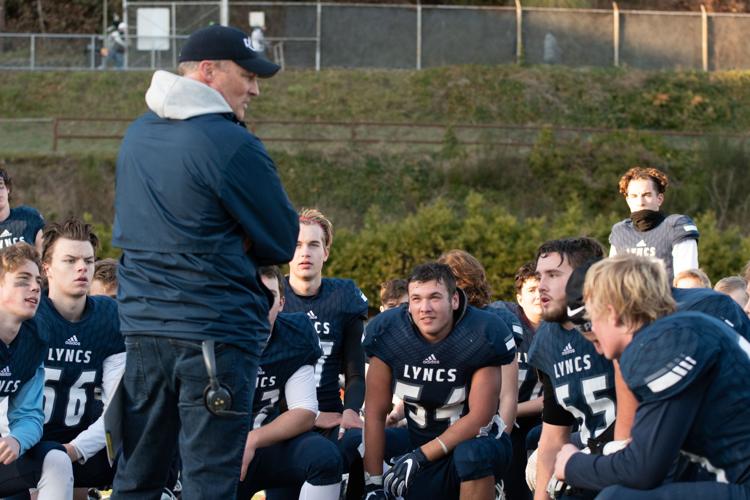 His main target is senior speedster Jackson Corkill, a fourth-place finisher in the 400-meter dash at the 1A state championships as a junior. Corkill has 46 catches for 767 yards and 13 total TDs. Stremler, in his first year as the No. 1 back, has 891 rushing yards and 9 TDs on 166 carries.
The Lyncs have outscored opponents 87-26 in their three state playoff games and will look to keep rolling against Royal at noon, Saturday, at Harry E. Lang Stadium in Lakewood.
Kaemingk knows nothing against the Knights this weekend will come easily.
"It's a full-meal deal, no doubt about it," Kaemingk said. "You'd expect that at this level."