Lyncs recover but can't hold on in 26-22 defeat
LAKEWOOD – Nearly everyone outside of Whatcom County predicted Royal to run away with the 1A state football title over Lynden Christian.
Lyncs players heard the noise on social media, doubters saying LC didn't stand a chance against a top-ranked Knights team that had outscored opponents 726-35 and captured three state titles since 2015.
"There were a lot of people saying this was just going to be another game for them," LC senior Jude Veltkamp said.
Spoiler alert. It wasn't.
Lynden Christian rebounded from a bleak 19-7 deficit to take an unthinkable 22-19 lead with three minutes to play, but surrendered a 74-yard TD reception moments later, handing the Lyncs a 26-22 loss to Royal on Saturday in Lakewood.
Though it didn't end the way Lynden Christian had hoped, Veltkamp was proud of the way he and his teammates battled against a heavily-favored opponent.
"This isn't a team, this is a family – and this is a day we're going to remember for the rest of our lives," Veltkamp said. "It's bittersweet. Sometimes that's how life is. I don't think this performance surprised many people that really knew the team."
Just like most had predicted a blowout, even fewer would have guessed Lynden Christian would score first and hold the Knights' offense, which entered averaging 56 points per game, scoreless until one minute before the half.
LC's and Royal's defenses went blow-for-blow in the first half as both offenses sputtered in the light rain.
It wasn't until senior wideout Jackson Corkill torched the Knights' defensive backs midway through the second quarter for a 60-yard TD reception, ending the scoring drought to put LC on top 7-0. Royal's sideline was stunned.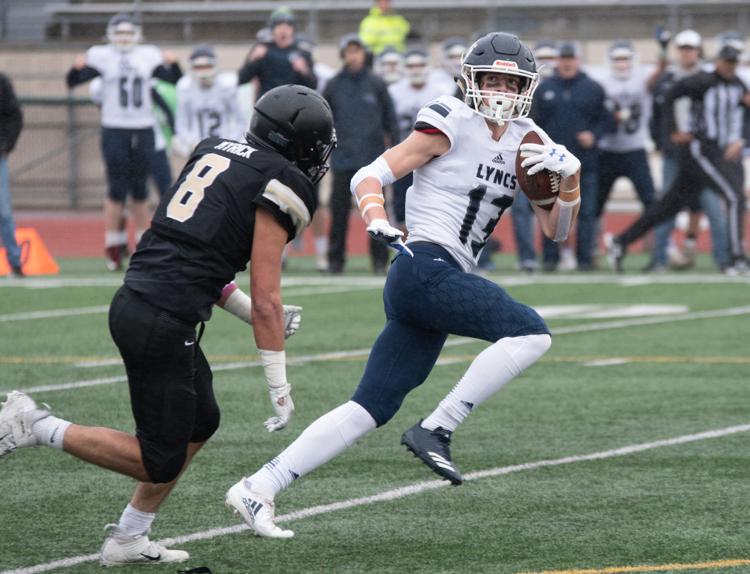 It woke the Knights up as they responded with a drive capped by junior Caleb Christensen's 2-yard QB sneak with a minute to go before the break, notching things up at halftime.
Momentum went downhill from there for the Lyncs.
With LC driving on the opening possession of the second half, senior quarterback Trajan Schouten took a blindside hit resulting in the first of four turnovers by the Lyncs.
Royal capitalized with another two-yard QB sneak by Christensen, but Lyncs junior defensive back Cole Moorlag blocked the extra point, which put the Knights' lead at 13-7.
Royal increased that lead on its next possession when Christensen found Tyler Allred in the corner of the end zone for a 19-yard strike, putting the Knights up 19-7. Royal's interception on the Lyncs' next drive with 11:53 to play put LC in a grim position.
"Even at 19-7 they felt they could still do it, all they needed was a little something good to happen," Lynden Christian coach Dan Kaemingk said.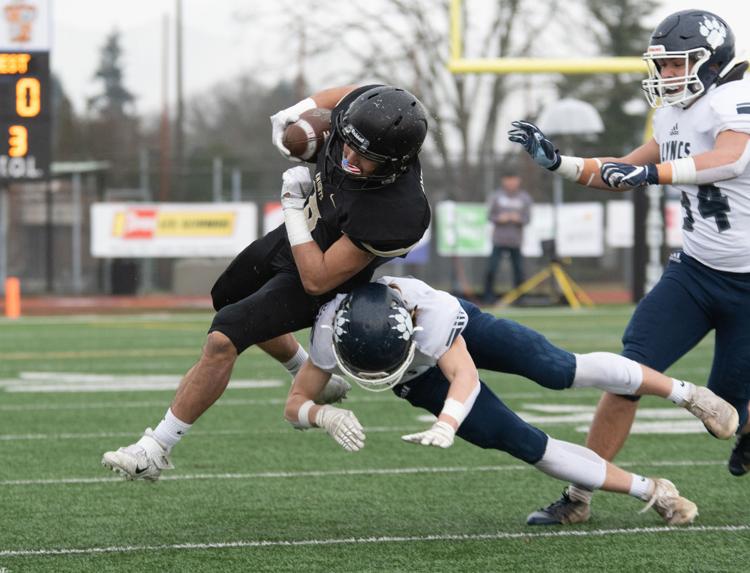 It looked all but over. Fans didn't know it yet, but the Lyncs were far from done.
After another pivotal stop by LC's defense to force a Royal three-and-out, Schouten unleashed a long bomb to Corkill who caught it in stride and smoked Knights' defenders again, this time for a 79-yard touchdown jaunt to pull Lynden Christian within five at 19-14 with 7:06 to play.
"Jackson Corkill was pretty amazing," Kaemingk said.
LC's defense, which held the Knights to just 4-for-13 on third downs, forced another punt and Royal's long snapper heaved the ball over his punter's head, giving the Lyncs the ball on Royal's 18.
Next play, Schouten found Moorlag in the back of the end zone for an 18-yard TD that made LC's sidelines and stands explode in cheer.
Schouten then hit Andrew Hommes for the 2-point conversion and just when the Lyncs looked finished they retook the lead at 22-19 with three minutes to go.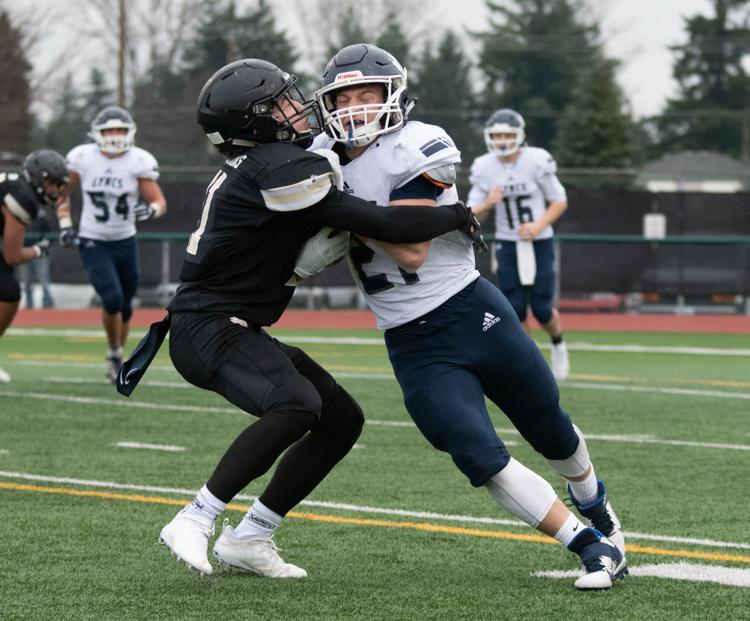 All they had to do was hold on for three minutes and they'd be hoisting the trophy.
But giving Christensen and Royal three minutes on the clock is like handing Russell Wilson the ball in the final minutes for a game-winning drive.
Christensen drilled a wide-open Aldo Farias down the far sideline who cruised into the end zone for a 74-yard dagger, which proved to be the game winner.
"We just missed a coverage. No big deal," Kaemingk said. "That will happen in a high school football game. I just told them, 'We love you. You tried your best and worked your hardest.' For our kids to come back like that, it treated a lot of people to a really exciting high school football game."
Despite the loss, Lynden Christian proved it is not just a basketball school. This senior class helped build the best football team LC has seen in 22 years, since winning state in 1997.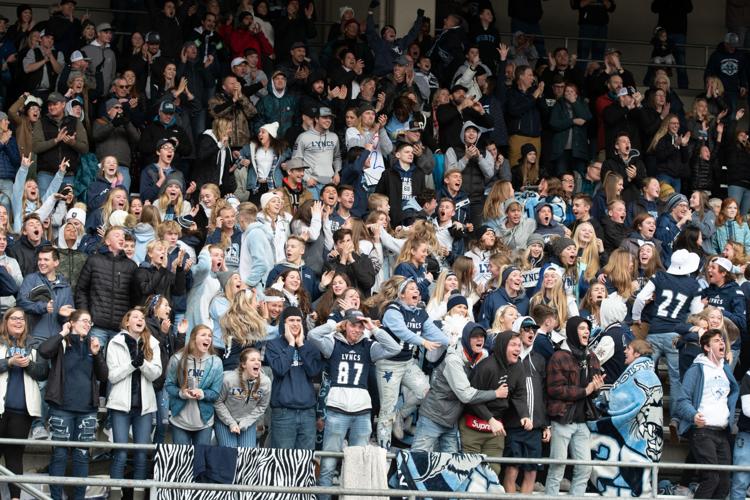 They ran a 21-4 record the last two years, advancing to the state semifinals last year and the title game this season.
Veltkamp said the ride the last two years is something he'll never forget.
"There's really nothing like it," Veltkamp said. "Our basketball team goes to state every year, and that's kind of expected. But when you get something like this, it's a little bit of a Cinderella story. This senior class is the product of a new sort of push to make this program better."
Though the Lyncs didn't come out on top, Kaemingk said he couldn't be prouder of his kids. His upperclassmen set a precedent that he hopes will continue to breathe success into the program for the coming years.
Last year's senior class demonstrated a level of kindness towards each other and their opponents that helped cultivate the team's success. This year's senior's expanded on that, he said, and it's something that will stick with them long after football.
"If you can be really kind to someone else you can open up their potential of what they can become," Kaemingk said. "If our juniors and sophomores are smart enough to see that going forward, then we're going to be fine. A legacy of how to treat people is what [these seniors] have left us. That's what I'm really proud of."