Lynden Christian gets rematch of district title game against King's 
YAKIMA — Coming into the new basketball season, everyone wanted to talk about how the Lynden Christian boys were going to have a down year. After all, the Lyncs graduated more than half of their starting lineup. 
The current Lynden Christian roster didn't care for that, ignored the noise and now the Lyncs are back in the state championship after defeating La Salle 71-58 in the state semifinals Friday night.
The 3-pointer has been a strength for Lynden Christian all season and the Lyncs put the rest of the SunDome on notice of just how lethal they can be from beyond the arc. 
Lynden Christian shot 52.4 percent (11-of-21) as a team from deep with sharpshooters Jaden DeBoer and Andrew DeVries accounting for nearly all of them. 
The deadly duo of DeBoer and DeVries drilled a combined 10 treys. DeBoer made four of his 3-point attempts as part of his game-high 28 points, while DeVries drained six to score 18. 
For DeVries, it also served as his first points at the state tournament after being shut out the previous day by Meridian. 
"I've been bringing the mentality that each shot I take is going in, so to see one actually drop was a good little ice breaker," DeVries said. "I just try to focus on each shot doing the mechanics right, flick the wrist and hope it goes in."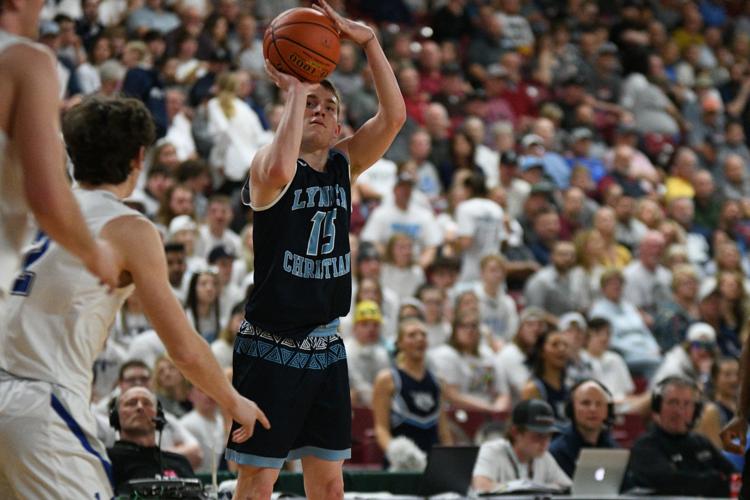 Lynden Christian led 13-6 after the first quarter, but lost a little bit of a steam in the second as the Lightning started to capitalize on Lyncs' turnovers and went on a brief run to cut LC's lead to 22-19. 
The Lyncs answered with a run of their own after that, giving themselves a 10-point cushion heading into halftime. 
"When you get to the dome anything can happen," DeVries said. "Every team is good and they're here for a reason. La Salle is a good team we couldn't have taken lightly."
Lynden Christian stretched its lead to as many as 18 in the second half with DeBoer and DeVries not slowing down. 
Lyncs coach Roger DeBoer said there's a fine balance between being coach and dad during the game with Jaden having such a big night. He said anyone could have had the kind of performance Jaden had, it just happened to be him.
"If his last name was Anderson, he was still really good tonight," Roger said. "That's the cool thing about this team. When guys are feeling it, other guys look for them. This team has a tendency to find each other. Tonight it was his night, but it was fun to see him have that success in the state semifinal."
Lynden Christian will play in the state championship at 7 p.m. Saturday against King's. It's a rematch of the district championship last month which the Knights won 69-57. 
Jaden said they're looking forward to the opportunity to redeem themselves from the district title game that slipped away from the Lyncs. 
"We were slept on the whole year and just to get back here is a blessing," he said. "Those are the guys we want to meet. Losing to them in the district title wasn't fun. They're definitely getable. Anything can happen in the 'ship."
The Lyncs will be going in as the higher seed, but King's is probably the favorite to win in the eyes of spectators and the public. It's a position they're comfortable with.
"We definitely accept being the underdog," Roger said. "That King's group has been told from the time they walked out of the dome last year that the state title is theirs next year. We were told when we walked out of the dome that we were going to have a down year. Our kids took exception to that and just said 'It's our turn.'"
DeVries said playing in the state championship is hard to put into words, but that it's a privilege to play in it and honor the past players to wear a Lynden Christian uniform. 
"To go out with a bang, [it's something] I don't think a lot of people thought we could do," he said. "It's another game against a really good team. We all know win or lose it's the last game of the season, so we want to give it our all."