Anna VanderYacht put up 14 kills, 16 digs as Lynden overcame first-set errors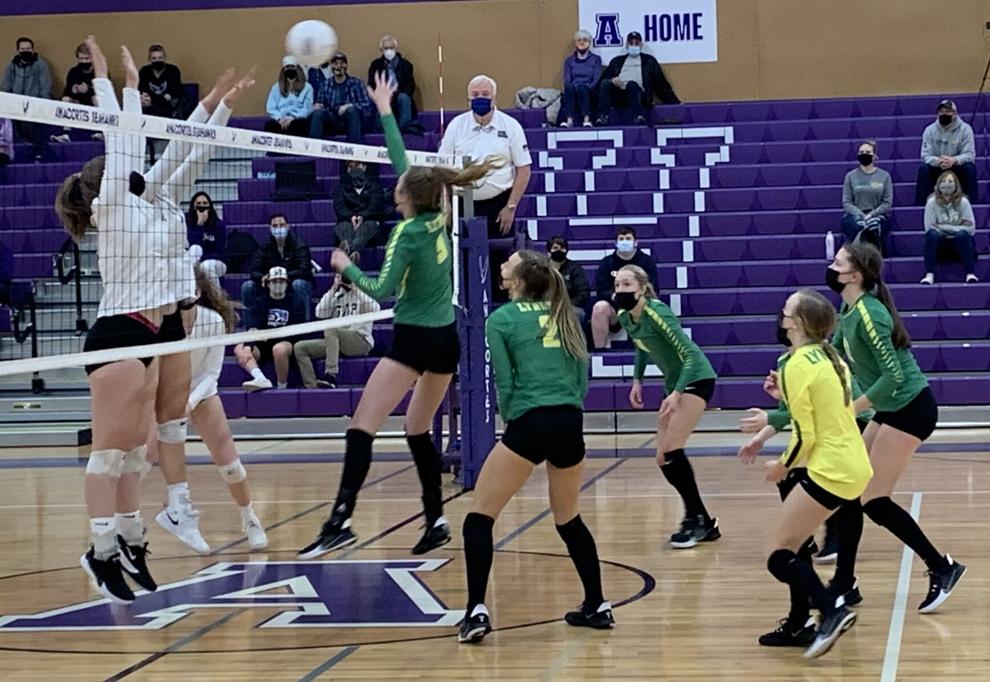 ANACORTES — Volleyball is a mental game, and finding the rhythm of each set is important to a team's success.
The Lynden Lions started a little slow at Anacortes Saturday afternoon, but head coach Chris Elsner said her team took some time to find its footing against the Seahawks.
"It was just finding our rhythm and getting back to playing some clean volleyball," Elsner said. "We were making some unforced errors."
Lynden fell behind in the early part of the first set, but strong showings by multiple Lions kept them in it. The set was tied at 21-21, but Lynden would come out on top 25-23.
"I think that we just needed a bit more energy and then once we got more energy we just started going," freshman setter Grace Rice said.
Tackling the errors was a big part of going out for the second set, senior outside hitter Anna VanderYacht said.
"We really talked about going out swinging and taking the errors and eliminating them as much as we can and controlling on our side," VanderYacht said.
The Lions scored the opening point of the second set and sophomore Lucy White subbed in, and the score sat at 6-0 by the time she was finished with her turn behind the line. The Lions finished the second set 25-10, and they continued that commanding presence through the third set, sweeping the Seahawks.
Rice racked up 36 assists in the setting category, while VanderYacht recorded 14 kills and 16 digs. Her sister, Mya VanderYacht, put up 13 digs of her own. Faith Baar had 11 kills across the three sets.
Chalking up their seventh straight win this season, the Lions remain undefeated heading into their senior night matchup against Sehome on Monday. After that, the Lions have six matches to be played across just two weeks, including fellow undefeated squad and crosstown rival Lynden Christian on Saturday, March 13.
"It's been a long wait and just to be able to compete has been just a blessing," Elsner said. "This group of girls, they're a special group. They've come together in a way that no other team has during COVID."