Lynden loses to Bellingham 3-0, Ferndale one win away from state berth, and more from the first two rounds of District 1 girls' soccer
The Lions lost to the Bayhawks in their first game of the 2A District 1 bracket on Saturday, Oct. 30, but they are not done yet.
"The beginning of the game was pretty dominant on our end," said Carlos Melendez, Lynden's head coach. "I would say the ball stayed on their defensive half for the first 10, even 15 minutes of that game. We put the pressure on, we were ready to play."
Bellingham's first two goals were perfectly placed just over the top of Lynden's junior goalkeeper Sam Escobar. Melendez complimented Escobar, keeping full faith in the player protecting the Lions' net.
"Our goalkeeper [Escobar] has been awesome all year," Melendez said. "Prior to this game, I want to say we've given up 16 goals, and I want to say maybe one of them was her fault."
Melendez said he adjusted by playing four forwards after Bellingham's second goal, knowing they needed to generate some offense. The Bayhawks' final goal of the game came on a corner kick, and that was it from both sides.
Coming into the tournament, Lynden was seeded at No. 5 while Bellingham was No. 4. The bracket's inaugural games began on Thursday, Oct. 28, with No. 10 Sedro-woolley and No. 9 Lakewood being eliminated.
Lynden (10-5-0) will now move into the losers' bracket but still have a chance to earn a state tournament berth. They will play No. 8 Squalicum (7-7-3) at Sedro-Woolley High School on Tuesday, Nov. 2, with a match start of 7 p.m.
If they win that game, they will still need to win their next two in order to be seeded in the state tournament. With a loss, they would be eliminated; only three of the 10 2A teams in District 1 will advance to state.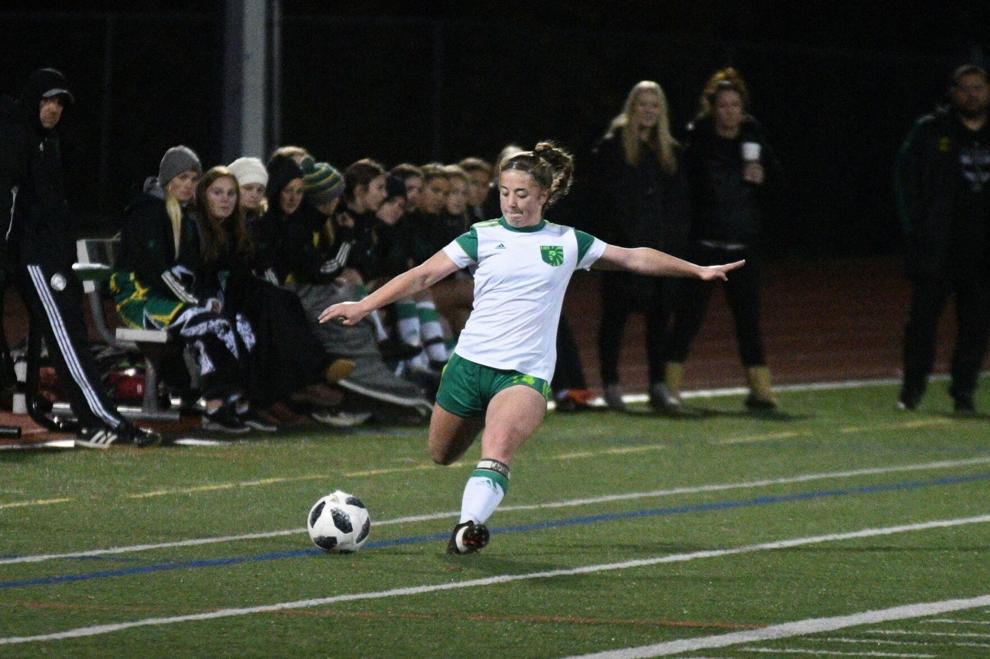 Luckily for the Lions, they have experience against the exact Squalicum squad they will be facing. They defeated the Storm 3-0 a couple weeks back on Tuesday, Oct. 12.
"We had a pretty solid game against Squalicum last time, and that's the dangerous thing. I would say it was pretty dominant, they had one, maybe two opportunities on goal," Melendez said. "It's tough to try and forget that and keep the kids grounded … just trying to ground the kids and go at it as if you're getting the very best Squalicum team you're going to go up against."
Additional District 1 soccer results – Oct. 28 and 30:
No. 5 Ferndale eliminates No. 12 Meadowdale, 2-1
Ferndale earned their tenth win of the season with its victory over Meadowdale. With the win, they survived the initial elimination round of the 3A District 1 bracket. Thus, the Golden Eagles ended Meadowdale's season in the round of 12.
No. 1 Blaine defeats No. 2 Meridian, 2-1
Blaine (9-7 overall) advanced to the District 1/2 crossover with a narrow win over Meridian (4-11-2 overall) on Saturday. The crossover begins on Saturday, Nov. 6, and will showcase two teams from each district.
Meridian, however, will still have a shot to advance with a win on Thursday, Nov. 4, against either Nooksack Valley or Lynden Christian.
No. 4 Nooksack Valley eliminates No. 5 Mount Baker, 5-1
With a pool of five teams, one team had to be eliminated in the inaugural round of the 1A District 1 bracket.
Nooksack Valley (3-13-1 overall) kept their season alive with a four-point victory over Mount Baker (1-16 overall), advancing to the second of three possible games.
Unfortunately for the 1A teams, just two programs will advance to the District 1/2 crossover. Nooksack Valley will play Lynden Christian (3-4-4 overall) on Tuesday, Nov. 2 to determine who will contest Meridian for the second crossover spot.
No. 5 Ferndale defeats No. 4 Mountlake Terrace, 4-3
The Golden Eagles are one win away from having an automatic bid to the state tournament.
Ferndale (10-4-2 overall) advanced to the semifinal round of the 3A District 1 winners' bracket with a one-point victory over Mountlake Terrace (9-5-3). They will play top-seeded Shorewood (14-3) on Tuesday, Nov. 2. The winner of that match will play in the final where both teams advance to state, win or loss.
The loser of Tuesday's contest will stay alive, but instead will have to win two straight in order to make it into the state bracket.