ELLENSBURG —Lynden volleyball defeated Pullman Saturday in a loser-goes-home match, by a final of 3-2 (25-23, 19-25, 25-20, 22-25, 15-11). With the win, Lynden will now face White River in the fifth/sixth-place game at 3 p.m. Saturday.
Lynden got off to a hot start in the match, taking an early 6-1 lead. Pullman slowly started to mount a comeback and eventually tied the set at 22-22. Lynden was able to close out the set on a block by Robin Scarlett.
Lynden coach Chris Elsner said the team came off a heartfelt loss to Ridgefield yesterday, so taking the first set in this match was important.
"To come out the next day resilient, attacking, aggressive, and have a fearless mindset again is a hard thing to do," Elsner said. "There were times we took our foot off the gas but then we found ourselves again and got back to the way we play volleyball, which is hard to do when you come off an emotional game like that."
The second set went to Pullman, tying the match at 1-1. Lynden was able to respond and took the third set 25-20 on a Faith Baar kill.
With their backs up against the wall, Pullman forced a fifth set, taking the fourth set 25-22. In the fifth and final set of the match, Lynden dominated early, starting the set on a 9-2 run. They were then able to finish out the set by a final score of 15-11 to take down Pullman and move on to the 5th place game.
"I think the sets we won we came together as a team and everybody was in it," said junior outside hitter Anna Vanderyacht.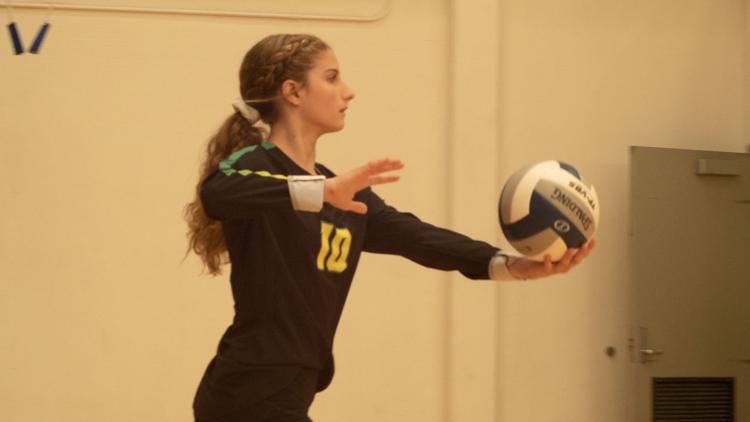 Vanderyacht finished the match with 11 kills and 20 digs. Junior middle hitter Faith Baar finished with 22 kills and three blocks. Senior setter Robin Scarlett had a team-leading 52 assists to go along with her 18 digs, senior libero Kennedy House had 20 digs and senior outside hitter Emily House had 10 digs. Senior middle hitter Savonne Sterk finished with 14 kills, eight digs and one block.
"Overall I think we could've done better but, I mean, I'm always going to say that," Sterk said. "I'm happy we get another chance to play again for us to really just have fun in our last game together and just enjoy it."
With the win, the Lions are now guaranteed a top-6 spot in state. Elsner is happy the team could represent the school by bringing back a trophy for either fifth or sixth place.
"The good thing is knowing we're going to bring home hardware regardless, and with that there's this freedom to be able to just continue doing what we're doing," Elsner said.
The team will now face White River in the 5th place game. White River won their first match of the weekend over Columbia River 3-1 before losing to Burlington-Edison 3-1. In the lower bracket, White River defeated Tumwater 3-0 to move on to the 5th place game against Lynden. The quick win gave White River a chance to catch the end of the Lynden-Pullman game to see who their next opponent will be.
Elsner said the parental support is endless and provides energy to the team. Going into the final game of the season, the one thing she wants the team to do is stick to their identity.
"The thing we're going to fix is just really play our game, and not so much be thinking about the other team but more about what we do on our side and just take care of business," Elsner said.