Steven DiLorenzo detonates for 190 yards and two scores
BELLINGHAM ­— Back in June during the Eastern Football Camp, Lynden football coach Blake VanDalen gave his upcoming varsity players poker chips.
The Lions were coming off their best season in four years. But graduating were six first-team all-league selections, two all-state players, their leading passer, rusher, top three receivers and three of their top four defenders.
VanDalen wanted his returners to hold a thought fresh in their minds as they headed into the 2019 season this fall. He wanted them to have chips on their shoulders.
"They've kept that poker chip with them as a reminder that everybody thought we lost everything," VanDalen said. "I feel like we had everything we needed, we just needed to work really hard. Now we have another opportunity next week to prove to everybody that we belong."
That chip lifted No. 3 Lynden to a 41-14 victory over No. 14 Othello in a 2A state playoff opener on Saturday at Civic Field, and into the state quarterfinals for the second-straight year.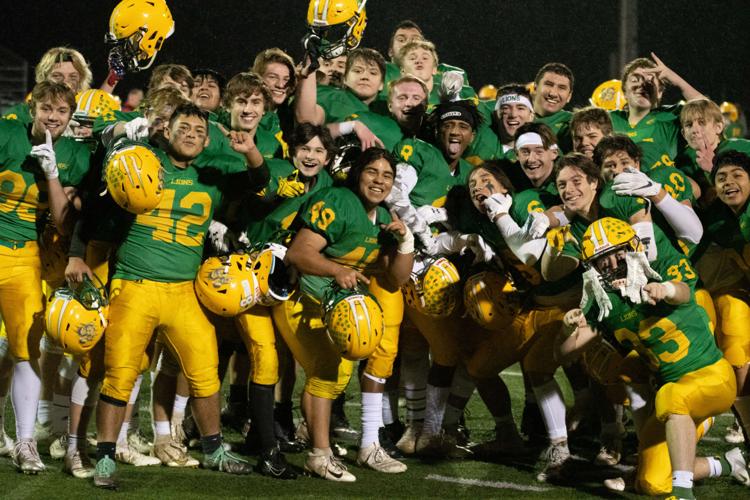 "I feel like we're reliving all of last year again," Lynden senior corner Eric Bode said. "Our defense has been pretty strong all year. It was nice to see we got [Othello] pretty shut down today."
The victory means the Lions (8-2) get to remain home at Civic for at least one more week as they host No. 11 seed Washougal (7-4) at 2 p.m., Saturday, Nov. 23. The Panthers were 14-13 upset winners over No. 6 Clarkston.
On Saturday, Othello was without star halfback and defensive end Isaiah Perez, who watched from the sidelines in street clothes. Even with Perez, it didn't look like it would have made much of a difference.
Bode picked off the Huskies on the opening drive of the game, setting up Steven DiLorenzo's 16-yard touchdown run, the first of a 20-point outburst to start the game for the Lions.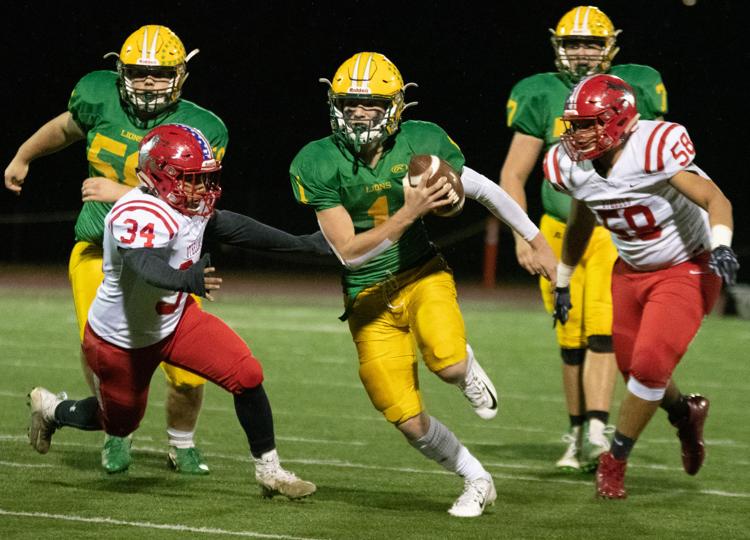 Four minutes later Baylor Ayres connected with Brock Heppner for a 20-yard TD strike. Four minutes after that, Heppner found tight end Lukas Lohrer open in the end zone for a 6-yard TD reception.
The Lions defense was lights out, with Othello's first of two scores coming off a bobbled kick return to start the second half.
The defense was so effective, VanDalen said, that they didn't even talk defense in the locker room during the break.
"We told them it would be a disciplined week, where this is a team that makes you pay when you're undisciplined," VanDalen said. "The fact that we didn't have to pay too much on defense tells you how focused our kids were."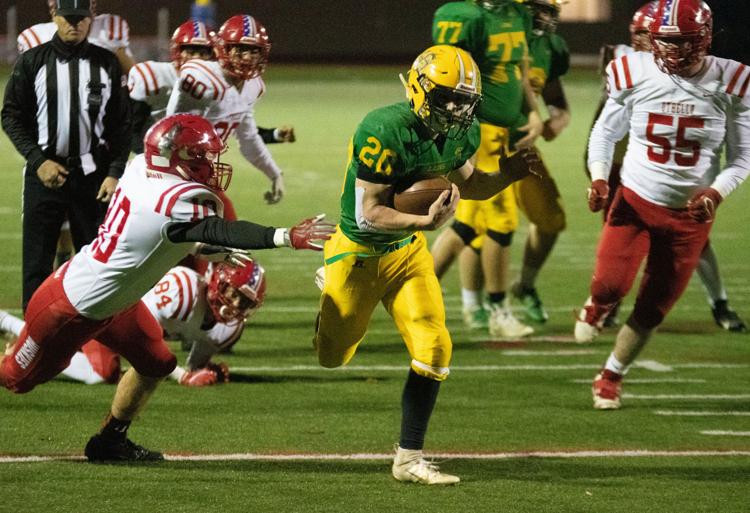 Meanwhile, DiLorenzo, who detonated for 190 yards rushing and two scores on 20 carries, collected his rushing score of the night, torching Huskies' defenders in a footrace to the end zone to answer Othello's score that came from the miffed kick return.
Ayres, who ran 11 times for 70 yards, according to Whatcom Preps, plunged through for two rushing scores in the second half to help Lynden build an insurmountable 41-6 lead late in the game.
VanDalen credits the dedication from his players in the weight room over the summer to the Lions' success so far this season.
"Everybody wants to win. Everybody wants to be in the quarterfinals," VanDalen said. "Are you willing to do what it takes? I can tell you without a doubt this group has done that. They've done everything we've asked, they've never pouted, they've never made excuses.
"It hasn't always been easy. Even tonight there were moments that were frustrating. But these kids have put in so much time that the will to win is there."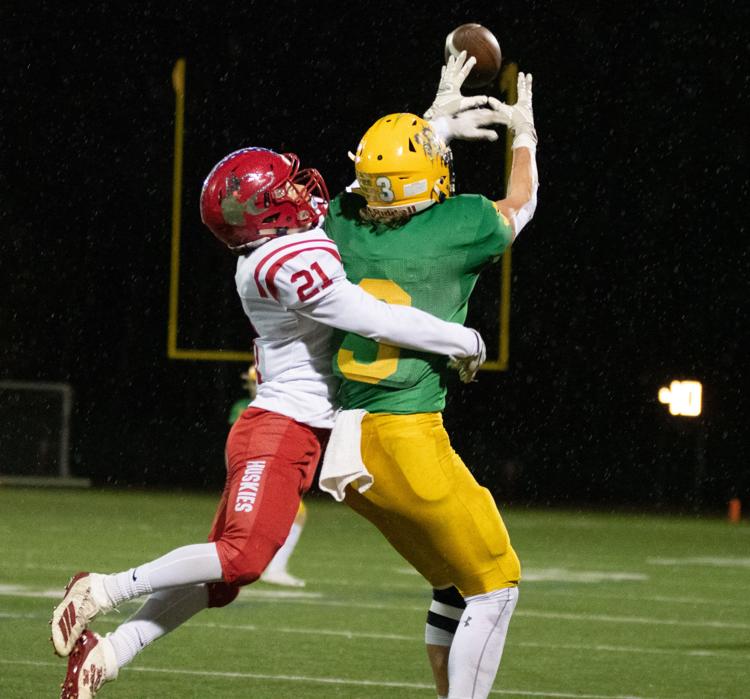 Now the Lions will prep for Washougal, a southwest Washington team that finished second in the Greater St. Helens 2A League behind two-time state champion Hockinson. The Panthers have won four of their last five games.
What else does VanDalen know about the Panthers?
"Absolutely nothing," VanDalen said. "I didn't want to look ahead. I've learned in the playoffs that there's going to be so much time next week to get well-versed in them, and we will. We'll learn as much as we can about Washougal, put together a game plan and get to work."