Battle-tested Lions led by trio of talented guards
LYNDEN ­— At practice last week, the Lynden girls basketball players slammed their hands on the floor while playing defense, dove for loose balls and swatted away passes.
This is the culture 13th-year coach Rob Adams, the reigning Northwest Conference Coach of the Year, has created. He preaches that practices should be harder than games.
When asked if that's truly the case, his three senior captains all answered in unison.
"Practice is harder than games," guards Keylie Hershey, Liv Tjoelker and Ruby VanderHaak said together.
"We're all really intense, our whole team," Hershey added. "We're all just super intense people."
It's a strategy that's worked well for Adams and his voracious Lions, who've captured two state titles and eight top-six trophies in the last decade. His 2019-20 team might have the best shot at claiming the Gold Ball since last winning state in 2017.
The trio of returning guards are bold as they prepare for their season opener against King's Tuesday — and for good reason, they're among the most decorated in Lynden girls basketball history.
The three led Lynden to an NWC title, a 23-4 record and a fourth-place finish at state last season. They've helped earn trophies in all three years they've been on varsity so far, including the state title in 2017 and sixth place in 2018.
Hershey has started 83 games, dating back to her freshman year, while Tjoelker and VanderHaak each have 81 starts under their belt since the beginning of their sophomore year.
Hershey earned first-team all-state honors last season while leading the team in scoring with 17.3 points per game. VanderHaak, a first-team all-Northwest Conference pick, put up 12.3 points per game, while Tjoelker was second-team all-NWC after averaging 10.2 points and 8.4 rebounds.
They didn't do it alone last year, however, and they won't be without added firepower this time either.
Gone are just two seniors, while all five starters are back, including junior defensive standout Anna Vanderyacht and senior Keyna Holleman. The rotation will likely look different this year, however, as junior posts Faith Baar (6-foot-1) and Maddie Canales (5-foot-9) both return after missing all of last year with injuries.
"We're actually not all 5-foot-7," joked Hershey, a reference to the Lions being guard-heavy last year without Baar and Canales.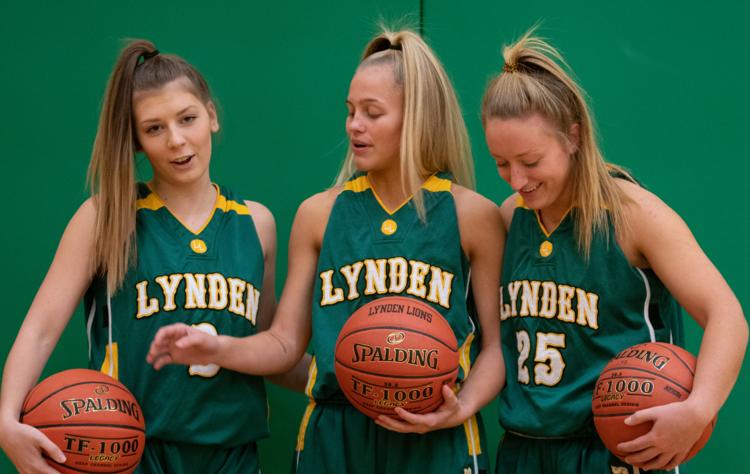 Now, with some true post players, they're gunning for the top trophy — and they know what it takes to get there.
Hershey, VanderHaak and Tjoelker were all beat up in practice by the state-winning seniors their freshman year, a senior class that taught them what it takes to win a championship.
They saw how tough it is to actually win, but those seniors taught the three more than just winning.
"The five seniors on that team were amazing," VanderHaak said. "They taught us how to be leaders and how to deal with each other."
Dealing with three stars on one team, which includes a talented supporting cast, is no simple task, Tjoelker said. But it's easier when she, Hershey and (VanderHaak) have all been playing together since fourth grade.
"We've been doing this since we were little," Tjoelker said. "We've been playing together so long that we're used to it. We feed off each other."
Even with all three averaging double-digit points last season, they don't fight for the ball. They relish each other's success and feed off it. It's a connection that carries them through games.
It's that type of selflessness that's kept Lynden girls' basketball tradition churning over the years. That, and the competitiveness. 
Games are easy for the team; it's the practices that are difficult, as players go all-out, setting the tone for the incoming freshmen. It's something that's passed along each year.
"That edge and that passion we all have on this team makes us successful every year," Hershey said. "We've never had a freshman class that didn't care. That's just not something we do in this program."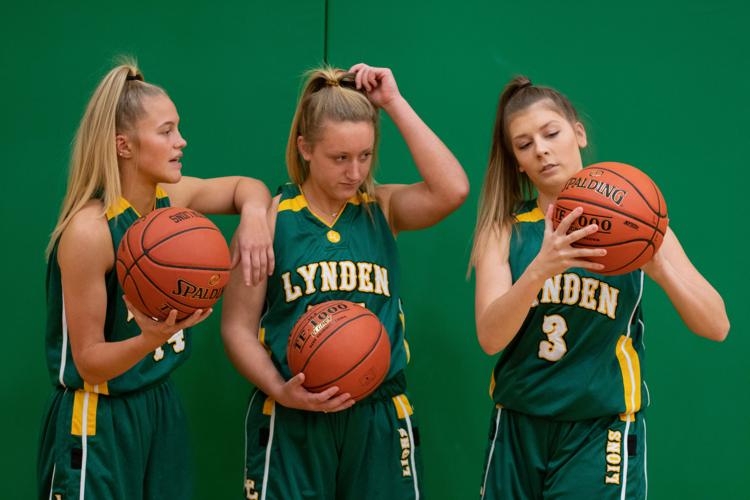 Growing up watching past stars like Brandi Benner and Kortney Grattic, who each helped the Lions to state titles, has motivated this year's seniors.
"We said, 'We're going to be them someday,'" Tjoelker said. "We're here and we're doing that. It's the Lynden legacy. Basketball is important to us."
The trio was confident yet humble heading into their season opener against King's on Tuesday night as they begin their quest. But, yes, there is pressure, Hershey said. It's good pressure. It motivates them even more.
Did they ever expect they'd be heading into their senior year as one of the Class 2A favorites?
"It's expected for us," Hershey said. "We knew we'd be here. We know why we're here. A lot of credit goes to coach because he works his butt off for us too."
For them, their journey only ends one way this year.
"We're trophy hunting," Tjoelker said. "We're eating. One game at a time."