Lions bounce back from semifinal loss to close out season
YAKIMA — There would be no three-peat, but there was a chance for a third-place finish at the state tournament for the Lynden boys basketball team. 
The Lions took on Lindbergh Saturday afternoon in the 3rd/5th place game and came away with a 72-58 win to place third in the state. 
Having to bounce back from the night before where the Lions saw a fourth quarter lead slip away against North Kitsap wasn't easy, but Lynden hit the hardwood the next day with a new reason to keep playing. 
"That's why I always like watching teams in the losers bracket," Lions coach Brian Roper said. "It's all about your commitment to each other and your team and your school. You're not playing for a gold ball anymore you're playing for the love of the game and for each other."
Everyone was getting involved early for the Lions with junior Clay Kochuten and sophomore Kaleo Jandoc knocking down open looks.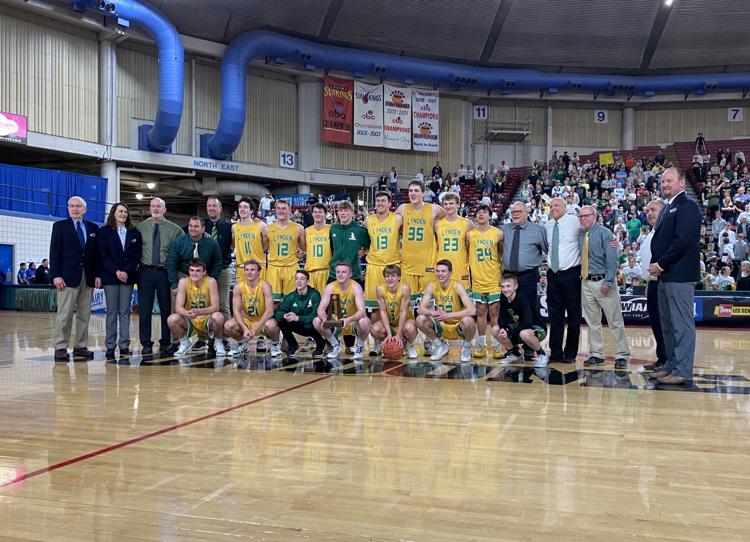 Lynden led 15-13 after the first quarter with the Lions and Eagles alternating baskets for the first eight minutes. 
Kochuten was feeling it from beyond the arc early having nailed a pair of treys in the first half. Lynden led 23-22 midway through the second quarter, but the Lions led 33-25 at halftime after going on a late run. 
"I didn't know if we'd win, but I knew our guys would come out and bring great effort," Roper said. 
Kochuten drilled another 3-pointer to open the second half and hit his fourth later in the quarter. The Lions headed into the last eight minutes of their season ahead of Lindbergh 49-34.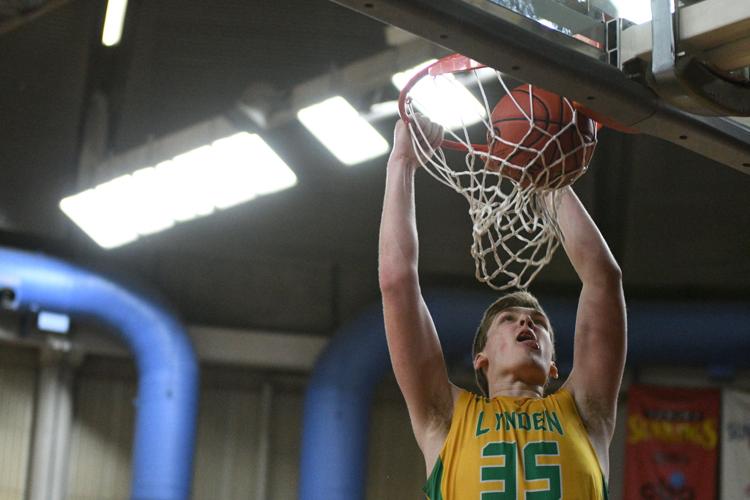 That's when Lynden started to let loose and make the most of the last quarter of its season. Sophomore Jordan Medcalf and junior Liam Hanenburg put down back-to-back dunks and the energy from the team could be felt all over the court. 
Hanenburg led the Lions with a 25-point, 14-rebound double-double. Kochuten scored 14 going 4-of-7 from 3-point land. 
"It's not when we wanted to go out, but I like how we want out," Roper said. 
Senior Brock Heppner checked out of the game for the last time in a Lynden uniform with about two minutes left and he watched as the Lions' reserves played out the final minutes of the season. 
Roper said coaching a player like Heppner is a rare thing. 
"You can coach 25 years and never get a chance to coach a guy like Brock Heppner," he said. "In terms of his leadership and will to win, it's pretty unique."
Heppner couldn't help but let his emotions overcome him after playing his last game. 
"It's just crazy because I've watched Lynden since I was a baby," he said. "You want to grow up and when you get there you want to slow down and stop."
In his final game for the Lions, Heppner scored 13 points and grabbed 12 boards for a double-double. 
"We just had to rally together," Heppner said. "We were sitting there shedding a few tears yesterday. We were really disappointed, but we had a team hug. We talked through it and just really wanted to finish on a high note."
With the exception of Heppner, the Lions will return their entire starting lineup next year. It's not out of the question for that group to make a run next year, but Roper said he hasn't thought about that too much yet. 
For Heppner, he had something specific in mind for the type of legacy he hopes to leave with Lynden basketball.
"I just want kids to look back and see I wasn't the biggest guy, I wasn't the fastest or one of the most gifted, but anyone can be a leader, anyone can impact the team and make the team better as a whole," Heppner said. "You don't have to be the best player and you don't have to be a superstar to do that. You can be anyone. You can just be a kid that works hard."