88 boys learn skills from high school players under theme 'Tradition' 
LYNDEN ­— The last time Lynden High School held a youth football camp, soon-to-be senior Brock Heppner was in first grade. He didn't take his camp T-shirt off for a week.
It made sense that Heppner, the Lions' returning starting quarterback, was one of this year's captains who implored varsity head coach Blake VanDalen to resurrect the camp.
For the first time in a decade, a mass of kids mobbed Rollie DeKoster Field June 17 to participate in the Green and Gold football camp put on by Lynden football's coaching staff and players.
About 88 youth football players from first through sixth grades broke into age-level groups and went through eight drill stations ranging from throwing to catching to lineman skills. Two or three high school players worked each station for the event that lasted about six hours. 
It taps into VanDalen's motto for this year, "Tradition," that's rooted in honoring the Lions' storied past and setting the groundwork for future generations of young men in the community. All the kids received a T-shirt emblazoned with the "Tradition" motto to go along with a football that all the high school players signed.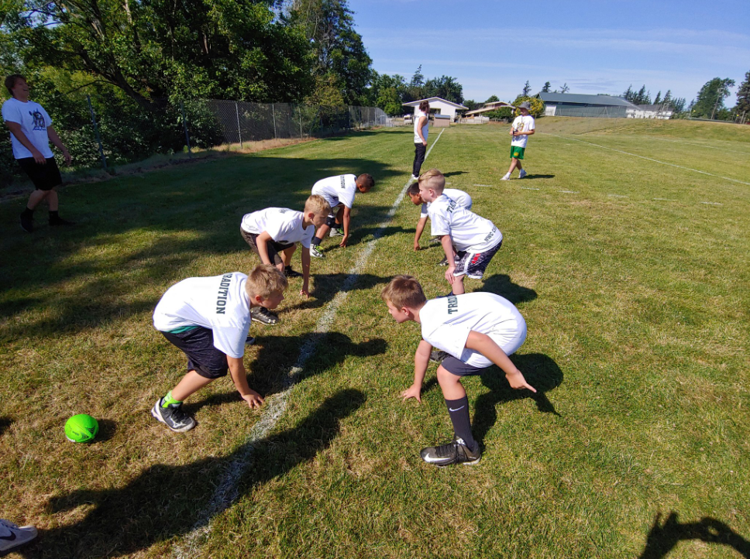 "We brought it back because we wanted to provide kids with the opportunity to be around our players, [as] they coach the kids, in a positive encouraging way, and start developing skills and a love for football at a young age," VanDalen said.
The kids toured the new Lynden High School weight room that opened last October and looked on in awe as they watched Heppner and other high schoolers demonstrate the team's four core lifts on the new equipment. They even watched highlight film of last year's Lynden team that finished second in state.
Each camper was able to learn from some of the best 2A players in the state. The kids learned each position on defense (defensive line, linebacker, defensive end, defensive back), and rotated through kicking stations as well.
They also worked offensive stations (offensive line, running back, wide receiver, quarterback), then ended the day with the little kids' combine. Each camper got tested in the 40-yard dash, standing long jump and shuttle run. The coaching staff scored each kid and provided feedback for the campers to take home and work on.
For many of these youths, continuing the Lions football tradition is a dream, said Danielle Ayres, a Lynden School District elementary teacher whose son, Baylor, is on the high school football team. 
She and several other high school football player mothers helped organize the camp and prepare lunches for the kids.
"For these little kids to know and understand how important it is to be a part of something bigger than themselves is huge," Ayres said. "It's really important for them to seek positive role models in the high school players and to connect with them personally. It's all about relationships. It's not just about being football players. It's building young men that can be positive contributors to our community."
It's a relationship that works both ways, VanDalen said.
"Our older kids learn a lot by giving back and feel really appreciated and valued when little campers look up to them and want to come support them on Friday nights," VanDalen said. "The younger kids benefit because they look up to the older players, and we believe have a great desire to get to be in that same position when they are in high school."