Lynden volleyball goes down in four sets at home
LYNDEN – From a pure spectator's perspective, the margins appeared slimmer than they were.
The Lions lost to the Burlington-Edison Tigers on Wednesday night, but the match felt much closer than the tale the score sheet will tell you. Lynden fell to 4-3 overall on the season as Burlington-Edison improves to 6-1.
It was over in four sets (27-25, 17-25, 19-25, 20-25) but began with a battle that stuck with onlookers for the remainder of the game.
Lynden commanded the majority of the first set, holding a 19-15 advantage as it neared its end. Burlington-Edison went point-for-point with the Lions from there, forcing an exhilarating finish to the set at 27-25.
"In the first set we played aggressively and limited our errors – we did simple things," said Chris Elsner, Lynden's head coach. "They [Burlington-Edison] are a really good team, super scrappy and just so well coached by Tawnya Brewer."
The Lions once again came out hot, taking an early 4-3 lead in the second. Burlington-Edison mounted a quick 7-2 run that forced a Lynden timeout.
That Tigers' lead continued to swell, as they were up 19-10 towards the end of the second set.
A couple of solid plays in a row by Lynden cut the deficit down to six, forcing a Burlington-Edison timeout. It wasn't enough though, as the Tigers took the set by eight.
Like the previous two sets, the Lions came out with a vengeance. They were up 6-2 early on only to find themselves tied at 11 mid-ways through the third. Two misses later, they were in the hole.
Following a monster kill my Lynden sophomore Haylee Koetje, the energy was back up on the Lions' sideline. Koetje finished the match with 5 kills and 3 aces.
They seemed as if they were going to get right back into it, but Burlington-Edison's defense was too strong, and they went up 2-1.
"Our energy goes up and down, and we can't do that if we want to get through the game," Koetje said. "We've got it, that's something we can work on."
It was time for a fourth set.
Burlington-Edison jumped out to an early lead for the first time in the match, 9-7. Lynden battled back to a 12-10 advantage, and the two teams went back and forth.
After a 13-all tie was broken by the Tigers, they began to run away with it. The Lions were unable to gain a lead for the remainder of the fourth set, falling 20-25.
As aforementioned, the ebb and flow of each set made for a much more exciting match than the 3-1 final score shows. Lynden had bright spots in many areas that aren't reflected in the win-loss column.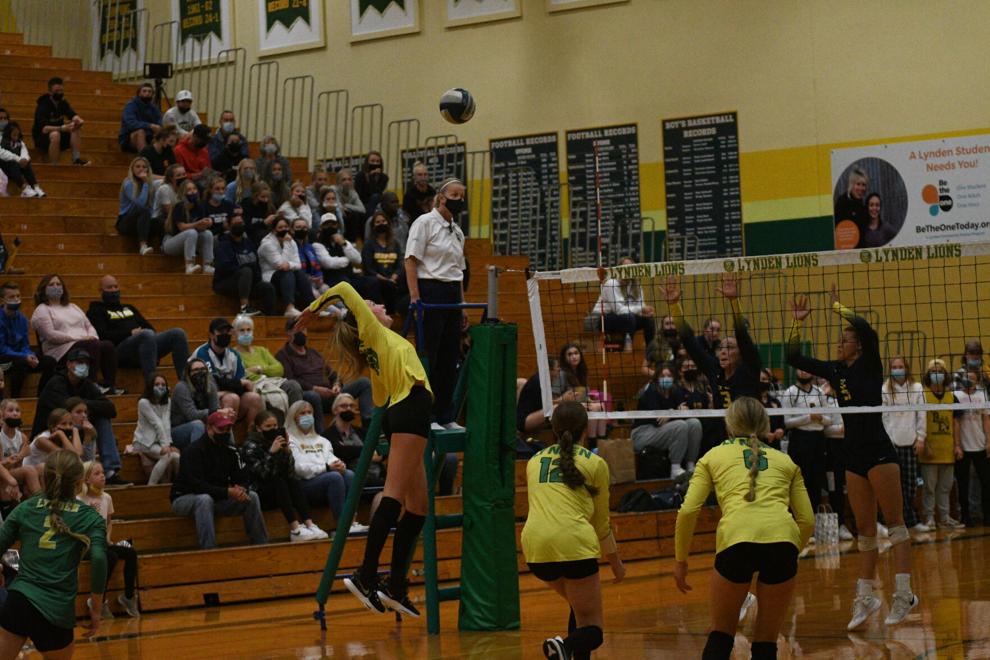 Lions' sophomore Mya VanderYacht set a new career-high with 25 digs. Sophomore Ashley Schumate had a team-high 11 kills accompanied by three aces. Grace Rice, another sophomore for Lynden, tallied 25 assists.
Elsner emphasized VanderYacht's contribution not only on the stat sheet, but in the way of bringing up the team's energy level and providing encouragement. Schumate said this is something the team views as a strength.
"We're all so close," Schumate said. "I think we all know how to kind of uplift each other."
The team won't play again until Monday, Oct. 4, but Elsner is already looking toward the positives of a shortcoming like this.
"We got to be exposed in a way where we get to be specific and intentional about what we do in the gym, and that's a gift," Elsner said. "You take something like this that stings and turn it into something where you just get better, that's a great takeaway for me."
Lynden will travel to Sedro-Woolley for their upcoming Monday match-up, who sit at 2-2-1 overall this season.