Ayres, DiLorenzo and Heppner lead the offensive charge
BELLINGHAM — Coughing up the lead twice in a loser-out playoff game can rattle a team. It didn't faze Lynden football on Friday night.
After Sehome retook the lead for the second time to go up 14-13 lead early in the second quarter, the Lions rattled off 35 unanswered points to rout the Mariners 48-21 in the 2A district playoffs at Civic Field.
The win gives the Lions their fourth-consecutive state playoff berth, while the Mariners season comes to a close.
"Our kids didn't get rattled," Lynden coach Blake VanDalen said. "They were frustrated about the mistakes but they didn't let it bother them. Once that flip switched, it was a lot of fun."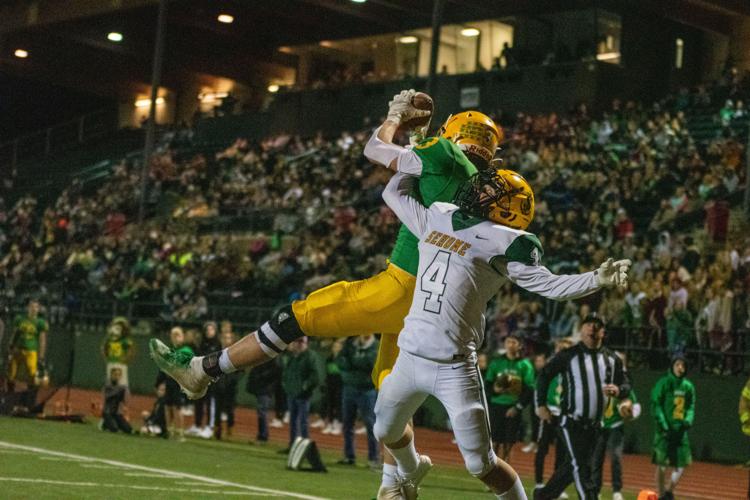 The sixth-seeded Mariners (7-3) had gone blow-for-blow with the top-seeded Lions (7-2) for the first 15 minutes, matching the Lions on each of their first two touchdowns.
It took Sehome junior quarterback Jacob Kaepernick's 80-yard TD bomb to Malloy Nelson that blew the top off the Lynden's secondary to finally wake the Lions up. After that it was game over.
The Lions' juggernaut of an offense caught fire, putting up 436 yards of offense, including 314 on the ground, according to Whatcom Preps. Meanwhile, the Lions defense put the clamps down in the final three quarters, holding the Mariners and Kaepernick, the county's leading passer, to 270 yards of total offense.
Lynden junior quarterback Baylor Ayres was at his best, throwing 106 yards and four touchdown passes of 37, 20, 9 and 4 yards. Two of those went to senior Brock Heppner, who finished the night with two receiving TDs (20 and 9 yards) and one rushing (3 yards).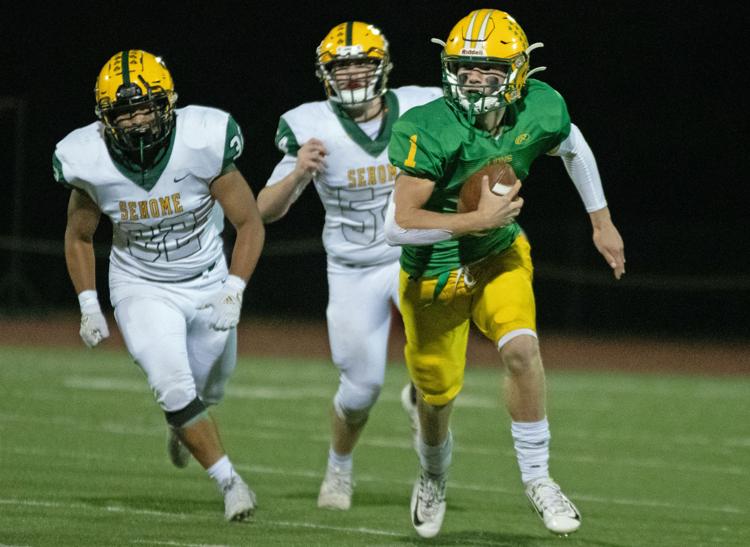 "We've worked so hard for this and it feels great," Ayres said.
Senior tailback Steven DiLorenzo played his first game in three weeks after getting injured against Sedro-Woolley on Oct. 18, then sitting out the regular-season finale and through the Lions' first-round bye.
Any rust DiLorenzo had didn't show, as the Lions' workhorse eclipsed the 1,000-yard rushing mark, gashing the Mariners defense for 181 yards and two scores on 15 carries. He sits at 1,153 rushing yards on the season, and added a 4-yard TD reception that gave Lynden the lead for good with 5:54 left before the half.
"I just wanted to get back out there," said DiLorenzo, who had a 41-yard TD burst on the Lions' opening drive. "We came out a little bit flat. That wasn't them being good, that was us being bad. We weren't focused all the way."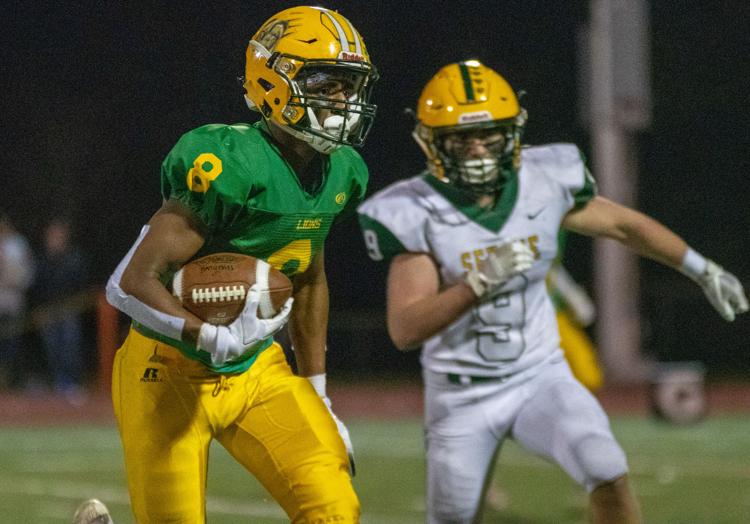 All 35 of Lynden's final points came in the second and third quarters, a stretch Lynden coach Blake VanDalen called playoff-level football by his team. VanDalen said having a first-round bye, which gave the Lions a two-week break, caused them to have the slow start defensively.
"Once we got settled in, we knew they couldn't score and we knew they couldn't stop us," VanDalen said.
Lynden held Sehome to just 30 yards on the ground. Senior halfback Dawson Smith was limited to 24 yards rushing on 10 carries. Kaepernick threw for 240 yards, 2 TDs and one INT on 17-of-29 passing. Nelson and Luke Evans hauled in the two TDs.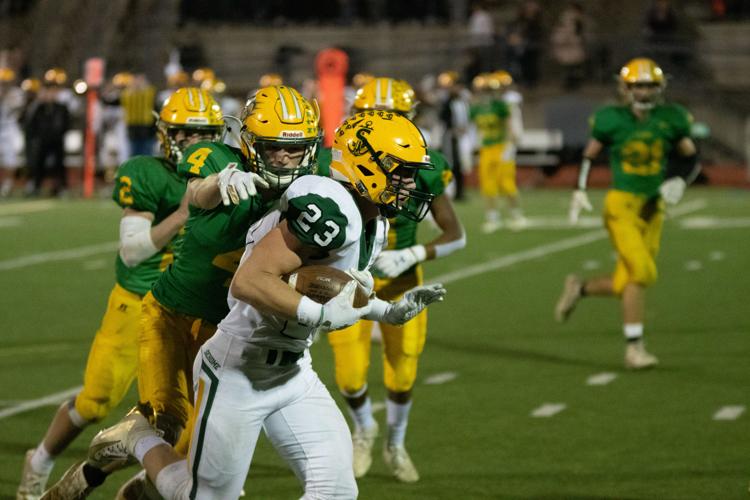 Now the Lions wait and see where the state seeding committee places them for next week's opening round of the state playoffs.
VanDalen received feedback from the seeding committee after last year's playoffs, saying they focus mainly on getting the top four seeds right. He thinks the Lions have earned one of those spots.
"We feel like we've put together a resume that would make us a top four," VanDalen said.
Good news for the Lions is they've beaten most of the teams that are right there in the conversation for the three through six seeds.
Lynden, ranked No. 4 in the final AP poll on Nov. 6, has victories over third-ranked Steilacoom (7-2), fifth-ranked Archbishop Murphy (8-1) and sixth-ranked Lakewood (8-1). Their two losses are to Class 1A's fourth-ranked Mount Baker, which is still a bad loss, and Class 2A's ninth-ranked Sedro-Woolley (7-2).
The Lions will likely get a four or five seed and host their next opponent at Civic Field next Friday or Saturday.
"It'll be a good film to watch because we'll learn a lot from it," VanDalen said. "We need to be a composed team in the playoffs. I love what I saw tonight from our kids.
"If we can repeat the second and third quarters on a consistent basis, I really can't wait to see where this journey ends."