Lynden beats Meridian 3-2, winning fifth straight against the previously 12-0 Trojans
LAUREL – The Lions upset the Trojans Thursday night, handing Meridian their first loss of the 2021 season (27-29, 25-18, 23-25, 25-20, 15-8).
In order to beat a great volleyball team like Meridian, it had to be a full-team effort.
That's exactly what Chris Elsner, Lynden's head coach, got from her team in the match-deciding fifth set.
"We played so collectively; it took everybody. It wasn't one person carrying the weight," Elsner said. "Our big focus was 'swing to win.' We can't send free balls, we have to attack."
It was just the second five-set match either team had played all season. Both teams had won those respective matches.
Meridian's, however, was much more recent – they defeated 4A Kennedy Catholic in five on Saturday. This was the Trojans' third game in four days.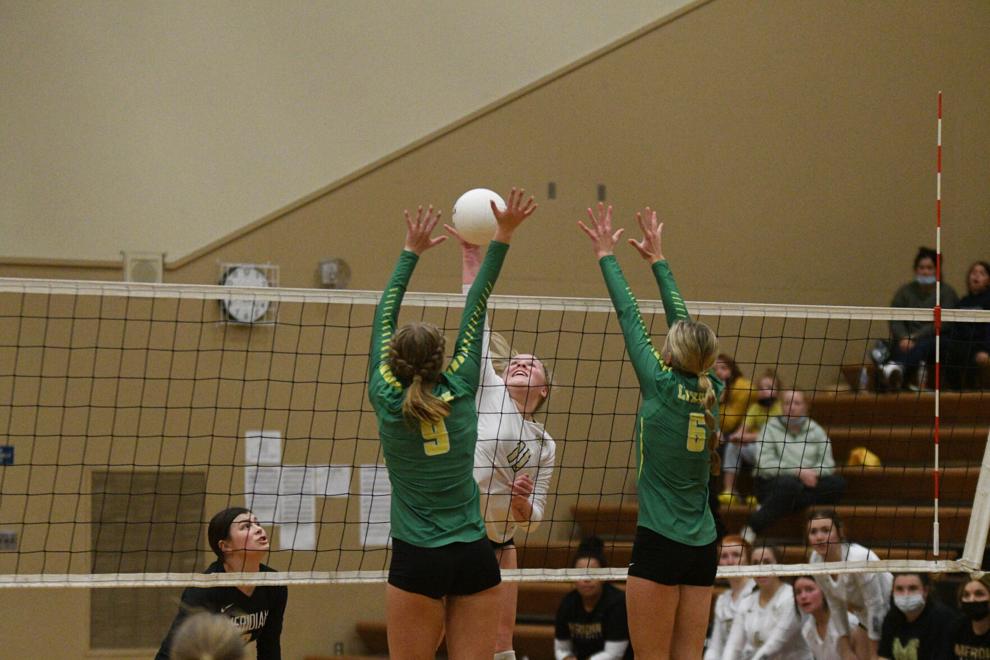 The first set brought an intense inaugural competition from both teams that included 16 ties and nine lead changes. Meridian managed to come out on top, 29-27, after a critical 3-0 run that sealed it.
Unfortunately, the Trojans would be playing the rest of the game without their primary setter, Malaysia Smith. She left the match with an apparent ankle injury late in the first.
Lynden came back with a vengeance, leading the entire second set – albeit narrowly. Their largest lead was four until they cracked 20 points, embarking on a 7-3 run that closed it out by seven.
"We all played for each other," Lynden sophomore Grace Rice said. "We were getting excited when people got a kill, we were playing for each other and that's what helped us take that next step."
There would be a minimum of two more sets on the way.
The third was another back-and-forth affair that seemed like it could end in favor of either team. Each team exchanged narrow advantages early.
Whenever it seemed like one team had the momentum, the other battled right back into it.
The Trojans used their second timeout while trailing 20-16. They subsequently mounted a 7-2 run that gave them a one-point lead late. A few volleys later, Meridian went up 2-1.
Late in the fourth, neither team had led by more than two points as long volleys were falling in both teams' favor. Lynden tied it up at 20, and the Lions took off from there.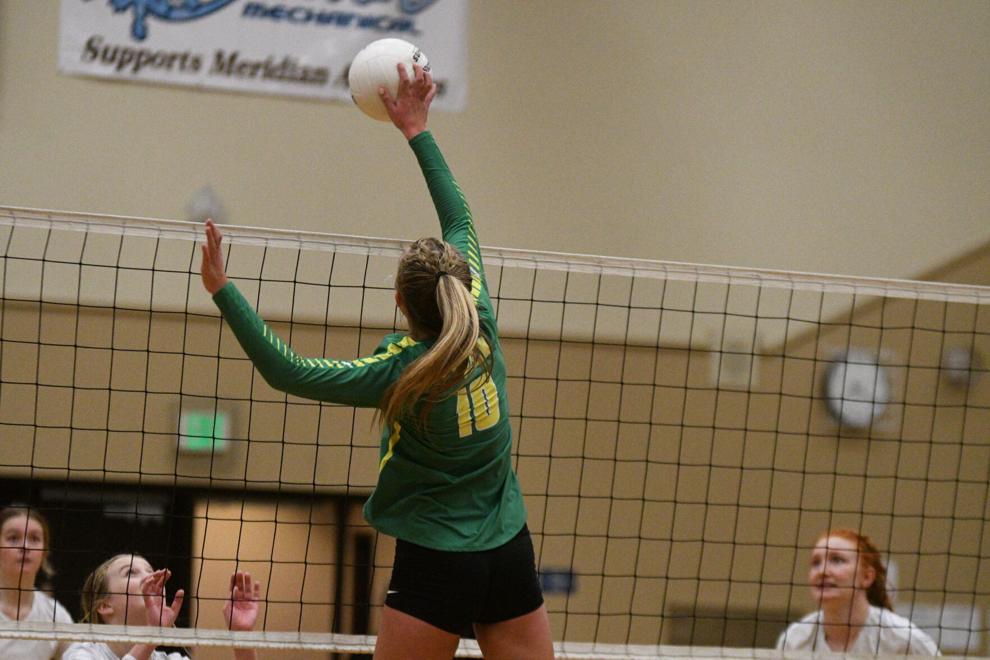 A block by Lions sophomore Ashley Shumate put the Trojans into a scramble, and the ball went into the net to seal it for Lynden. Scoring six unanswered, including the point to tie, they took the set by five.
The fifth and final set began exactly how the Lions hoped. They jumped out to a quick 4-0 lead that had them carrying all the momentum.
Once again, the Trojans were quick to flip that narrative on its head.
Meridian battled back to an 8-all tie. On this night, though, the Lions had an extra gear they got into at just the right time.
A ferocious kill by sophomore Haylee Koetje catapulted Lynden into a 7-0 run. Koetje capped the game off with another one that landed just inside the back line. The Lions won it 15-8.
"I was just thinking 'we got a perfect pass off of this, Grace [Rice] got a perfect set up; I'm killing this,'" Koetje said.
Elsner said she believe it was a great match to boost both teams into the postseason. One team had to win, of course, but both programs battled until the end.
She added that getting a victory against a team as powerful as Meridian helps them feel confident about the main things they have been working on as a team.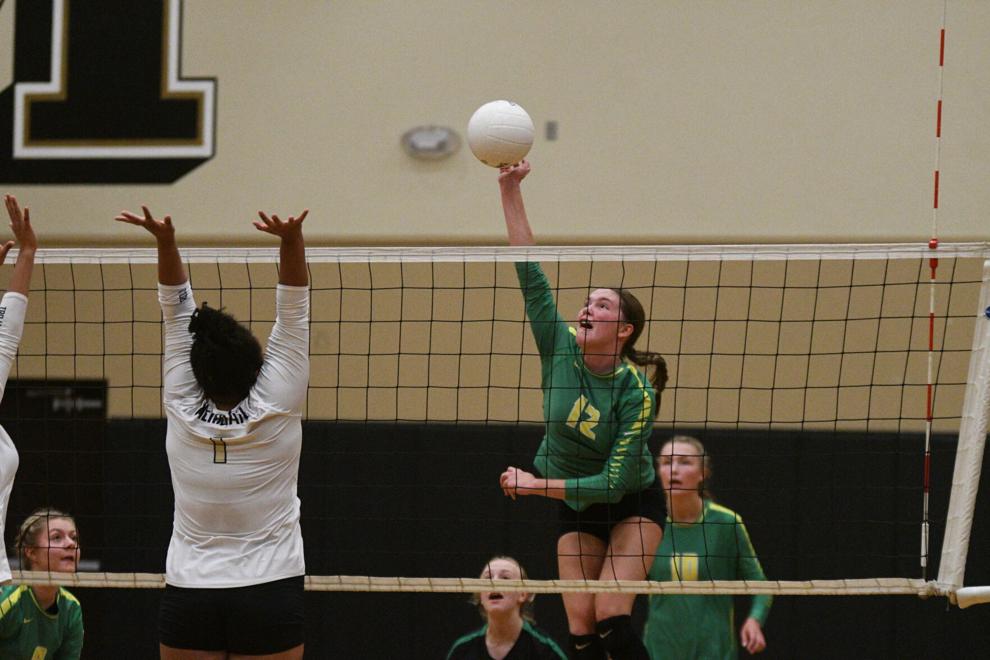 "It solidifies the things that we're doing in practice, the little things," Elsner said. "Our hitters never hit line, and we worked on hitting line for a week. They just came out and started smoking on the line, and it's hard to make that transition on a skill into a match. They just did it with conviction."
Shumate finished the match with a team-high 18 kills, 13 digs and 2 blocks while Koetje tallied 12 kills and 24 digs. Rice stuffed the stat sheet, tying junior Kayla De Jong for a team-high 4 blocks to go along with 34 assists, 13 digs, 4 kills and 4 aces.
Sophomore Mya VanderYacht totaled 20 digs and 3 aces, as junior Lucy White finished with 6 aces and as many digs.
The Lions moved to 9-3 overall (9-2, NWC) with the win. Next up for Lynden is a home match against Mount Baker (5-8 overall, 3-8 NWC) on Thursday, Oct. 21, at 7 p.m.
For the Trojans, senior Finnley Claeys led the team in kills with 16 to accompany 15 digs. Senior Jolena Hoefer was close behind her with 15 kills and 13 digs. Sophomore Emry Claeys and senior Skyleigh James each finished with 9 kills and 2 blocks.
Junior Hayden Claeys had 32 assists and an ace while filling the primary setter role after Smith's injury; junior Avery Neal put together a nice game with 27 digs and an ace of her own.
Meridian (12-1 overall, 11-1 NWC) will travel to Sehome (2-10 overall, 2-9 NWC) for a Thursday night match on Oct. 21 at 7 p.m.