Brock Heppner, Baylor Ayres account for all five TDs
LYNDEN — After last week's 14-7 upset loss to ninth-ranked Sedro-Woolley, the fourth-ranked Lions' main focus heading into their regular-season finale with Blaine on Friday was to cut down on mistakes.They had let a win and an unblemished league record slip away.
The Lions shored up their miscues and blasted the Borderites 34-7 on Friday to capture their second-straight Northwest Conference 2A Sky title and secure a first-round bye in the districts playoffs next week.
"Our No. 1 motivation was to get better from last week," Lynden senior quarterback Brock Heppner said. "We felt we laid an egg [against Sedro-Woolley]. Our No. 1 motivation was to prove we're league champs. The bye week is an added bonus."
Archbishop Murphy's 27-14 win over Sedro-Woolley Friday was another added prize, breaking a three-way tie with Lakewood and Sedro and giving Lynden the No. 1 seed at districts.
The Lions (6-2, 4-1 NWC 2A Sky) will host the No. 3 seed of next week's three opening-round district games, based on a coaches poll, which will be the lowest-ranked team in that poll.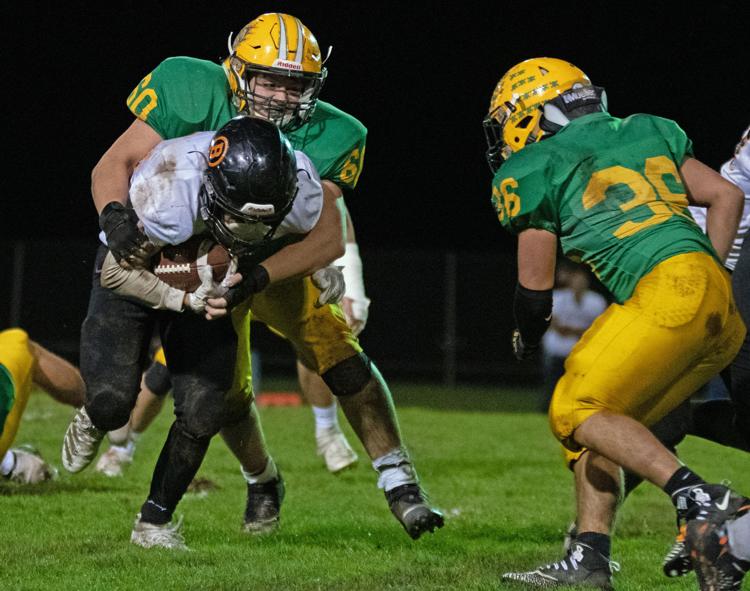 It's a welcomed extra week off for the Lions, as workhorse tailback Steven DiLorenzo, the team's leading rusher, will get two weeks of rest now after sitting out against Blaine. DiLorenzo could have played if the Lions needed him, Lynden coach Blake VanDalen said, but they're happy he was able to watch from the sidelines and recharge for the playoffs.
Now the Lions will go through a normal week of practice then take next Friday off.
"It's a really nice scenario for us," VanDalen said. "We go through a normal week, as if we're preparing for somebody, because we've got to get better every week. And then we take Friday off."
In the wake of DiLorenzo resting, a quartet of rushers stepped up to ensure Lynden got the victory over Blaine at Rollie DeKoster Field.
First-team all-state linebacker Bodie Human got his first substantial carries at running back, pairing with No. 2 halfback Caleb Wheeler in the backfield.
"We've gave [Human] crap all year because he's been our No. 3 running back," VanDalen said. "I said, 'Hey, there's going to be a game we're going to need you.' He got his chance and made sure he took care of it."
Human lit up a Blaine offensive lineman at the goal line during the Lions' opening drive of the game to spring Heppner for a two-yard touchdown run that put Lynden up 7-0 late in the first quarter.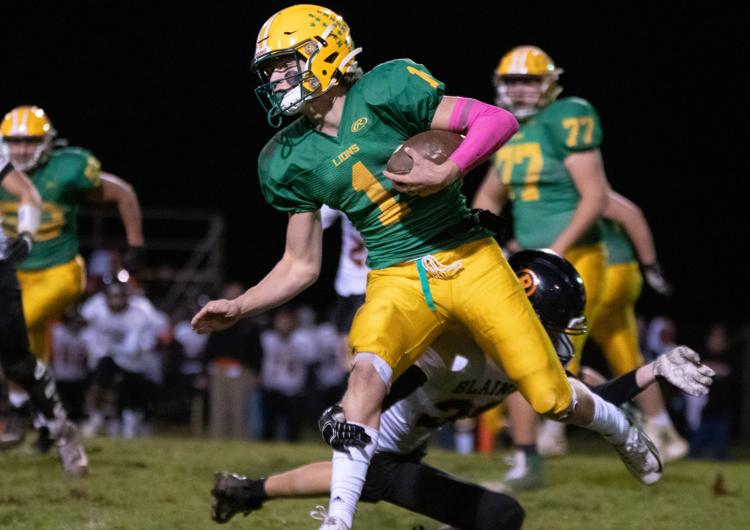 Human and Wheeler, along with duo quarterbacks Heppner and junior Baylor Ayres, formed a quartet of rushers to punish Blaine on the ground.
Human and Wheeler set up the drives with hard-earned yardage, while Heppner and Ayres, who accounted for all five touchdowns, capped them with scores.
Heppner tallied two rushing TDs and caught a 13-yard touchdown pass from Ayres, who threw for the one score and ran for two others on the night.
"It was a team win, for sure," VanDalen said. "Baylor and Brock might get a little more credit, but it takes all of them."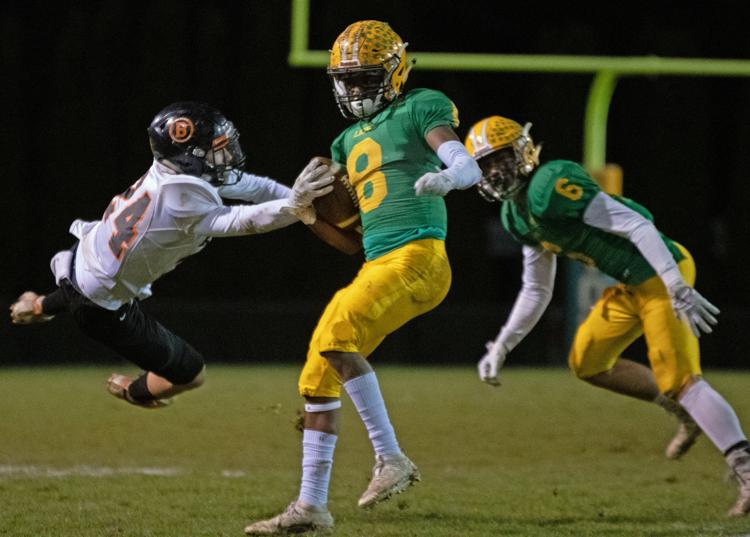 Heppner said last week's loss to Sedro inspired the team to sharpen its focus heading into postseason play. The Lions found motivation in it.
"It was a wake-up last week, which is almost good for us in a way," Heppner said. "We needed that reset to humble us and keep us hungry."
Now the Lions play the waiting game to see who their opponent on Nov. 8 will be.
Lynden, Lakewood and Archbishop Murphy earn first-round byes next week. In the three first-round games on November 1, Sedro-Woolley plays host to Cedarcrest; Burlington-Edison hosts Sehome; and Blaine hosts Liberty.
As the No. 1 seed, Lynden will play host to the lowest-seeded winner of those three games the following week, based on a coaches' poll.