She is qualified for nationals, and just wants to improve PRs
Toby Stevenson, UW track and field's associate head coach, asks Hannah Rusnak if she wants the good news or the bad news first. She chooses the bad news.
Rusnak, a 2017 Lynden Christian graduate and now UW sophomore, was entering her final event of the heptathlon at the Bryan Clay Invitational at Azusa Pacific University in Azusa, California, on April 18.
Stevenson told Rusnak she needed to run the fastest 800 meters of her career — a sub-2:30. The good news? If she could pull that off, she was guaranteed a spot at nationals June 5-8.
"I'm like, well, OK, I can do that," Rusnak laughed.
Rusnak ran the race of her life, finishing in 2:26.5, a personal record by four seconds. It gave her 5,642 total points in the heptathlon that day, a third-place finish out of 16 competitors, and it also secured for her the No. 9 spot in the national rankings and a spot in NCAA nationals.
She had also just shattered the UW school heptathlon record of 5,266 set by Sonja Forster set in 1992 — by nearly 400 points — though she didn't know it at the time. It wasn't until later in the day while browsing Instagram that she came across a photo of herself long-jumping on UW's Instagram page, with the caption "UW school record."
"When I figured out that actually happened, it was really exciting," Rusnak said. "Obviously, I was happy about it."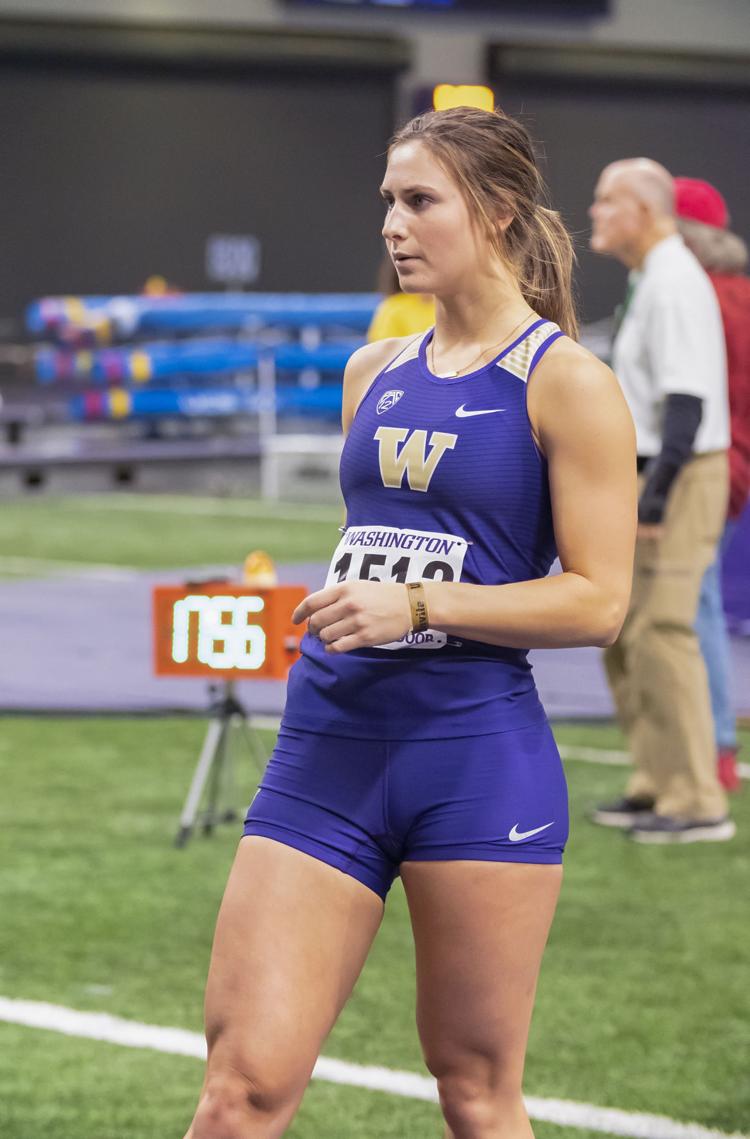 Rusnak, a star multi-sport prep athlete at Lynden Christian, was part of five state titles in her high school track and field career and placed top-3 in four events at state her senior season to help the Lyncs finish fifth as a team. She won titles in the long jump and 100-meter hurdles before getting a scholarship offer from UW. Rusnak holds or is part of five school records at LC. 
Her first year at UW in 2018, Rusnak broke the school's 31-year-old freshman heptathlon record. Her points total at Azusa this year would have qualified her for the NCAA Outdoor Championships last season.
Rusnak set PRs in five of the seven heptathlon events on April 18, including career bests in the javelin (136-10), which she PRd by nine feet, and the high jump (5-5¾), an event that's given her the most trouble.
The heptathlon in track and field consists of seven events: on a first day of competition, 100-meter hurdles, high jump, shot put and 200-meter run; on the second day, long jump, javelin and the 800-meter run.
Rusnak's brutal training schedule consists of running on Mondays, hurdles on Tuesdays, throwing on Wednesdays, jumping on Thursdays and running again on Fridays. The past couple of weeks, she's been focusing mainly on the jumps.
"I've been struggling in that, so getting a good mark in high jump was my biggest concern for that day," Rusnak said. "In long jump, something wasn't clicking. The past two weeks it finally clicked, and I haven't been able to jump less than 19 feet."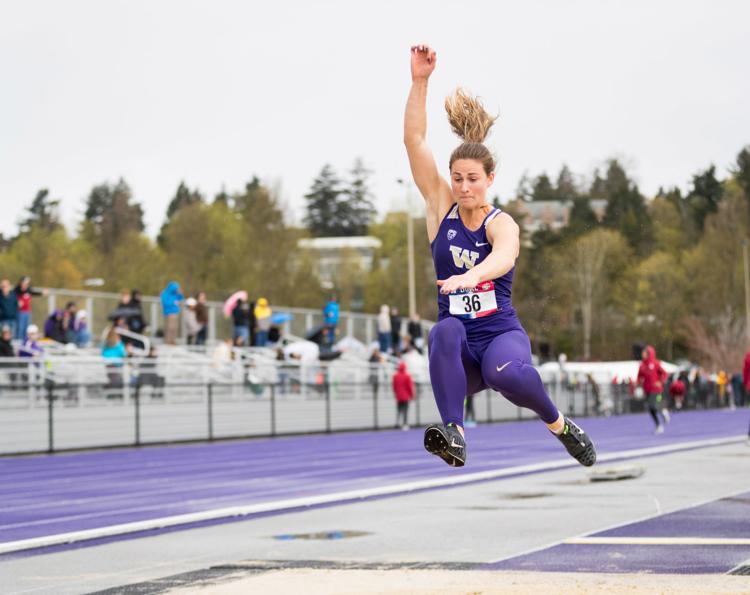 Rusnak entered the final event at Azusa with 4,905 points and needed to run only a sub-3:00 in the 800 meters to beat the record, but that wasn't her focus during the meet. Her main goal was qualifying for nationals.
Right before the 800, Stevenson took out a calculator and put in a specific 800-meter time to figure out what Rusnak needed for nationals. He lifted the burden of expectations off her by telling her there were none. He didn't mention she was almost an automatic lock for the school record. Instead, he told her points didn't matter, just leave that to him and just do her thing.
"I had that motivation to push me," Rusnak said. "The whole meet was just fun. I could just do what I've been taught to do and not stress about it."
Her strongest events are the hurdles and the 200-meter dash. In 2014-17 she was a three-time state champion for Lynden Christian in 100-meter hurdles, capturing the title her freshman, sophomore and senior years, and she also placed third in the 200 meters as a senior.
The most difficult transition from high school to college athletics, she said, has been learning most of the seven heptathlon events. "I don't like being upside down and jumping over a bar that's pretty much as tall as me," Rusnak said of the high jump. "It's not something my body is used to."
Now that her main goal of qualifying for nationals is assured, she now just wants to PR as much as possible the rest of this season.
"There's so much more I can do," Rusnak said. "That meet wasn't my best meet. I know I can do so much better in specific events. Getting to where I am now and knowing there's still room for so much more, it's really exciting. It makes me want to do my best every single day."