Defense comes up big on slow night for offense
MOUNT VERNON — The Lynden Christian girls basketball team kept rolling and punched its ticket to regionals and state Friday night with a 41-26 victory over King's in the 1A District 1 championship. 
Finding ways to win has become characteristic for the Lyncs. What wasn't characteristic was Lynden Christian scoring only four points in the first quarter. 
Lyncs coach Brady Bomber said the Knights were able to force Lynden Christian out of its typical rhythm early on. 
"They did a really good job taking us out of our flow," he said. "It was a grind-it-out, 32-minute [game] and not a fluid, smooth game. They did a good job making the game be played that way."
The Lyncs' offense found a little bit of footing in the second quarter, but never really hit a full stride with their high-powered offense. 
"We got in transition in a few bursts and that's where we built a lead and stretched it late," Bomber said. "It felt like we got going and got a few steals. They did a good job. We just got out of rhythm against their zone. It took us awhile to adjust to that."
The Lyncs led 20-12 at halftime and would still hold an 8-point lead heading into the final frame with the two teams trading baskets in the third.
King's got the game within six points, but that's as close as the Knights would get in the contest. 
On a slow night for the offense, Lynden Christian's defense stepped up, making King's put up tough shot after tough shot. 
Senior Riley Dykstra hit a timely 3-pointer to push the Lyncs' lead back out to double digits with three minutes left in the game. 
Leading the Lyncs on offense was Dykstra who scored a game-high 19 points. Emily Mellema and Lexi Hernandez both added seven, while Kiley Roetcisoender and Libby Stump scored four each.
"They had really great defense and were pressuring us," Dykstra said. "We kind of freaked out a little bit."
Bomber praised Dykstra for being able to read the floor and create opportunities for the Lyncs on a night where the offense wasn't firing on all cylinders. 
"Riley has always been a girl that's played really well in big stages when we've really needed her," Bomber said. "She did such a great job in the middle of the zone attacking and creating shots for herself and others. That was really big for us down the stretch."
While Stump might have had a quieter night scoring, her presence whenever she was on the court was felt all game. She continually found ways to make plays on either side of the ball. 
Bomber described Stump's style of play as gritty and competitive.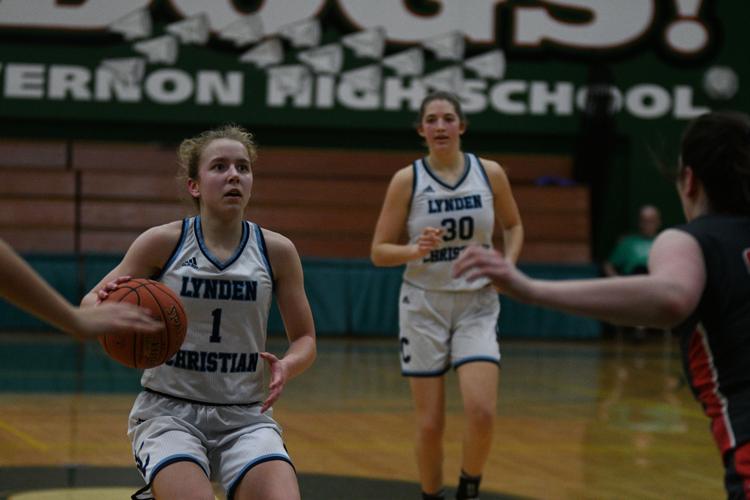 "She'll go in the lane and steal a rebound from bigger girls, she'll attack a big girls' chest and get to the free-throw line," he said. "Even little things — she'll get little tips and it'll go to somebody else. Her physicality and toughness bring a nice edge to our team when she comes into the game."
Bomber said slowing down Claire Gallagher and Samantha Skaggs on the Knights was a point of emphasis for the Lyncs.The pair scored five points apiece for King's. 
It wasn't the prettiest win for the Lyncs this season, but the consensus among them after the game was similar. They'll take it. 
"There's going to be playoff games where whatever has been consistent for you all year is not consistent for you in that game," Bomber said. 
The win puts Lynden Christian in the bi-district championship at 5 p.m. Friday, Feb. 21, at Shorewood High School against a team that's still to be determined.