Lyncs' 27-8 win puts them in a tie for first place with Baker
DEMING — Zach Sipma's first rushing touchdown of the season was also his biggest TD of the year.
Lynden Christian's 6-foot-3, 230-pound senior tight end lined up at fullback in a wishbone look on third and short with the Lyncs holding a 20-8 lead over Mount Baker with just under six minutes to play.
Needing a crucial first down, Sipma gave the Lyncs much more.
Sipma exploded through the line, broke free of the scrum, popped out the other side and beat Baker defenders in a footrace to the end zone for a 42-yard TD that put the stamp on the No. 6 Lyncs' 27-8 upset win over second-ranked Mount Baker Friday night.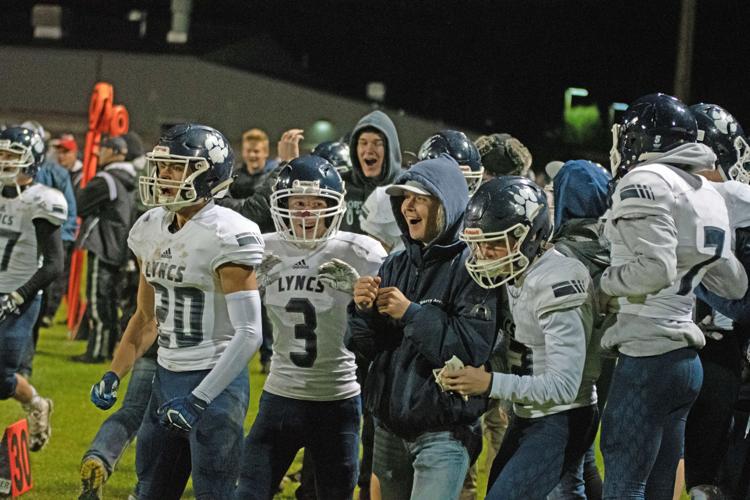 Even Sipma couldn't believe he made it out the other side unscathed.
"I just said, 'I think we just beat Mount Baker,'" Sipma said. "I saw green and was like, 'Don't tackle me. We need this.'"
The victory puts the Lyncs (5-1, 3-1 NWC 1A) in a tie for first place in the 1A Northwest Conference with Baker (6-1, 3-1 NWC 1A), who won the first matchup 24-8 three weeks ago in Lynden.
Lynden Christian coach Dan Kaemingk challenged his team after that loss. They responded.
"He asked us, 'How are you gonna bounce back, how are you gonna respond after losing the first time?,'" Sipma said. "It just proves how much willpower we have and how much all these guys want it."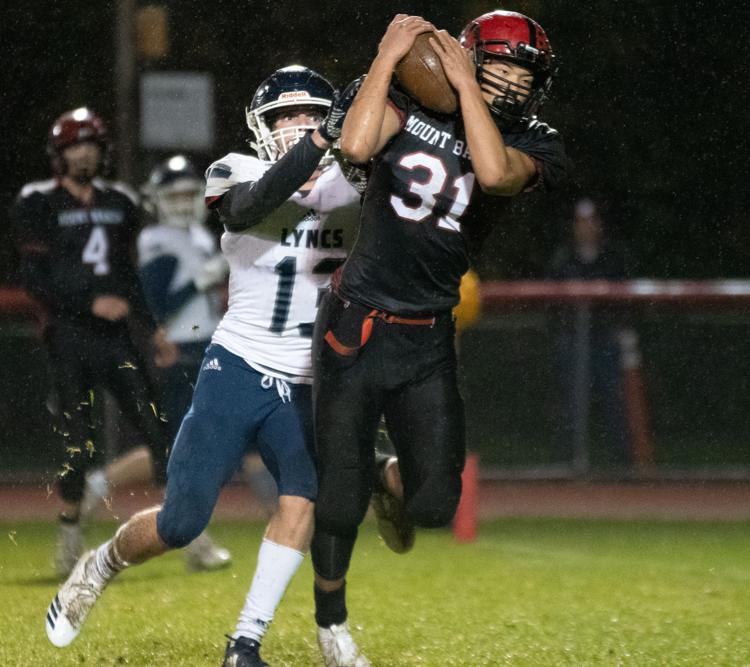 Three weeks ago it seemed nothing went the Lyncs way, but this time around it was flipped, just like the score. Baker struggled to get its offense churning that had put up 57 and 42 points in back-to-back weeks leading up to this matchup.
On Friday it was a muddy game filled with botched punts, interceptions, fumbles and flags.
LC got on the board first after Baker's bobbled punt attempt that set the Lions up on the Mounties' 23-yard line. Three plays later Easton Stremler rumbled in for a 1-yard TD.
Baker responded after knocking the ball loose and recovering on the LC 17-yard line. Toby Jefferson's 1-yard TD blast, followed by his two-point conversion run gave Baker an 8-7 lead it would hold until nearly midway through the third quarter.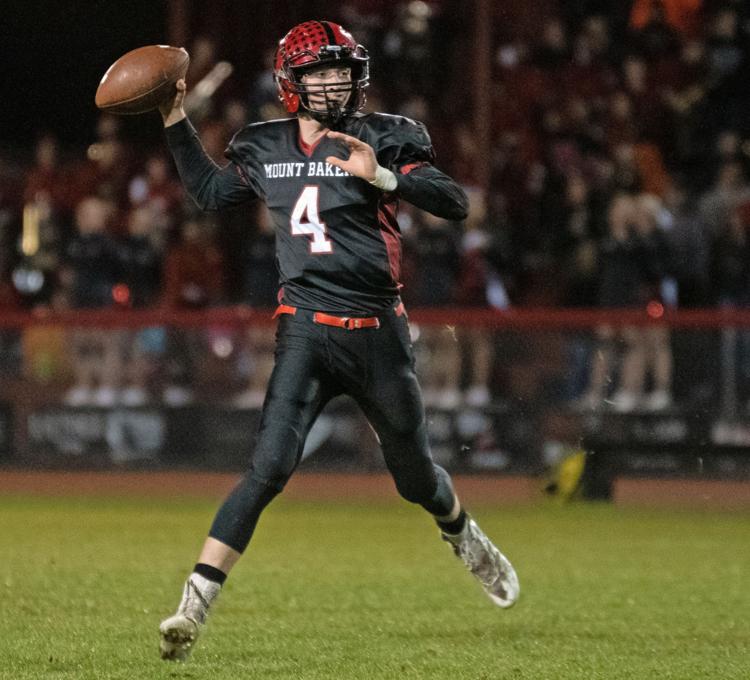 Baker nearly went up by two scores just before the half when receiver Ayden Rodriguez torched LC corner Jude Veltkamp for a 63-yard reception. Kaemingk heard one of the chains' crewman say "Not gonna catch him."
Lyncs' senior speedster Jackson Corkill, who ran a 50.96 in the 400-yard dash at state to place fourth, chased Rodriguez down at the 10-yard line to prevent the would-be touchdown.
Then Veltkamp got his shot at redemption.
Next play, Veltkamp jumped a route and picked off Baker QB Mason Jacoby in the end zone to stuff another scoring attempt and go into the break trailing 8-7.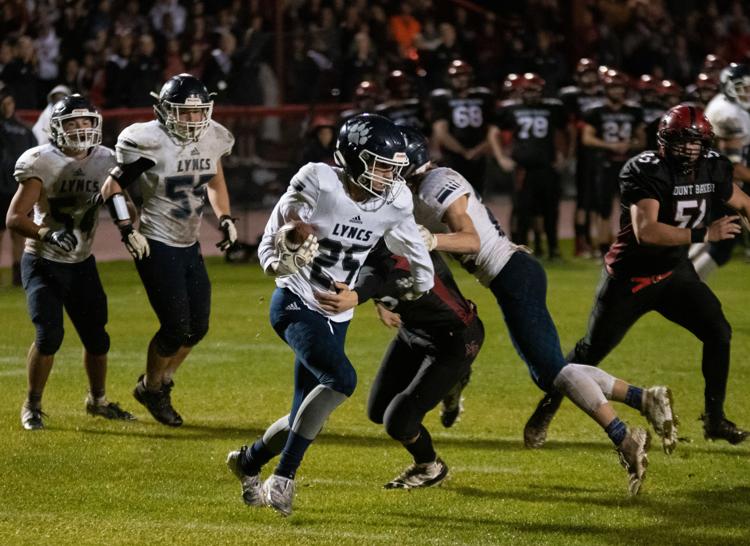 Still, Veltkamp was down on himself and in his own head worrying about that nearly-costly mistake. Kaemingk came up to him in the locker room and had some words.
"He looked me straight me in the eye and he said, "Jude, you're the best DB on the field. Go play like it,'" Veltkamp said. "I was ready for him to just rip into me and that was all he said. It just felt good, even after all those mistakes I made in the first half, to hear my coach still support me. That was amazing."
Veltkamp went on to register three big pass breakups and forced a fumble with Baker driving midway through the third quarter.
Lyncs' QB Trajan Schouten tossed two touchdowns, his first a 21-yarder to running back Levi Korthuis with 9:15 left in the third that gave LC the lead for good at 13-8. Schouten drilled Sipma over the middle for a 19-yard scoring strike that put the Lyncs up 20-8 with 11:55 to play.
Veltkamp predicts this will be Baker's only loss, and said this is a morale-building win for the rest of the regular season and into district playoffs in three weeks.
"This victory, especially the second half when we came out and we stuck it to them, this is what we needed as a team," Veltkamp said. "The past few games we've seen glimpses of what we can be, but we've never been able to string together what we really can be. This game really showed us what we can be."
Kaemingk called it the best game his team has played so far this season. It was two evenly-matched teams and if they played each other 10 times they'd each win five, he said.
"The level of play by us is representative of the opponent we knew we had to play," Kaemingk said. "We had to play great tonight to beat Baker. You can't ask for a better effort out of your kids. But our best game has to lie in front of us for us to do what we need to do."
Other scores from around the county:Sedro-Woolley 14, Lynden 7
Meridian 27, Nooksack Valley 18
Marysville-Pilchuck 42, Ferndale 14
Mountlake Terrace 21, Bellingham 12
Squalicum 31, Stanwood 12