Schouten throws two TDs, Corkill catches one and runs another in
LAUREL — Even though the play put them up three scores, a 72-yard touchdown pass from Trajan Schouten to Jackson Corkill was the one everyone was talking about as No. 5 Lynden Christian dispatched Meridian 38-14 on Friday night.
Like head coach Dan Kaemingk.
"Trajan threw some really nice balls, like right on the money," Kaemingk said. "Like to Jackson in the middle. You couldn't have put it in a better place."
And the receiver on the play.
"It was a play we had been working on all week and I told the coaches we had to go back to it," Corkill said. "Trajan made a nice throw and I made a nice catch and we ended up with a touchdown."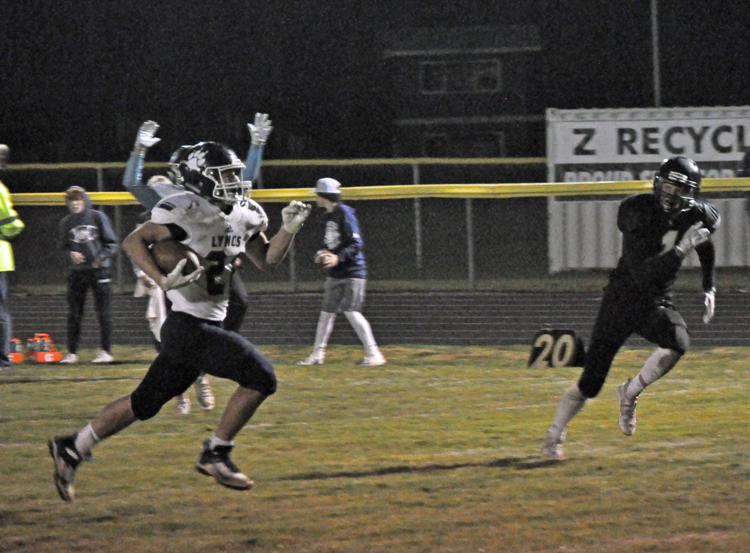 It was a pretty play. Corkill broke free on a slant going right to left after catching the Schouten dime in stride and galloped down the left sideline to go up 24-3. But it was also a sign of what Lynden Christian (4-1, 2-1 NWC) is capable of when everything is clicking.
It took until the second half for the Lyncs to up their game and part of that, Kaemingk said, is because of a challenge from the coaching staff at halftime with the Lyncs leading 10-6.
"A lot of times it's just knowing your kids have more in them than they even think they have," Kaemingk said. "For them to be what they want to be, and they could be a really good team, they have to find that more often and more consistently. I think we get more consistent each week."
After a 3-0 Lynden Christian first quarter lead, Meridian went up 6-3 thanks to a Cameron Webster 20-yard touchdown pass.
Lynden Christian didn't answer until 1:19 to go in the first half. Schouten found Bryce Bouwman on a 15-yard strike to regain the lead 10-6.
The Lyncs shined brightest on defense, only giving up two scores and intercepting Webster three times.
"Defensively, we kind of figured it out," Kaemingk said. "We were kind of catching them in the first half and in the second half we started hitting them like we're used to doing on defense."
Kaemingk credited the Trojans and Trojan coaching staff for pushing his team in the first half. He said Meridian's tenacity caused him to ask more from the Lyncs.
"Sometimes it's not about X's and O's it's about challenging them to play harder," Kaemingk said. "That doesn't happen very often from us, but I think that partially had to do with us, but it was also because of Meridian and how well they're coached."
Now, Lynden Christian is set for a rematch with No. 1 ranked Mount Baker (6-0, 3-0 NWC) on Oct. 18 in Deming. The first time the two met ended in a 24-8 win by the Mounties at Lynden Christian's house. Kaemingk said a game like Friday's against a quality opponent should help his team prepare.
"They're anxious for a second chance at Mount Baker," Kaemingk said.