Lyncs come back from slow first quarter to advance
YAKIMA — There was a weird sense of deja vu Thursday afternoon for the Lynden Christian boys during the Lyncs' quarterfinal matchup against Meridian in the state tournament. The Lyncs won 62-53, but it took some time before Lynden Christian looked like itself on the court. 
Lynden Christian fell behind early to an opponent they handled earlier in the season in its first game in Yakima. If that sounds familiar, the Lyncs fell to King's last year in the quarterfinals after beating the Knights about a week and a half prior. 
This year's Lyncs weren't going to let that happen again. 
"I can only say for just myself, but I'm pretty sure last year was going through people's heads again," senior Zach Sipma said. "We needed to bounce back. We knew we were better than how we were playing."
Meridian raced out to an 8-3 lead carrying all of the momentum it has created over the postseason into the game. At the end of the first quarter, the Trojans led 13-7.
"That was probably the worst quarter of basketball we've played all year," Sipma said. "We could not catch a break. We missed shots, they made shots and it was just not what we're used to."
Sipma said the jitters made their way out in the second quarter and the Lyncs were able to start stringing together points and stops to tie the game before halftime. 
"I thought the biggest thing was just to get it back to a tie game at halftime," Lynden Christian coach Roger DeBoer said. "We could all look at each other and say performance wise that's one of our worst of the year, but we're still tied."
Stepping up in the second quarter were two of the youngest players on the Lyncs' roster in sophomore Andrew Hommes and freshman Tyler Sipma. 
Hommes pulled down offensive boards and gave Lynden Christian second chances near the glass while Tyler knocked down shots from the charity stripe to keep the Lyncs within striking distance. 
Tyler scored six points for the Lyncs with all of them coming from the free-throw line. 
Older brother Zach said he's loved watching his younger brother show up on the big stage this postseason.
"He's dreamed of this for about as long as I have," Zach said. "We've said to each other 'We're going to get one year to do this, so let's make the most of it and play.'"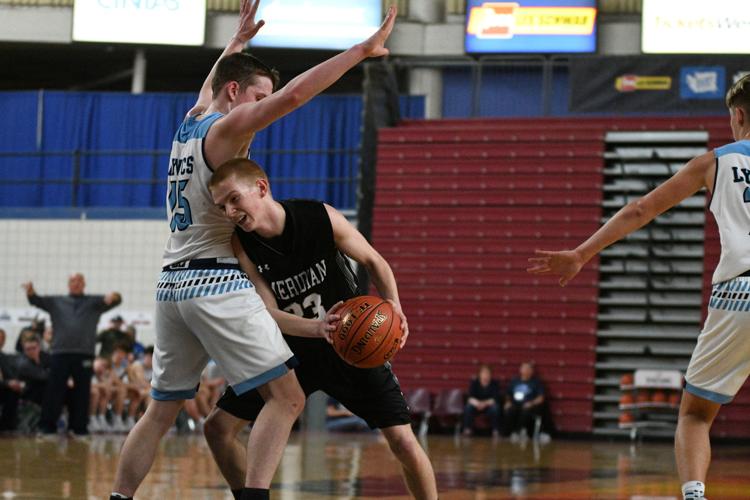 The Lyncs were led by Zach Sipma and Jaden DeBoer who each scored a game-high 17 points. Senior Bryce Bouwman scored eight and pulled down six rebounds, respectively. 
Lynden Christian took the lead in the third outscoring Meridian 16-9 in the quarter to finally gain some control and momentum in the game. 
The Lyncs opened the fourth quarter on an 8-0 run to widen the gap to 15, but the Trojans wouldn't go away quietly and snuck their way back as the game started to wind down. 
DeBoer pulled a card he used just a few days ago against Zillah. He pulled his five starters and sent in his smaller group of five. 
It immediately paid dividends as junior Cole Moorlag got a steal and layup in transition to break through some of Meridian's momentum. 
A couple of baskets and timely stops later, the buzzer sounded sending Lynden Christian into the semifinals at 5:30 p.m. tomorrow against nine-seed La Salle. 
Playing a familiar opponent brings a different feel to a game in the playoffs, especially when the team is from the same conference, DeBoer said. 
"We know a lot of those kids personally," DeBoer said. "I think the world of [Meridian coach Shane Stacy] and there's nothing I want more than to see Meridian succeed. It's kind of an emotional thing. We've had the great fortune and opportunity to be here quite a few years and for Meridian it's been 10 years. I know how much they've invested."
Lynden Christian is a storied and successful program frequently making trips to the state tournament, but this year's Lyncs had some question marks surrounding them heading into the season if they would be able to fill the shoes left behind from last year's graduating class. 
"You graduate that many people and they look at you last spring and say 'Wow, it's going to be a down year,' and all those comments these kids have to hear," DeBoer said. "They kind of strapped up their boot straps and said 'It's not, we're still here.' They've kind of embraced that chip on their shoulder."
The loss puts the Trojans in a loser-out game at 10:30 a.m. tomorrow against Cashmere. With a win, Meridian would play in the 4th/6th place game at 8 a.m. Saturday.