Challenge: She drains 17 of her 25 three-point shot attempts against me
LYNDEN ­— Keylie Hershey was born to play basketball — literally.
Hershey's mother was pregnant with her while coaching the Squalicum girls basketball team 17 years ago. The team decided to paint Keylie as a basketball on her mother's belly.
"I think I was always supposed to be a basketball player," Hershey said. "It's always just been there."
Now the soon-to-be senior at Lynden, who's played basketball since she could walk, is taking on me, the sports guy, in this week's athlete challenge, the fourth in my series where I face the top athletes in Whatcom County, a modern-day pros versus joes.
As with the previous three challenges, I have my hands full.
I was there when Hershey scored a game-high 21 points against East Valley-Spokane in the 2A girls state quarterfinals on Feb. 28. I was also there when she helped the Lions dismantle Chehalis, the defending state champs, 66-45 in the regional tournament four days earlier.
And I was there when she guided the Lions to a fourth-place finish at state and a 23-4 overall record, leading the Lions with 46 points during the tourney.
She finished the season averaging 17.3 points, 4.2 rebounds and 3.1 assists per game. Those numbers earned her a coveted AP first-team all-state selection, first-team all-tourney at state and first-team all-Northwest Conference.
I knew what I was in for when I met Hershey at Lynden Middle School on the afternoon of Aug. 3 for the 3-point contest.
I played one season of basketball in high school, my junior year, where I started the season on C-squad and played a couple of games on JV. I still don't know how to shoot properly.
We decided to each shoot five times from five different spots beyond the arc, with the other person rebounding and feeding the shooter. Hershey goes first, draining her first four shots from the right baseline and ends up finishing with 17 out of 25. It doesn't go nearly as well for me. I hit two of my first 15 shots and end up with a measly three.
When it's all said and done, I wonder to myself why a college hasn't signed her yet. She already proved herself as one of the top-five 2A players in the state her junior year with the first-team AP nod.
Her most crucial asset, though, isn't often found on the stat sheet.
"I put a lot of effort out there and I'm always the one on the floor, laying out and putting my body on the line for the ball, just for the greater good of the team," Hershey said. "I'm extremely competitive."
Now she's waiting on word from college coaches. A few have reached out to her, but no official offers have been made yet.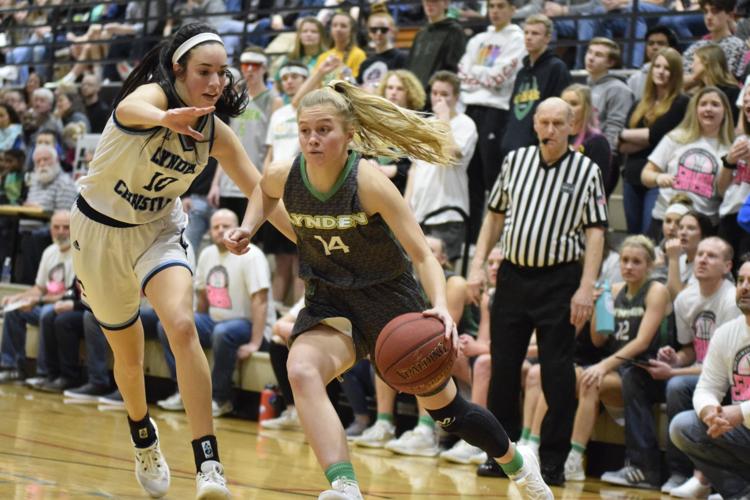 "That's what I'm — for a lack of better words —  shooting for," Hershey said. "I'm waiting. I don't want it to be over after this year."
Hershey, who will be in her third year as a starter this winter, was part of the Lynden squad that won state in 2017, and a starter during the sixth-place finish in 2018. 
Lynden High School only hangs championship banners in Jake Maberry Gym, and Hershey wants more than anything else to hang another one up there in the rafters next March.
"I just want to know that, at the end, the final buzzer of the final game, that there was nothing left for us to give," Hershey said. "And we can look at each other and not say, 'Oh, that was the one that got away.' I want to win state. I'm out for blood this year."