Pioneers at South Whidbey in district semis Wednesday 
EVERSON — When opposing teams prepare for the 2017-18 Nooksack Valley boys basketball team, they do so knowing that 6-6 seniors Casey Bauman and Jordan Veening are scoring threats capable of beating you from anywhere on the court. 
As the Cedar Park Christian (Bothell) Eagles learned in Monday's 55-37 loss to the Pioneers in the 1A Northwest District 1 Tournament, Nooksack's scoring prowess goes far beyond the senior bigs.
WIth the Eagles focusing on Bauman and Veening, the Pioneers hit seven three-pointers in the first half to build a 30-18 advantage after two quarters. 
Behind senior Ty Rawls (four threes made), sophomore Zach Johnson (three) and junior Baylor Galley (two), Nooksack Valley was sizzling from behind the arc for much of the night. 
"Cedar Park took some chances and left our guys open with Casey and Jordan down low, and our guys stepped up and hit some big shots tonight," said Nooksack Valley head coach Rich Skillman. 
While Bauman (11 points) and Veening (10) still contributed their fair share to Nooksack Valley's offense, it was the duo's work on defense and in the rebounding and passing game that stood out. 
Veening in particular was impressive on Monday as he showed off his point-guard-like passing skills and set up shooters on the outside and, especially in the second half, Bauman down low under the basket. 
Veening also picked up multiple blocked shots that were well received by Nooksack fans. 
"(Jordan's) a great basketball player," Skillman said of the versatile talent. "Sometimes he gets a little too relaxed for my liking, but he's crafty, creative and long."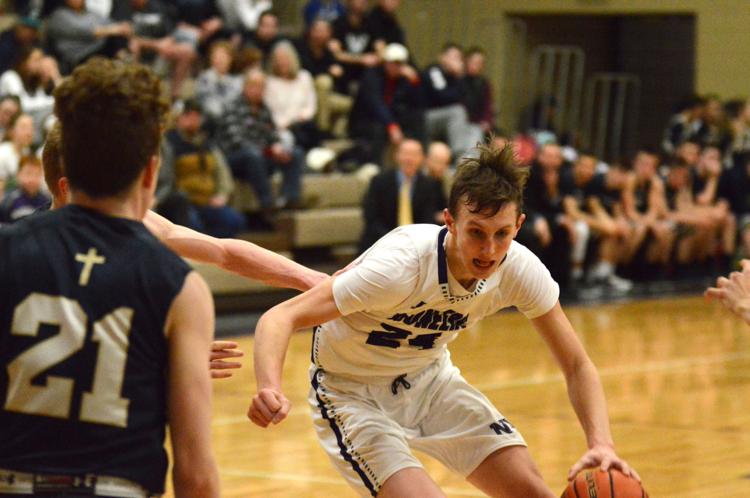 The Pioneers stayed strong in the second half despite a heavy dose of scoring from CPC standout George Reidy, who came into the contest averaging about 27 points per game this season. Reidy had nine points in the first half before adding 14 in the final two periods for 23 of the Eagles' 37 points. 
Making the Pioneers' victory more special, in Skillman's opinion, was the supportive and enthusiastic atmosphere on hand at NVHS for a Monday evening doubleheader to cheer on the strong Nooksack basketball teams. 
Both programs missed the playoffs last season. 
"The atmosphere is completely different (this season)," the coach said. "It is something that's been a long time coming for a lot of people. Both our boys and girls programs have worked hard to get to this point."
Nooksack Valley (11-10), which finished second among Northwest Conference 1A schools and 10th in the 14-team league overall, plays at South Whidbey at 7 p.m. tonight in the district semifinals. 
The winner advances to Saturday's district title game at Mount Vernon High School. The loser will play a loser-out game at home against King's on Friday at 7 p.m. 
South Whidbey (16-5) won the Cascade Conference this season and is led by senior Lewis Pope, a Central Washington University commit who averages about 23 points per game. 
"We have our work cut out for us, but if we show up to play we should be able to come away with a victory," Skillman said of Wednesday's matchup.