Golden Eagles battle it out with Meridian, Sedro-Woolley in double dual Tuesday night
FERNDALE — Cheers reverberated through Ferndale High School's gym Tuesday night, but not during a basketball game or a boys wrestling meet. No. For the first time in school history, family, friends and fans yelled in support of the Golden Eagles girls wrestling team in their inaugural home meet.
With the northern bleachers nearly full and the southern bleachers peppered with spectators, it was a historic night for the Golden Eagles, who for the first time in school history had an official team with a first-year coach, Tony Welch, and were hosting their first-ever meet.
"It's historic," Welch said. "It's pretty electric in here. Being the first ever, you just don't know what to expect. We shoot for the stars but it's hard to anticipate what you're going to get and this has been an awesome tournament."
Originally slated to be in the mini gym at FHS, a last-minute change of venue for one of the Golden Eagles' basketball teams allowed the double-dual meet with Meridian and Sedro-Woolley to be moved to the main gymnasium. The wrestling team found out Monday about the switch and were stoked to have it in the larger venue.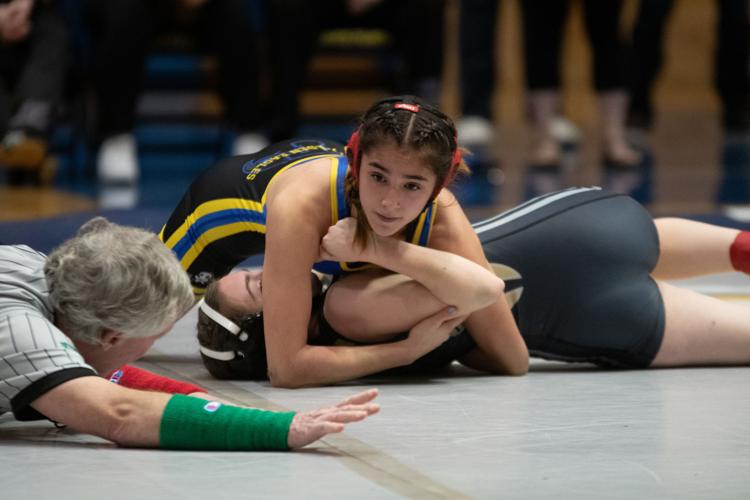 Ferndale junior girls wrestler Hope Jose-Day praised her coaches and athletic director Eric Tripp for helping make this meet a reality. The team pushed to advertise the event around school, hoping to get as many students in attendance as possible.
"We're all really excited," Jose-Day said. "We're so psyched to have this happening tonight."
The entire boys wrestling team and coaches, along with droves of students, came to witness the event that soon became filled with raucous cheers as grapplers battled it out at midcourt.
"Usually there's never this many students at a wrestling event," Jose-Day said. "To have this many people here is so incredible and amazing."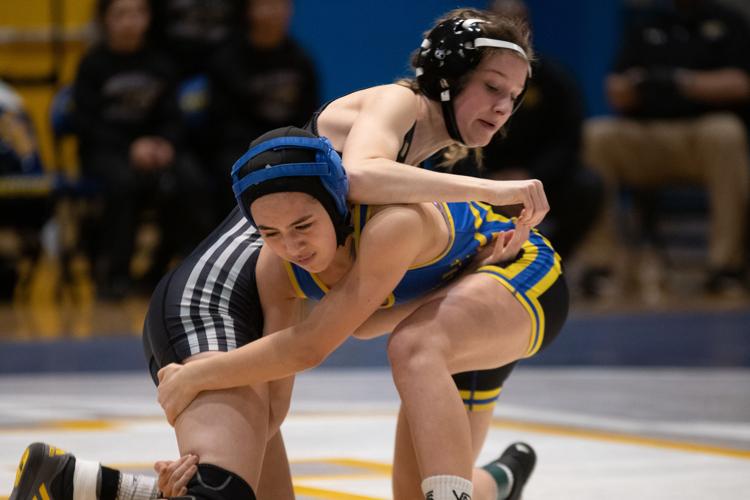 A giant spotlight was hung over the center mat for the final dual versus Sedro-Woolley after Ferndale had beaten Meridian 53-28 in the first match of the night. Final results were not available at press time.
The Ferndale girls had a team last year, but no coach, limiting them on the amount of tournaments and meets they could attend, which meant no overnight trips. That pushed Jose-Day to wrestle varsity for both the girls and boys teams, where she was the boys 106-pound varsity wrestler. For comparison, Sedro-Woolley has had a girls wrestling program for 12 years.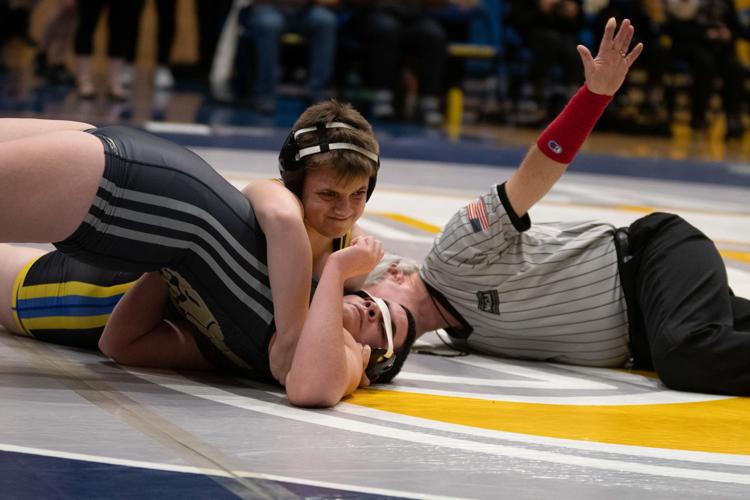 Several girls have turned out sporadically over the years, but this was the first year they could anticipate having the numbers to hire a coach and field a full team. Thirteen girls are on the team this season.
And now with Welch at the helm, the girls have overnight trips on their schedule this year, including one Wednesday night.
"It's huge," Welch said. "It's something we've been trying to build for years."
The outpouring of support from the community and her peers Tuesday night, Jose-Day said, is something she'll never forget.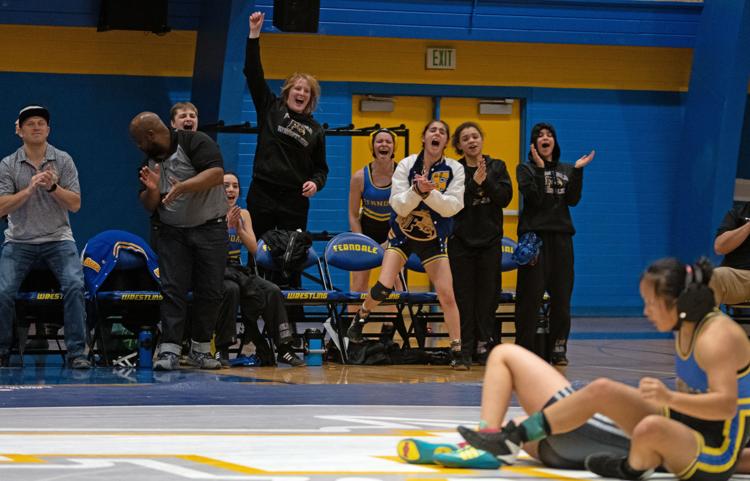 "My team and I really take it to heart to see so many people supporting our team and the girls," Jose-Day said. "We've worked really hard and having the community support makes all the hard work pay off. It means the world to us."
She had one final word for anyone interested in checking out this burgeoning sport.
"Support girls wrestling," Jose-Day said. "Come watch some duals, no matter your area; your local high school, go watch girls wrestling. Now is the best time to support. It's really cool that we have the opportunity to have a girls wrestling team."