Samoukovic hit nine field goals and 51 PATs last year for Lions
LYNDEN —  The top 2A kicker in Washington is proving he's also one of the best in the state, regardless of classification.
Marko Samoukovic, Lynden's soon-to-be senior kicker, will get a chance to show off his leg against the top high schoolers in the country at the 2019 Kicking World National Showcase on Dec. 7-8 in Austin, Texas.
Samoukovic impressed kicking coaches at the Kicking World camp in Seattle, nabbing one of the top four spots out of 40 kickers at the camp to earn a slot at its national showcase.
"Marko had the biggest leg at camp," said Kicking World owner Brent Grablachoff. "He was crushing 60-yard field goals throughout the day. We look forward to seeing his performance at our national event in December."
Kicking World, a national kicking camp for kickers, punters and snappers ages 13 to 18, held its first-ever camp in Seattle on July 19. Samoukovic had to sign up for it six months in advance. He was thrilled to find out at the end of camp that he was one of four chosen to move on.
"They selected us four and said we did really good and they wanted to give us a shot down in Texas," Samoukovic said. "It's crazy. There's going to be really good kickers there. It's going to be fun."
He and the other campers worked on the fundamentals of field goal and onside kicking, focusing mainly on getting the correct form down.
"[It was about] your swinging form and how you hit the ball with your foot and what part you hit the ball with," Samoukovic said. "It helped me a lot. I got to see other kickers and all that."
Samoukovic vaulted to the state stage after hitting a school-record nine field goals as a junior last season, and a perfect 51-of-51 on extra-point attempts, earning him AP first-team all-state recognition.
"I was just grateful and blessed for that," Samoukovic said with emotion. "I, yeah, I had no words for that. That was amazing. I didn't know I was going to be all-state. That's pretty crazy."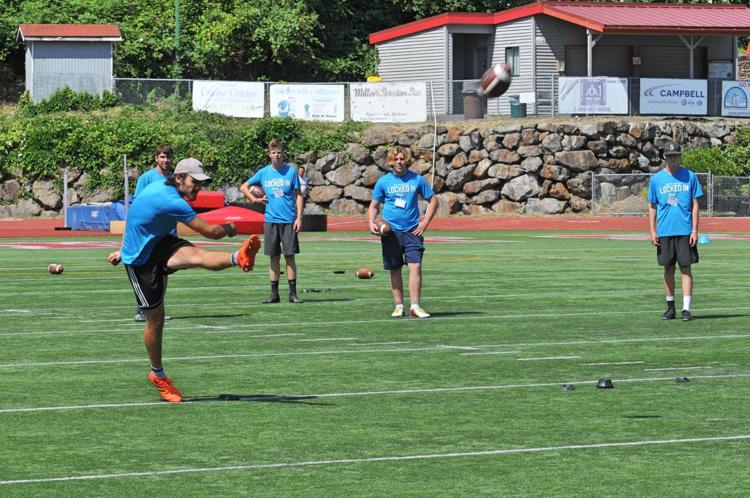 His longest in-game field goal was a 38-yarder in a 47-0 blowout of Blaine in the district playoffs last November. His farthest ever was a 60-yarder in pre-game his sophomore year.
He got his first taste of kicking as a soccer player, which set him up for the varsity football job, when the late legendary Lynden coach Curt Kramme called him up for kickoffs as a freshman. He's now had the starting job ever since his sophomore year.
"Kramme said 'I heard you're a good receiver too, but for now we just need you for kicking.' So I stayed with kicking," Samoukovic said.
Samoukovic helped the Lions to a 12-1 record and a runner-up finish in state last season, their first state championship game appearance since 2014. Now he's looking to aid Lynden in winning a first title since 2013.
Does he feel the pressure of making field goals when the kicking team is called out onto the field? Of course.
"I do feel the pressure," Samoukovic said. "Every time before I go kick it, I feel the pressure. I may get away with just thinking positive and thinking I'm going to make it every time, which helps me out. If you think negative, you're going to miss it."
As he heads to his spot near the tee, instead of thinking about what could happen, he thinks about what is going to happen: He's going to make it.
"I just don't want to let the team down," Samoukovic said. "I just want to knock this through. I want to get it through."
Despite his recent accolades, college coaches have not reached out to Samoukovic individually yet. He talked to a couple of coaches who attended Lynden's practices last year, but he got no formal offers out of it. 
Lynden's first football team practice kicks off on Aug. 22, and now that college programs have seen what he's capable of in Seattle, and know he's slated to compete in the showcase in Texas this winter, it may be only a matter of time before the offers come rolling in.
"Anything would be nice for me. Anywhere would be good," Samoukovic said. "I'd be grateful for anything."