Ferndale seals match with 11-0 run in the third set to advance to 3A District 1 semifinals
FERNDALE – The Golden Eagles continue to impress.
No. 2 Ferndale swept No. 7 Meadowdale (25-21, 25-21, 25-21) in the 3A District 1 quarterfinals on Tuesday, Nov. 9. It was quite a bit closer than most 3-0 scores will show, but a well-earned victory, nonetheless.
In fact, how often do you see the exact same game-scores three sets in a row? All three were close, but that simply bolsters what Ferndale has done all season: dominate in crunch time.
This Golden Eagles squad has, time and time again, showed they can step up to the plate when the going gets tough. At this point, it's not a surprise.
"We're feeling confident, we had talked about that we want to peak at this time," said Patti Hoelzle, Ferndale's head coach. "We really think, in practice, we're playing our best volleyball right now."
Hoelzle said this first district contest was a good measurement on what they need to improve upon as well.
"There's just little things and some things that we need to work on because teams that are this good are going to highlight our weaknesses," she said. "That's what we've got to fix heading into our future district games."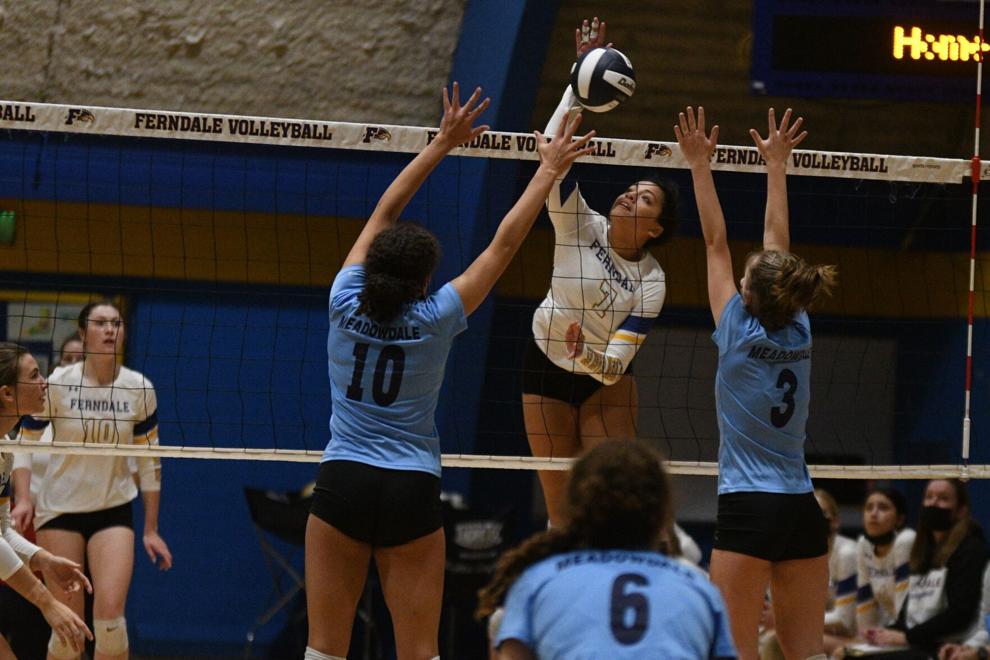 Ferndale came out of the gates hot. In the first set, they marched out to a quick 6-0 lead. Meadowdale responded, but the lead continued to grow — at least for a time.
With the Golden Eagles leading 20-12 late, Meadowdale stormed back. They cut the deficit to 23-20, and suddenly had all the momentum.
The run wouldn't last long.
Ferndale allowed only one more Meadowdale score before getting two of their own, taking the set and a 1-0 lead.
It was a much different game flow in the second.
There were three lead changes and eight ties during the second set. When it seemed like one team was gaining steam, the other cut it off.
Eventually, Ferndale built up a 20-13 lead. Meadowdale cut that lead to three, and hung around for a bit before going down, once again, 25-21.
Golden Eagles senior outside hitter Kaelee Bungard said the team knows they must get everyone on board if they want to keep up their momentum.
"I think it's just a mindset thing, this was our first postseason game, and it was also our last game in this gym," Bungard said. "A lot of our players on this team are not experienced postseason [players] … having them live through our experiences is kind of something us upperclassmen are trying to do and feed the team with and making them want it as much as we do."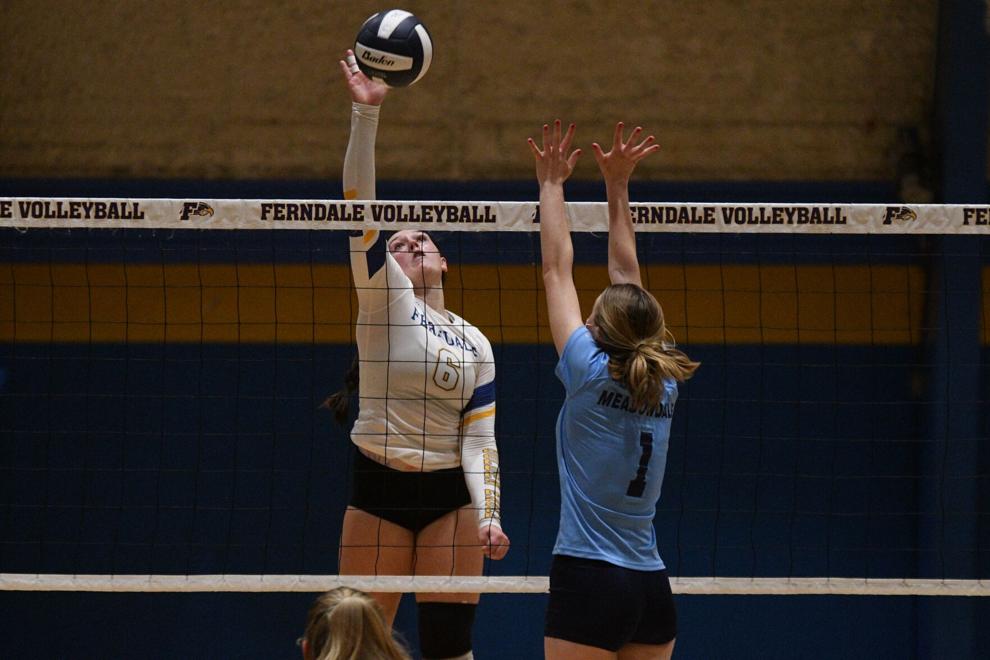 Opening the third set, it was all Meadowdale. They kept a lead late, building it as high as 21-14 nearing the end of the game. It looked like a fourth set could be imminent.
That was, of course, until the Golden Eagles hit overdrive.
An insane 11-0 run by Ferndale won them the match. From trailing 21-14, to winning 25-21.
"We really haven't seen a team that has as strong of servers as this team," Hoelzle said. "We just needed to reset what we needed to do in order to get the ball to our setter and our hitters, and we definitely did that."
Statistically speaking, it wasn't the most extravagant match by any single Golden Eagle. Each member of the team did their job and carried an equal portion of the load.
Avery Schneider, the Golden Eagles' senior middle blocker, led the team in kills with 13, coupled with 3 digs, a block and an ace. Bungard had a double-double with 12 kills, 11 digs and 3 aces.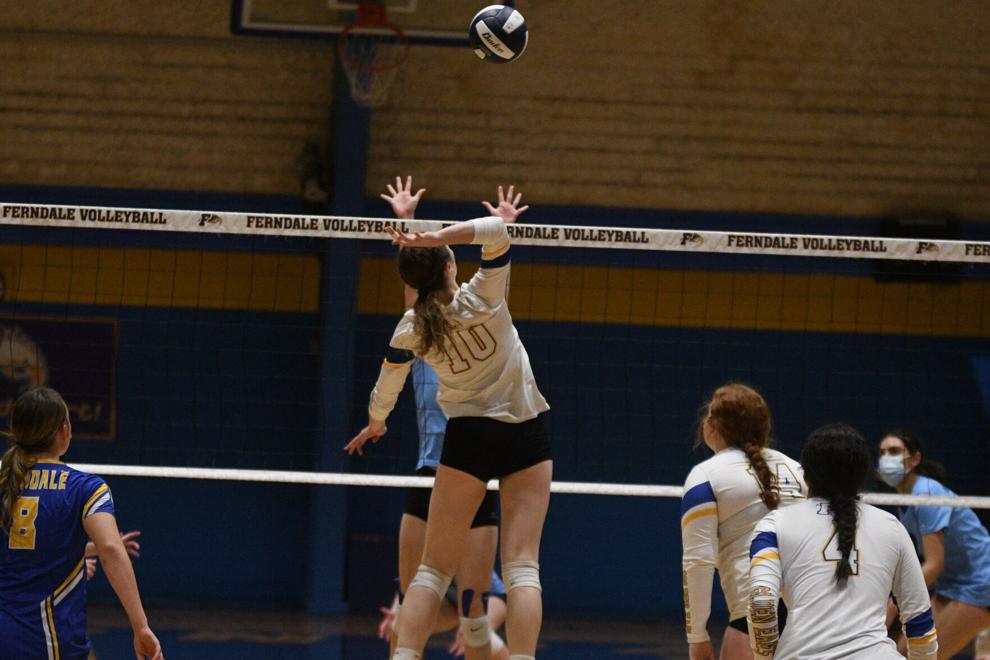 Senior outside hitter Alyvia Semu totaled 10 kills, 5 digs and 3 aces. Sophomore defensive specialist Mallory Butenschoen tallied a team-high 17 digs, as junior setter Brooklyn Cagle had 39 assists, 7 digs and 3 aces.
Ferndale will match up against No. 3 Snohomish on Thursday, Nov. 11, in the 3A District 1 semifinals at Marysville-Pilchuck High School.
The Golden Eagles are ready to keep a good thing going.
"Winning more matches is making us more confident, and we're all so excited to even get to play postseason this year," Schneider said. "I feel like that's really driving us all to work hard and be focused and get further."