BELLINGHAM – After opening the season against one another in a match that ended in a 2-2 draw at Ferndale's place, the rematch between the Golden Eagles and Sehome didn't exactly go the way Ferndale girls soccer had planned.
"No, definitely not the result we wanted," Ferndale coach Rigel Weis said.
The Mariners (3-1-1, 3-1-0 NWC) put pressure on Ferndale (3-3-1, 2-2-0 NWC) throughout the match and came away with a comfortable 5-0 victory on Friday night at Sehome High School.
Leading the charge for Sehome was sophomore midfielder Maria Pagnotta, who scored in the first five minutes of both halves and ended the night with a hat trick. Her second goal came in the fifth minute of the second half and looked to be demoralizing for a Ferndale team that felt like it had a chance to make a comeback after heading into halftime trailing 2-0.
"I thought the first half was very even," Weis said. "We had a couple of one-on-ones that we didn't take advantage of."
The Golden Eagles were without junior forward Abigail Arnold, due to her receiving a red card in Ferndale's 1-0 win over Blaine earlier in the week. Senior forward Aleah Washington was one of Ferndale's lone threats and never was given a chance to create a shot for herself due to Sehome's smothering defense.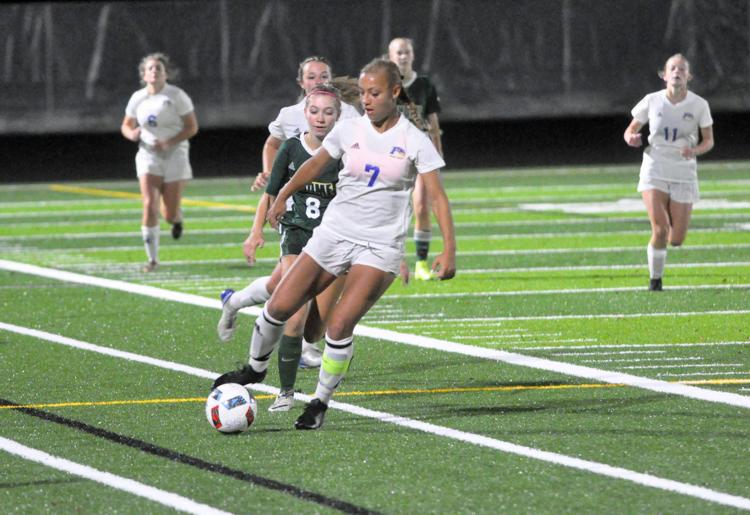 The two goals by Pagnotta came at crucial junctures of the match, times that Weis says his team knows they have to be locked in.
"We try to talk about being ready in the first five minutes and the last five minutes with the girls," Weis said. "Those are very important time periods of the game that you have to be focused during."
Last year, Sehome went 19-3 en route to the state championship game in which it lost 4-1 to Liberty, a team that beat the Mariners twice during the 2018-19 season. Ferndale was the only other team to defeat Sehome last year.
"We're one of the few teams that challenged them last year," Weis said. "They're always tough."
Ferndale's next opponent is winless Mount Baker (0-7-0, 0-4-0 NWC) at home in what looks to be a chance for a bounce-back match.