Ferndale can't get go-ahead score in 29-27 loss to Monroe in 3A Wesco title game
BLAINE – They were a hair away from victory, but the Golden Eagles fell short on Saturday afternoon.
Playing for the 3A Wesco title, Monroe came to town for the two teams' second meeting this season. Winning the first in emphatic fashion, Ferndale couldn't quite get it done twice in a row.
"Obviously they've [Monroe] built a lot and learnt from us," said Ferndale senior running back Ryan Pelton. "I feel like the main thing was our energy level, it just wasn't there."
In both teams' first game of the season, the Bearcats travelled to Blaine for a showdown against the Golden Eagles. Ferndale won it 55-35 in an offensive showcase.
This time around, it looked like defense would prevail for a time.
Ferndale had a chance to go up early, possessing the ball on Monroe's 3-yard line with just under five minutes remaining in the opening quarter.
Unfortunately for the Golden Eagles, the Bearcats stopped them at the 1-yard line on a 4th-and-goal run. Monroe was going to take snaps within their own endzone.
The Bearcats were able to gain 7 yards, put punted from their 8-yard line.
After another turnover-on-downs by the Golden Eagles, Monroe got on the scoreboard first.
Bearcats sophomore quarterback Blake Springer connected with senior wideout Evan Leggett for a 20-yard score to end the first quarter. After a made point-after attempt, Monroe led 7-0.
It was right about now that both offenses found their footing.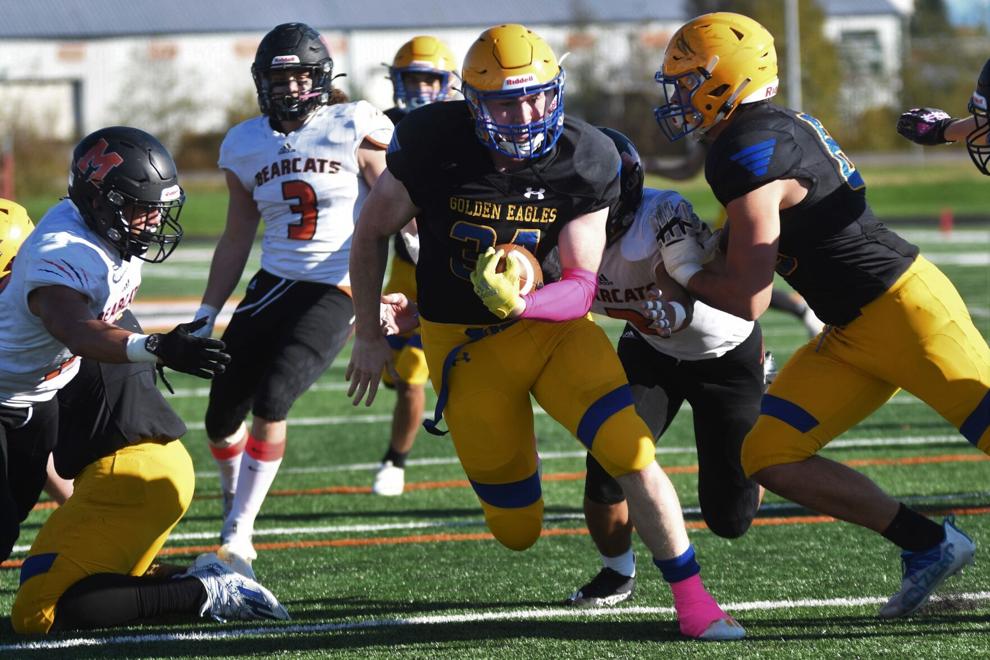 The Golden Eagles drove down the field on their opening drive of the second quarter. Pelton ran through multiple Bearcats defenders en route to a 14-yard touchdown, capping off the Ferndale drive.
The point-after was good, and it was knotted up at 7-all with 9:30 remaining in the period.
Monroe responded quickly. Less than a minute later, Springer threw a pass that travelled 35 yards through the air, was tipped by Ferndale senior Thomas Broselle and landed in the hands of Bearcats senior wide receiver Cole Pruett. After a short run, Pruett was in for six.
Monroe led 14-7 early in the third. However, the back-and-forth continued.
A long Golden Eagles drive ended in a 3-yard quarterback draw by senior Mark Schlichting up the middle for six. The game was tied once again.
On the Bearcats' ensuing drive, it looked like Ferndale was going to a get a goal-line stand. On 4th-and-goal from the 1-yard line, Monroe's junior running back Kody Edelbrock took the left-side sweep in for a score.
The Bearcats ran a fake point-after and converted to make it an eight-point trip, putting them up 22-14 with 1:28 remaining in the half.
That would also be the halftime score.
Each teams' defense kicked in once again in the third quarter. The scoring slowed down on both ends, forcing punts and shorter drives.
Stopping a long Monroe drive, Ferndale's J.J. Nowack recovered a Bearcats fumble on the Golden Eagles' own 12-yard line.
A long drive ensued, pouring over into the fourth quarter. At the end of it, Pelton got his second touchdown of the day on a wide sweep to the left from a few yards out. Ferndale, however, couldn't convert the tying two-point attempt, making it 22-20.
Monroe responded once again.
Pruett caught his second score of the game on a 52-yard pass on the Bearcats' next drive. With 10:09 remaining in the game it was 29-20.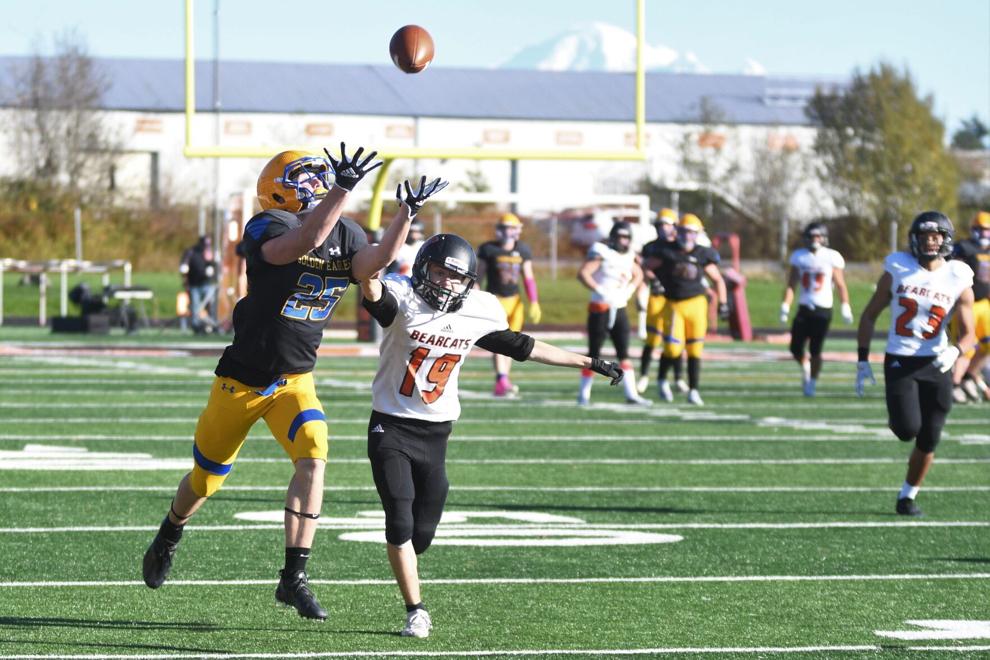 The Golden Eagles went to work. A four-minute drive ended in a short Nowack touchdown run up the middle the close the gap to two following the point-after.
Ferndale stopped Monroe on their following drive, forcing a punt with 2:40 left in the game. It was a game-winning drive attempt for the Golden Eagles.
They put together a solid drive, but an errant pass with under a minute left landed in the arms of a Bearcats defender to seal the game. Monroe would kneel it out from there, winning 29-27.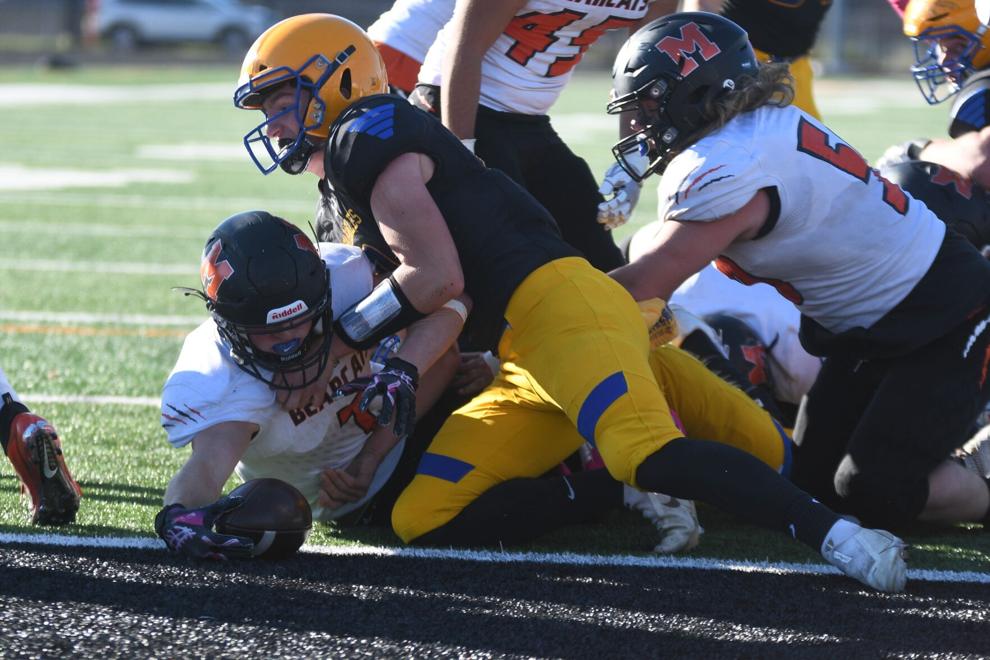 Ferndale is playing without two of their top players: junior running back and linebacker Isaiah Carlson as well as senior tight end and linebacker Jazen Guillory.
Without making excuses, Pelton acknowledged how big of a blow that is to the team.
"That's a huge loss for us," Pelton said. "We've had people step up, and they've been doing great."
From here, Ferndale will likely be on the road come week 10. Pelton is optimistic about the team's ability to bounce back.
"I'm going to get some of my seniors and get us working, get us going. I believe we're going to learn a lot from this game and build on that," Pelton said. "[Monroe] does a lot of motions and goofy setups, so we need to get better on who we're blocking."
The Golden Eagles don't yet know who they are going to be matched up against next week, but it's bound to be an exciting head-to-head regardless.