Top teams collide, Ferndale defeats Meridian at home 3-2 in highly-anticipated battle 
FERNDALE – The Golden Eagles are a win away from being Northwest Conference champions.
Ferndale defeated Meridian in five sets on Wednesday night (25-20, 26-28, 21-25, 25-23, 15-3), their senior night, moving to 12-1 overall and in league matchups. 
"It's so fun because you're just playing with your best friends," said Golden Eagles senior Alyvia Semu. "You're just working towards something, and once you get that it's indescribable, honestly."
It was a packed house at Ferndale High School. Both fan bases showed up in-full.
Since losing their only game to Burlington-Edison on Oct. 12, the Golden Eagles have won their last four in a row. The Trojans dropped to 14-2 overall (12-2 NWC) and are 2-2 over their last four matches.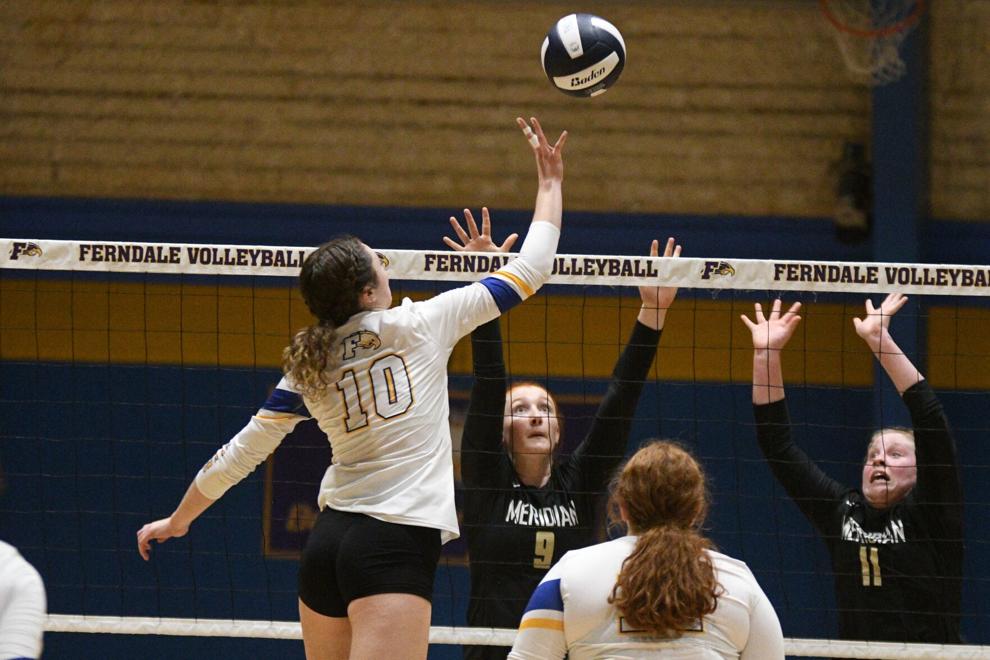 Ferndale senior Avery Schneider said the hard work has paid off.
"I feel really proud of us, honestly," Schneider said. "We know how hard we work in practice and how good of a team we can be, so it's really cool to be able to show up and play really good teams and compete – and to come out with a win."
Wins and losses aside, both teams were evenly matched throughout. The highly anticipated meeting did not disappoint.
They each proved why they deserve to be at — or near — the top of the conference standings.
"We've always had our sights set on the postseason, and this was one of few games this season where we knew this was what postseason is going to feel and look like," said Patti Hoelzle, Ferndale's head coach. "Meridians had a couple of five-set matches and we haven't had any, so we really needed to make a statement on what we're going to be like in the postseason."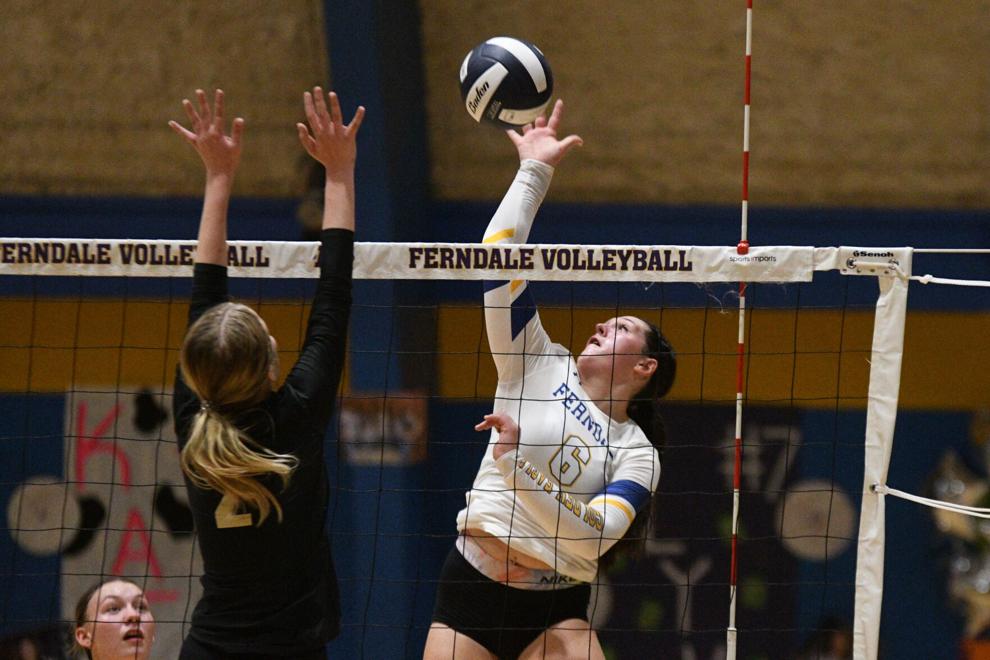 Ferndale came out of the gates hot. In the first set, they either had the lead or were tied the entire game. They won the first, taking an early-match lead.
Meridian responded, and then some.
It became the Trojans' match midway through the second. Down 14-11, Meridian put together a quick 4-1 run to tie that set at 15.
Their lead grew as big as three, but Ferndale rolled with the punches. Tied at 24, the Golden Eagles went up one on a pivotal kill. There would be two more ties — the last coming at 26 points — before the Trojans closed it out with two straight scores.
Ferndale stormed right back to open the third.
The Golden Eagles took a quick 11-5 lead, forcing a Trojans timeout. Meridian flipped the seesaw back in their direction, mounting an 8-3 run to trim the lead to one.
They kept their energy up, taking a 21-20 lead late. From there, they cruised to a third set victory. The Trojans controlled the match 2-1.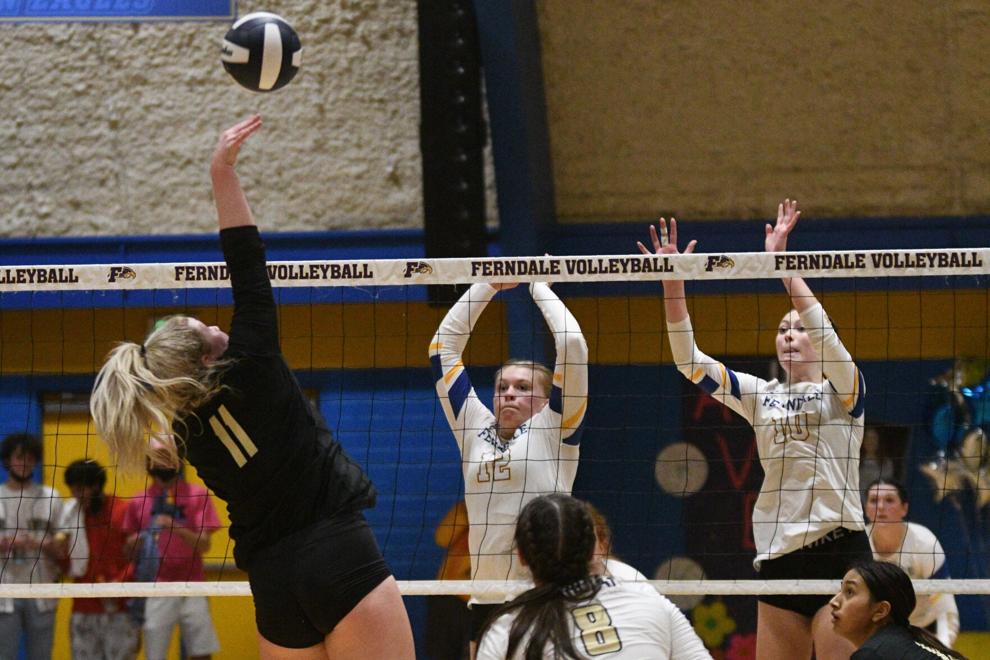 Heading into the fourth set, it was more of the same. Back-and-forth until the end, but somehow one team would make just a few extra key plays to seal the set.
This time, it was the Golden Eagles converting those plays.
Ferndale saw their early 13-8 lead evaporate quickly. Meridian led 15-14 midway through, and that grew to a 21-17 advantage a few volleys later. The seesaw shifted back the other way, again.
The Trojans trailed 23-22 following a 6-1 Golden Eagles run. They would score just one more point before Ferndale sent it to a fifth set.
Unfortunately for Meridian, the final game would be the only one that saw little to no change in momentum.
"We were really playing for each other, we were cheering for each other," Semu said. "We just had a lot of trust on the court and it all kind of clicked."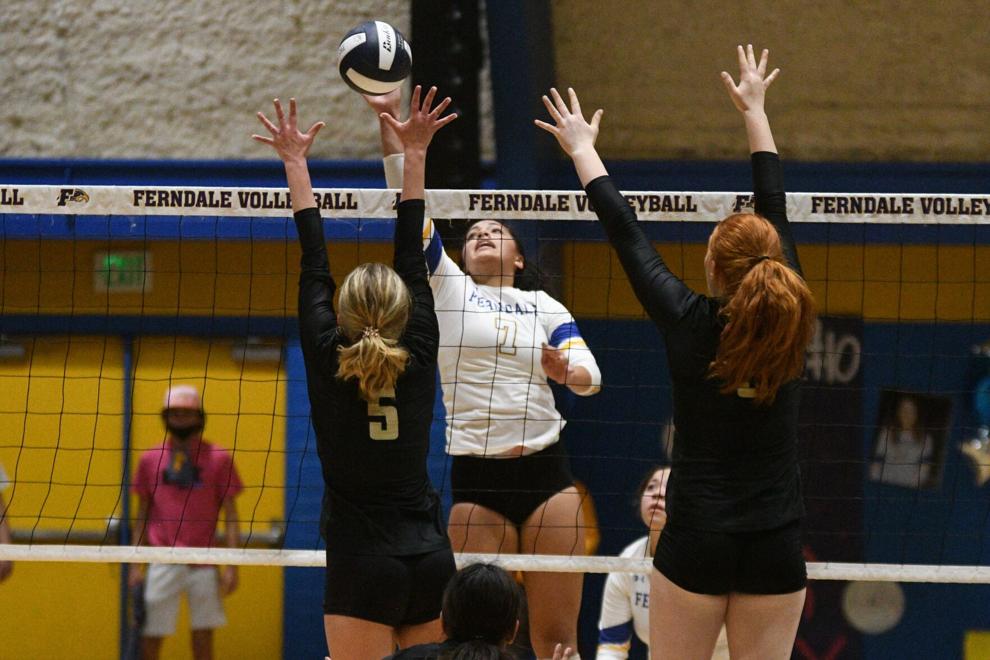 Leading 5-3 early on, it looked within reach for the Trojans. Instead, Ferndale scored 10 unanswered points, closing out the set, and the win, 15-3.
"We're just putting in a lot of work. This team shows up to work every day to practice hard," Hoelzle said. "We make each other better; we go hard at each other in practice so that we can play together like this in games."
Statistically, the Golden Eagles showed out big time with four players recording double-doubles.
Semu tallied a team-high 23 kills, 16 digs and 3 aces, while fellow senior Kaelee Bungard had 19 kills, 23 digs and 2 blocks.
Junior Brooklyn Cagle accumulated a massive number of assists with 66, adding 10 digs, 3 aces and 2 blocks. Senior Avery Schneider totaled 17 kills and 10 digs to round out the Golden Eagles' double-doubles.
Ferndale's defense is much improved from the beginning of the season, as five players dug 10 or more balls. Sophomore Mallory Butenschoen led the team with 28.
"We've really been working in practice [on defense] and I feel like its shown on the court, especially in tough games like this," Semu said. "Again, just the team chemistry and trust in each other."
For the Trojans, senior Jolena Hoefer totaled a team-high 14 kills to go along with 9 digs and 2 aces. Fellow senior Finnley Claeys was close behind Hoefer with 12 kills and 17 digs.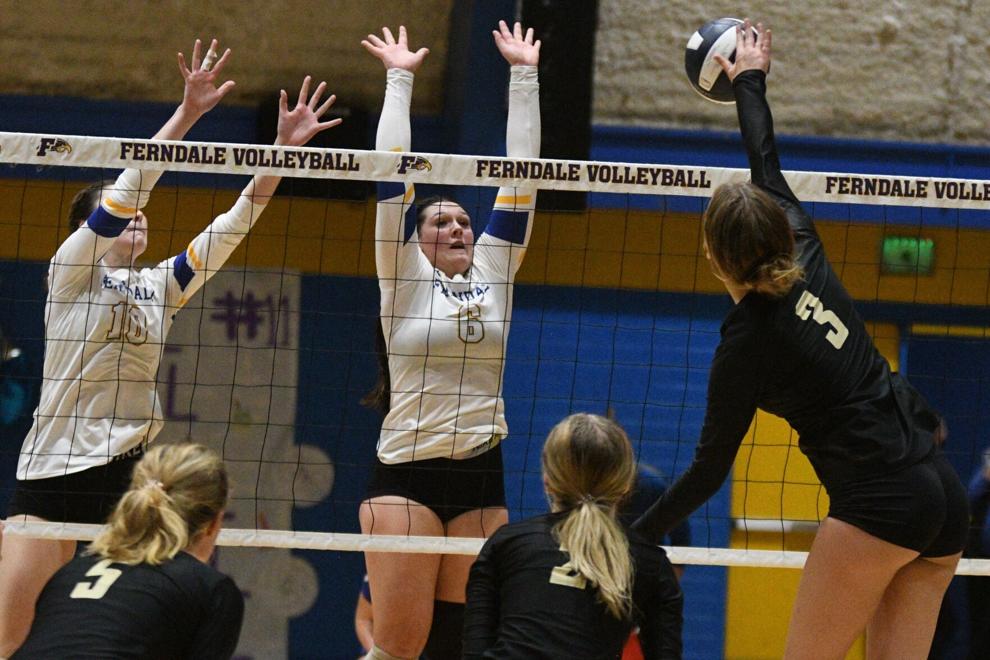 Junior Hayden Claeys tallied 43 assists followed by 3 kills, blocks and aces while filling in full-time at setter for injured Malaysia Smith. She will fill that role the rest of the season and is absolutely making the most of it.
Ferndale plays their final regular season contest on Tuesday, Nov. 2, travelling to Oak Harbor (7-6 overall, 7-5 NWC) for a 7 p.m. match.
Meridian, on the other hand, has completed their regular season and will await the beginning of the postseason for their next bounce-back opportunity.