Clark Hazlett's life has him in Nashville now, hoping for a music future
WHATCOM — Clark Hazlett considers himself a storyteller. After an injury, the 2015 Lynden High School graduate documented his time as a quarterback at Linfield University on his YouTube channel, Adventure Athlete, and amassed more than 147,000 subscribers on the platform. 
His videos ranged from showing viewers his training methods and his game-day routines down to what he carries in his duffel bag. 
Now, Hazlett is telling stories another way. Through songwriting and performing. 
Going from the scout team quarterback to the backup quarterback his sophomore year, Hazlett was aiming for the starting quarterback job for the Wildcats his junior year in 2017.
However, a torn labrum in his right hip would put him on the sidelines that entire season. It was during that time off that Hazlett started to explore other things he was interested in.
"At that point in time, everything was all about football," Hazlett said in a phone interview. "Once football was taken away from me, I realized I had other passions and I was more than just a football player and more than a quarterback. Having that medical redshirt year gave me the opportunity to dabble in different passions of mine because I had a lot of down time."
In addition to creating content for his YouTube channel, Hazlett also found a passion for music, but that didn't quite take off until his last year at Linfield in 2019.  
The summer heading into his senior year, Hazlett met a voice coach in McMinnville, Oregon, who then introduced him to a producer and those two started working on demos for a song he had written called "Throwback."
"I wrote that song thinking my playing days were coming to an end during that summer and fall leading into the season," Hazlett said. "The song officially dropped a couple of days after my college career came to an end."
In the song, Hazlett honors his Lynden High School football coach, the late Curt Kramme, who lost his battle to cancer in 2017.
"He always had a saying called 'setback, comeback,' and in the song there's a verse that says 'Every setback has a comeback,' so it was cool to have a chance to include that lyric in the song which ties me back to Lynden and honors coach Kramme at the same time," Hazlett said.
Two weeks later, Hazlett got a call with an offer to play football professionally in France, but it was right then in late 2019 that he was starting to take music more seriously. 
Hazlett accepted the offer to play overseas, and then later signed a contract to play in Brazil in early 2020.
He had moved to Brazil to prepare for the season,and then the coronavirus pandemic struck, sending Hazlett straight into quarantine as soon as he had arrived in the country.
"I was stuck inside a house not knowing what was outside," he said. "Just working out and having a guitar helped me to not go insane, but to also continue to fall in love with music. I was pretty much like everyone else locked up in a house for a month and a half. I had a guitar with me and that's where I got the chance to truly start writing more songs and develop that passion for the guitar."
His season in Brazil was eventually canceled and Hazlett returned home to Lynden. Having the time to focus and work on his craft in music, he put out a music video earlier this month for "Throwback," which he filmed at Rollie DeKoster Field of Lynden High School. He worked with Pollock Pictures, a film company in Bellingham.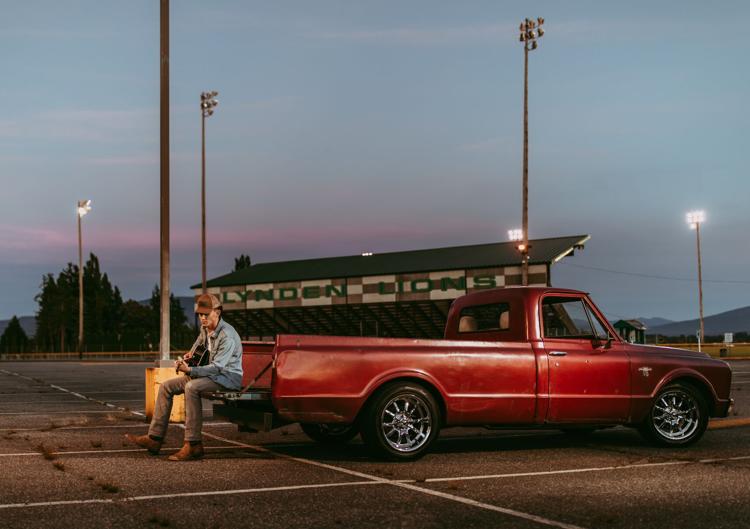 Hazlett said there wasn't a plan to film the video at the high school until he returned home, but once he got back he knew he wanted to shoot the video in town. 
The video currently has more than 16,000 views on YouTube. Hazlett said most of those views are from the Lynden community and the greater Whatcom County area with the help of his old football coaches sharing it on Facebook. 
Putting more time into music hasn't taken away from the passion he still feels for football, though. Hazlett's playing days aren't over, as he expects to be playing professionally in Mexico and Brazil in 2021. 
Now that he's no longer a student, Hazlett said, it's easier to balance his love for both football and music and he plans to continue pursuing both at the same time. 
"It works out well where when I'm not playing football or training, I have down time to play the guitar and write songs," he said. 
Hazlett said he wants to tackle music head-on once his playing days are over, and for him that's ideally in four or five years. 
Currently living in Nashville, Hazlett is making connections in the music industry before he heads back overseas to continue his football career. 
"Getting the chance to be around people that are better than me in this industry has helped me a lot, as well as developing mentors and advisors to guide me on what's going to be the best path for me," Hazlett said. "My path coming and getting into country music is just so different from everybody else traditionally. It's been cool to meet those people and be in Nashville being around music city. It's very inspiring and the place to be for country music."