Paige TeVelde knocks down five 3-pointers in home-opening victory
WHATCOM — Two things are certain following Lynden Christian girls basketball's 72-25 home-opening win over Stanwood Friday night.
One: The Class 1A Lyncs are a dominating force after suffocating the Class 3A Spartans. Two: LC's dominance is due to the fact that they don't have just five starters. They have two waves of starters.
Eleven Lyncs scored points as LC ran its record to 3-0 to start the season and ran a taller Stanwood team (1-3) out of the building.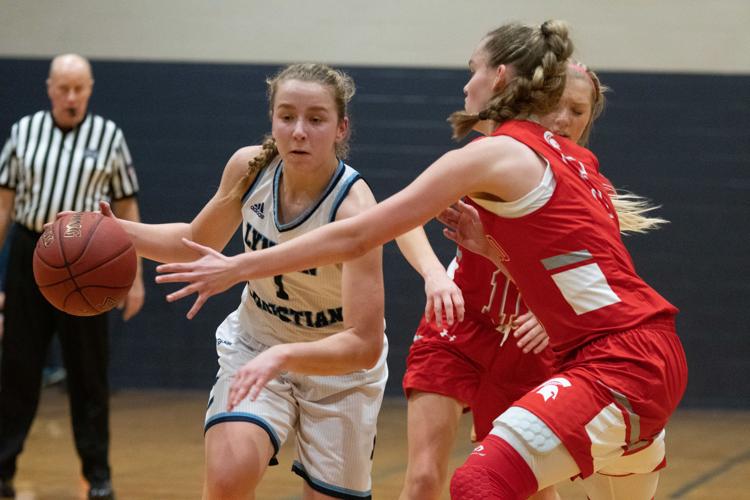 LC attacked in a myriad of ways with give-and-gos, long-range shooting and mid-range jumpers. The Lyncs' lightning-fast offense helped them control the paint and perimeter, stifling the Spartans' defense and opening up the floor for four double-digit scorers.
"Our new offense really allows everyone to get involved," Lyncs sophomore point guard Libby Stump said. "It allows us to space the floor and have everybody attack and move and get some points. You don't have to just stop one person, you have to watch us all."
Junior sharpshooter Paige TeVelde drained five of the team's nine 3-pointers to finish with a game-high 15 points. Junior Lexi Hernandez went to work down low to contribute a 13-point effort, while senior post Riley Dykstra knocked in 11 points and Stump added 10.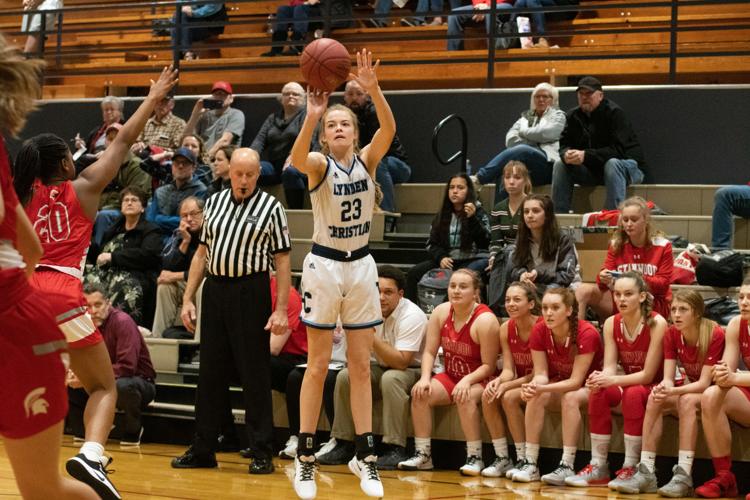 Lyncs coach Brady Bomber praised the depth of his team, saying he trusts all nine in his rotation and their different strengths help contribute in a variety of ways.
"We're really excited about our depth," Bomber said. "We have a lot of girls that have waited their turn, had a lot of success at the JV level and have worked their tails off in the offseason. It's really paying off for them these first three games."
Stanwood hit the first two points of the game then it was all LC as the Lyncs reeled off a 20-3 run to end the first quarter. It was 39-10 at the half and 54-23 after three quarters.
Lynden Christian is hoping to build on Friday's balanced win and continue to weaponize its depth as it heads into Northwest Conference play, Bomber said.
The Lyncs open up league play when they host Burlington-Edison at 7:15 p.m. Monday.
Other scores from around the league:
Nooksack Valley 69, Friday Harbor 12.
Four Pioneers tallied double-digit points as Nooksack easily handled a winless Friday Harbor squad on Friday night at home.
Junior forward Jenna Compton finished with a game-high 22 points. Senior Kora Larsen added 13, sophomore Tehya Moore had 12 and freshman Hallie Kamphouse knocked in 11.
The Pioneers held Friday Harbor to single-digit scoring in all four quarters. NV led 18-2 after the first quarter, 38-6 at the half and 52-12 after three quarters of play.
Nooksack improves to 3-0 to start the season and will host undefeated La Conner (4-0) at 5:30 p.m. Saturday. The Braves were 66-38 winners over Meridian on Friday.
Sehome 42, Mount Baker 39
Sehome junior Aspen Garrison post led all scorers with 12 points as the Mariners improved to 4-1 to start the season. Senior Mikayla Wefer added eight points from the paint as the Mariners triumphed with just five players scoring.
Mount Baker (2-2) also only had five scorers with senior Abby Yost leading the way with 11 points. Trinity Anderson, Madison Barter and Petra Allred each scored eight points for the Mounties.
Sehome next hosts Sedro-Woolley (2-1) at 7:15 p.m. on Tuesday. Mount Baker hosts Cascade Christian (2-3) at 3 p.m. Saturday.
Meridian 60, La Conner 11
Jordan Veenstra scored a game-high 11 points as Meridian had no trouble disposing of a 1-1 La Conner team at home Friday night.
Eleven Trojans contributed points in the win. Senior Jackson Short led the Trojans in the paint with nine rebounds and added four points. Senior post Joseph Plagerman scored nine points while Ryan Johnson finished with six.
The Trojans open Northwest Conference play when they host Lakewood (2-2) at 7:15 p.m. on Tuesday.
Mount Vernon 58, Mount Baker 36
Mount Baker junior Braeden Hart had 11 points and senior Waylon Kentner chipped in eight as the the Mounties couldn't keep up Class 3A Mount Vernon on Friday.
Garett Smith added six points, Aidan Corning had five and Jason Lee contributed four as the Mounties fell to 1-3 to start the season.
The Mounties next host Lynden (1-1) at 7:15 p.m. Tuesday.
Nooksack Valley 58, Friday Harbor 19
Marysville-Getchell 63, Sehome 40