Pioneers senior Cole Eldridge drops game-high 24 points
EVERSON — All week Nooksack Valley boys basketball knew the challenge that awaited them come Friday night.
The Pioneers practiced against a mock Anacortes defense in practice, knowing the press they were about to face was unlike any they'd seen all year. To say the Seahawks like to push the tempo is an understatement.
Nooksack fended off a ferocious Anacortes press in a chaotic, turnover-fueled match of speed and athleticism to come away with a 59-53 Northwest Conference victory in front of a packed-to-the-walls home crowd Friday.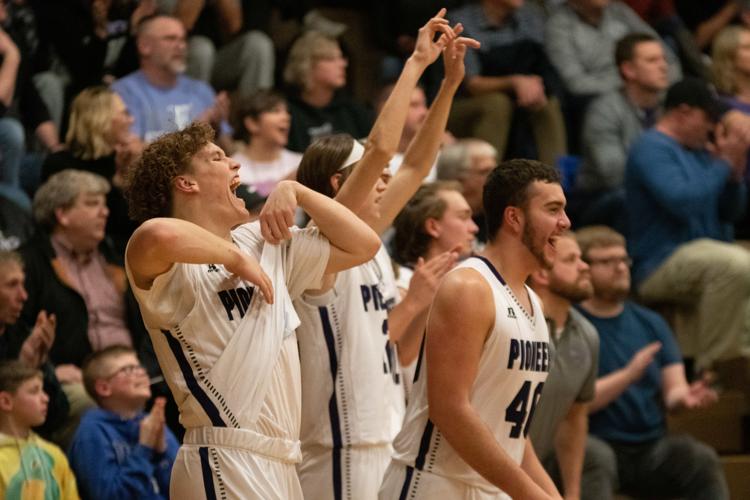 "They have one of the best presses we've seen so far," said Nooksack Valley senior Cole Eldridge, who scored a game-high 24 points. "We had to prepare a ton for that."
The Pioneers (9-3, 3-2 NWC) have won five of their last seven and are off to their best start in over a decade. It was a redeeming victory after falling 67-55 to Sedro-Woolley Tuesday, a loss that still stings, Nooksack Valley coach Rich Skillman said.
"To come back with a game like this and compete the way they did and play with confidence, I couldn't be more proud of them," Skillman said.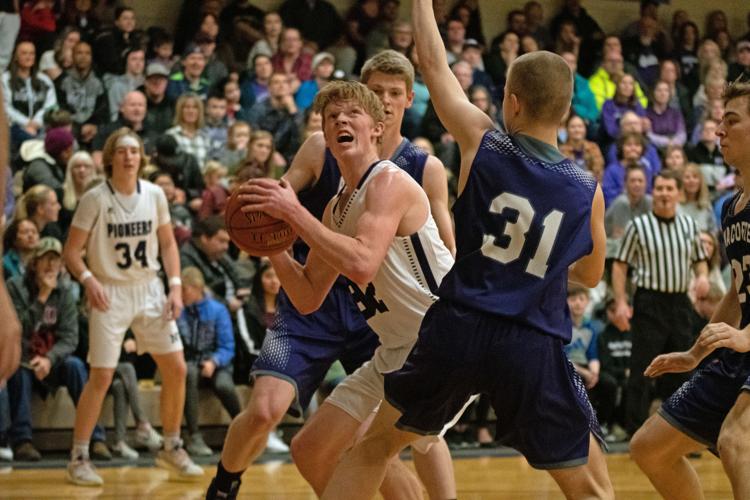 On Friday, it was apparent from the get go that Anacortes (6-6, 2-3 NWC) wouldn't let this win come easy. The Seahawks used a frenzied, attacking full-court press on defense and a wild, breakneck pace on the offensive end.
"I don't think anybody presses like them," Skillman said. "They are balls-to-the-wall."
It led to a sloppy first half for both teams in what felt like turnovers on every other possession.
Nooksack led for most of the game, surrendering the lead briefly midway through the second quarter, then regained momentum going into the locker room with a 9-2 run, highlighted with an Eldridge 3-pointer.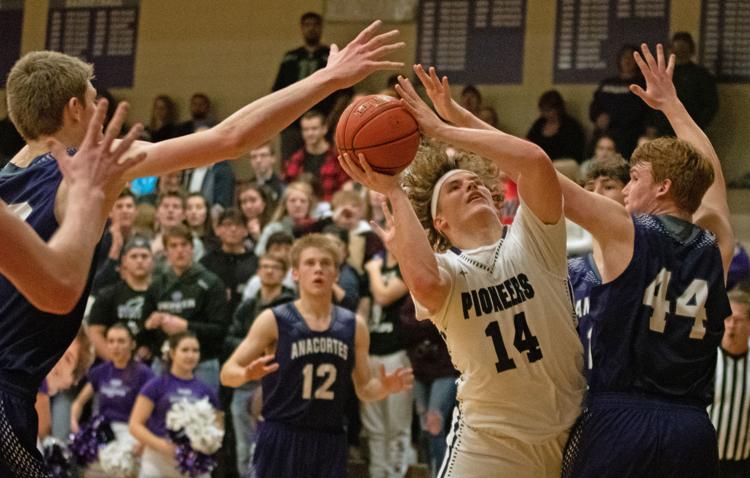 Anacortes tied it up twice in the third quarter before the Pioneers engineered a 10-4 run, led by senior post Clancy Coppinger's four points, that spanned the end of the third and the start of the fourth. Nooksack stood tall and the Seahawks never got closer than four the rest of the way.
"Anacortes is really good at what they do," Skillman said. "[We] finally found a way to compete with it and had the guys to do it tonight. They did what we asked, even though it looked a little chaotic."
It was controlled chaos on Nooksack's part, Skillman said, as he knew his team could overcome their mistakes and turnovers and play their brand of ball while breaking through whatever Anacortes threw at them defensively.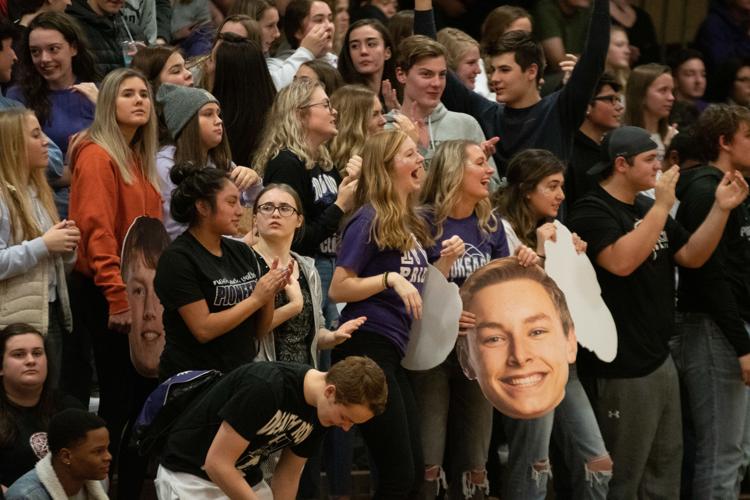 "You know it comes with the territory when you play them," Skillman said. "You're going to make those mistakes, but how can you handle them, how can you flush them?"
With eight regular season matches to go, two more wins would guarantee the Pioneers their first winning season in eight years. The Pioneers' last state appearance was in 2011 when they went 18-11 en route to a sixth-place finish at state.
This year's Pioneers boast a roster of 10 seniors and one junior, with 10 of those standing at 6-foot-1 or taller. Eldridge said this is the best team he's seen the Pioneers have since he's been in high school.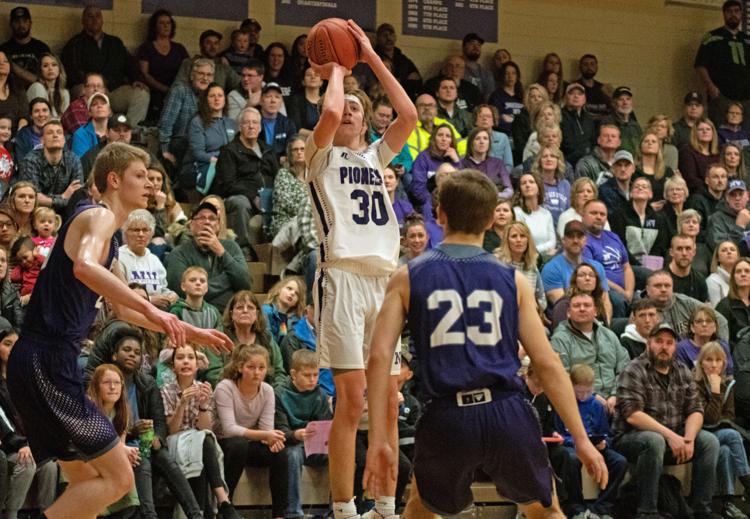 "We just work hard and we're all a family," Eldridge said. "At the end, that's what matters and that's how we pulled it out. We play as a team."
Clancy Coppinger, the Pioneers' 6-foot-6 senior post, scored 13 points and provided an anchor in the frontcourt. Cody Coppinger and Keldon Weidkamp each added seven points, Matthew Pratt contributed four, while Zack Johnson and Ryan Veening each tallied two.
Skillman was impressed with the entire team, praising their selflessness.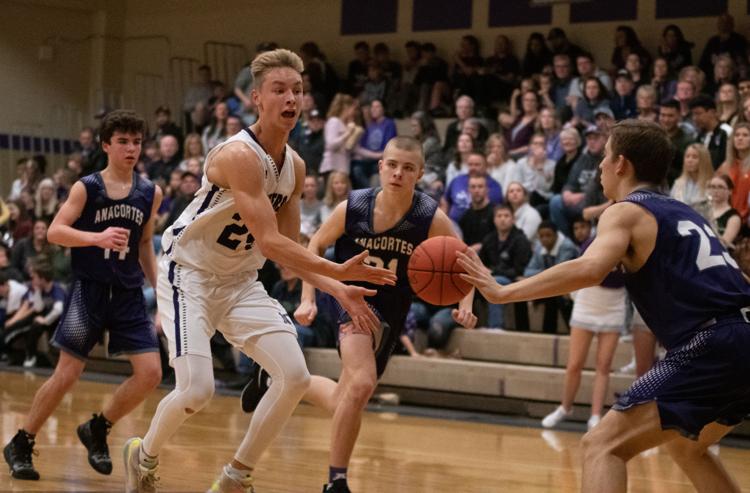 "I've got guys sacrificing themselves in the locker room that nobody sees," Skillman said. "Giving up a jersey for another player, giving up playing time to other players, guys picking up stuff for other people. It's top to bottom. I wouldn't trade any of these guys for anybody."
Nooksack next travels to Sehome (5-7, 2-3 NWC) for a 7:15 p.m. matchup on Tuesday.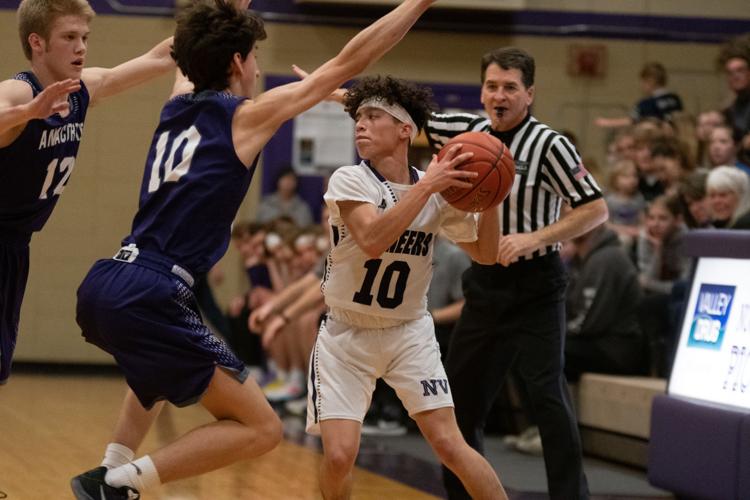 Scores from around the county
Lions' senior Brock Heppner scored a game-high 12 points as Lynden extended its win streak to 10 games to remain perfect in league play. Sophomore Kaleo Jandoc added 11 points in the win.
Lynden (10-1, 5-0 NWC) sits atop the Northwest Conference in a first-place tie with Burlington-Edison (11-1, 5-0 NWC).
Sehome (5-7, 2-3 NWC) was led by Elliott Tanovan's eight points as the Mariners dropped their third straight.
The Lions host Meridian (8-2, 3-2 NWC) at 7:15 p.m. Monday, while the Mariners host Nooksack Valley at 7:15 p.m. Tuesday.
Squalicum 60, Bellingham 29
Senior Dedrick Mitchell scored a game-high 13 points, Devante Powell added 12 and Lincoln Hofer 10 as the Storm (6-6, 3-2 NWC) picked up their third consecutive victory.
The Red Raiders (3-9, 0-5 NWC) dropped their fourth straight and were led by Aidan Bartlett's team-high seven points. Tevor Johnson added six and Colm Shaefer five in the loss.
Squalicum travels to Anacortes at 7:15 p.m. Tuesday, while Bellingham hosts Lynden Christian at 7:15 p.m. Tuesday.
Lakewood 88, Mount Baker 72
Four Mounties (2-9, 0-5 NWC) scored in double digits but couldn't overcome Lakewood's firepower, losing their fourth straight match.
Junior Braeden Hart tallied a team-high 21 points to lead the Mounties, while Truman Anderson added 17, Garrett Smith 14 and Ayden Rodriguez 13.
Mount Baker hosts Sierra Summit in an non-league matchup at 3 p.m. Saturday.
Lynden Christian 80, Sedro-Woolley 27
Four Lyncs scored in double digits as LC ran its win streak to five games, led by Riley Dykstra's game-high 14 points. Emily Mellema added 13, Kenadi Fay 11, Alli VanKooten 10, Paige TeVelde 9 and Libby Stump 8 in the victory.
The Lyncs (10-1, 5-0 NWC) sit atop the Northwest Conference standings with Lynden (12-0, 5-0 NWC) as the only remaining unbeaten teams in league play. LC next hosts Bellingham at 7:15 p.m. Tuesday.
Burlington-Edison 47, Ferndale 40
The Golden Eagles (8-4, 3-2 NWC) have no lost two straight and four of their last six. They next host Blaine at 7:15 p.m. Tuesday.