Five Lyncs score double-digits in 83-62 win over Mounties
DEMING — Before Lynden Christian boys basketball's matchup with Mount Baker Friday, senior sharpshooter Andrew DeVries was sitting at 999 career points — a near lock to join about 10 other Lyncs in the 1,000-point club.
But by halftime, with LC holding a 41-37 lead and DeVries shutout with zero points, one had to wonder if he'd make it that night or not.
His patented 3-pointer, where he's become the Lyncs' career, single season and single game record holder, wasn't falling, nor was his stepback jumper. Heck, even his single free throw attempt in the second quarter bounced harmlessly off the rim.
It wasn't until 1:29 into the second half when DeVries drove baseline and kissed a layup off the glass that he got his first bucket, eclipsing the 1,000-point mark and sparking a 12-2 run that would vault LC to an 83-62 Northwest Conference win over the Mounties.
"It's a cool milestone," said DeVries, who finished with nine points and currently sits at 1,008. "But at the end of the day it's not what matters. Numbers come and go, but the relationships, memories and hard work we put in is what lasts. And that's what matters."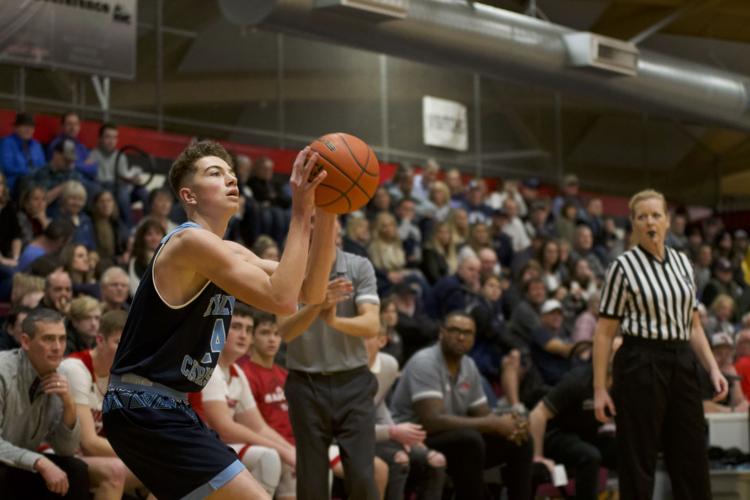 It took some tough digging for the Lyncs (4-3, 2-1 NWC) to overcome a Baker (2-7, 0-3 NWC) squad that came in fired up to defend its home court.
LC trailed 20-19 at the end of one quarter after Mounties' junior wing Braeden Hart drilled three 3-pointers to keep Baker rolling.
It wasn't until LC senior Bryce Bouwman's steal and breakaway layup midway through the second quarter that the Lyncs took the lead for good, part of a 19-7 run to end the half. LC ended the third quarter on a 12-2 run to take a 57-44 lead.
The Lyncs put the game away for good with four consecutive 3-pointers midway through the fourth quarter, one from senior Zach Sipma, one from DeVries and two from junior Jaden DeBoer, who finished with a game-high 20 points and five 3s.
The win snapped a two-game losing streak for the Lyncs, which had dropped consecutive matches against Class 4A foes Monroe and Glacier Peak last weekend at the Cloud 9 Christmas Classic.
Five Lyncs posted double-digit points, including 15 from senior Bryce Bouwman, 13 from sophomore Andrew Hommes, 12 from junior Logan Dykstra and 10 from Sipma.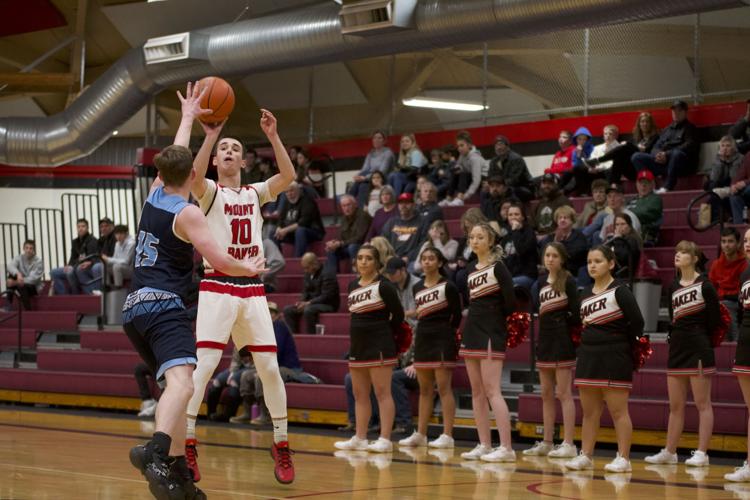 Baker, with a first-year coach in Ben Zakheim and new system, fell for the second straight time after taking a 58-50 loss to Class 3A Lynnwood last weekend.
Hart, who finished with five 3-pointers and team-high 17 points, said it was encouraging to see his team hang with LC for three quarters.
"We got really hot in our 2-3 zone on their shooters," Hart said. "They weren't hitting their shots like they normally do."
Baker's 6-foot-4 junior post Aidan Corning got his first start of the season and held his own against LC's formidable 6-foot-3 center Sipma, limiting him to 10 points in the paint.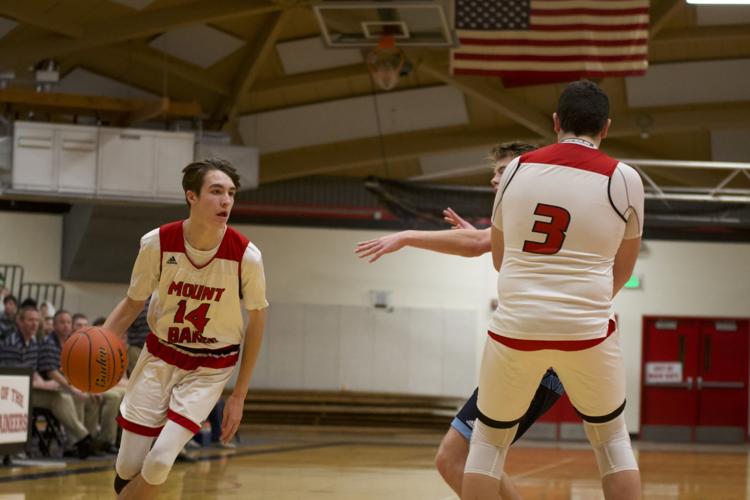 "He did pretty well against [Sipma] down low," Hart said. "I was proud of him. He really hasn't played basketball until this year. So it was pretty cool seeing him getting rebounds and playing against one of the best posts in our conference."
Four Mounties recorded double-digit scoring, including senior Truman Anderson's 16, senior Jason Lee's 15 and junior Mason Jacoby's 13.
Baker continues league play when it hosts Squalicum (3-6, 0-2 NWC) at 7:15 p.m. Tuesday. LC hosts Ferndale (7-3, 2-1) at 7:15 p.m. Tuesday.
Other scores from around the league
Trojans' 6-foot-3 junior Jackson Short scored a game-high 23 points and Meridian picked up its fifth-consecutive win in a 61-51 Northwest Conference victory over Sehome Friday in Bellingham.
Senior Jordan Veenstra added 12 points for the Trojans (7-1, 2-1 NWC), and senior post Joseph Plagerman contributed six. Meridian next travels to Burlington-Edison (8-1, 2-0 NWC) at 7:15 p.m. Tuesday.
The Mariners (4-5, 2-1 NWC) loss snapped their four-game win streak after losing their first three games of the season. Junior Jake Ortega led the Mariners with a team-high 12 points, while juniors Elliott Tanovan and Micah Daheim, along with senior Nick MacPhee, each added 10 points.
Sehome next hosts Anacortes (5-4, 1-1 NWC) at 7:15 p.m. Wednesday.
The Golden Eagles' (7-3, 2-1 NWC) seven-game win streak came to an end at home Friday against Lakewood (5-5, 2-1 NWC).
Sophomore guard Jazen Guillory scored a team-high 17 points for Ferndale, while sophomore forward Mark Schlichting added 14 and sophomore guard Jesse Sapp contributed 10.
The Golden Eagles will look to get back on track when they travel to Lynden Christian (4-3, 2-1 NWC) at 7:15 p.m. Tuesday.
Squalicum 71, Sedro-Woolley 56
Senior Devante Powell pumped in a game-high 13 points and the Storm (4-6, 1-2 NWC) broke a three-game losing streak while picking up their first league victory of the season Friday in Bellingham.
Senior Dedrick Mitchell added 17 points and senior Lincoln Hofer 14 in the win. The Storm were red-hot from long distance, draining 12 3s, including four each from Powell and Hofer.
Squalicum continues league play when it travels to Mount Baker (2-7, 0-3 NWC) for a 7:15 p.m. matchup on Tuesday.
Nooksack Valley 55, Bellingham 39
Junior Jenna Compton knocked in a team-high 16 points and Nooksack Valley (8-2, 2-1 NWC) won its fifth straight on the road in Bellingham Friday.
Hallie Kamphouse added 15 points, including four 3-pointers, and Maya Galley contributed 11 in the victory.
The Red Raiders (6-4, 0-3 NWC) saw their two-game win streak come to an end and remain winless in league play. Junior Alexa Mee dropped a game-high 17 points, while junior Adi McKay contributed 12 in the loss.
The Pioneers host Sedro-Woolley (3-5, 0-2 NWC) at 7:15 p.m. Tuesday. The Red Raiders travel to take on undefeated top-ranked Lynden (9-0, 2-0 NWC) at 7:15 p.m. Tuesday.
Junior post Aspen Garrison scored a game-high 19 points and Sehome (7-3, 3-0 NWC) captured its fifth win in its last six outings on Friday in Bellingham.
Jessica Melvin and Ava Lunny each contributed eight points, while Kaylee Wilson, Ava Collins and Mikayla Wefer each added four points on the night.
Trojans sophomore Skyleigh James had a team-high 14 points as Meridian (5-4, 2-1 NWC) took its first league loss and second straight overall loss. Ellie DeWaard posted nine points and Brynn Neal finished with six for the Trojans.
Sehome next hosts Anacortes (3-6, 1-1 NWC) at 7:15 p.m. Tuesday. Meridian hosts Burlington-Edison (6-2, 1-1 NWC) at 7:15 p.m. Wednesday.