Medcalf is the second freshman in 2A to win state since 2003, and the first Lions winner since Feenstra in '01
LYNDEN ­— Jordan Medcalf has been hitting golf balls since he could walk. At age 2 Medcalf took his first swing at a golf ball while holding a baseball bat.
Thirteen years later, on May 22, 2019, Medcalf, with actual golf clubs, became the second 2A boys freshman to win golf state since 2003 — and the first Lynden boys golfer since Tim Feenstra in 2001 to win state.
Medcalf, 15, shot a two-round score of 147 for a two-stroke victory at the two-day tourney at Liberty Lake Golf Course in Spokane.
"It's feels great," Medcalf said. "Not many people can say they won it as a freshman. It felt really good. I can tease my brother now. He pushes me."
Jordan's brother, Logan Medcalf, an 8th grader, is a two-time national runner-up at the Drive, Chip and Putt Championships at Augusta National. One could say golf runs in the family.
"They're just golfing boys and they really do just drive each other to be great," said Nicole Medcalf, Jordan and Logan's mother.
Jordan's parents, Nicole and Matt, knew he needed his first set of golf clubs after seeing him hit golf balls with a bat as a toddler. Jordan's grandma bought him his first set of lefty clubs soon after. He was so small they had to be custom-made.
He began playing competitively at 8 years old and has since competed in 26 junior golf tournaments, advancing in the Washington Junior Golf Association state tournament all six years he's played it. 
He won a couple of sub-district tourneys along the way before joining Lynden High School's golf team this spring.
Third-year Lynden coach Jesse Weg had heard about Jordan through junior golf and knew Jordan had eight years of experience playing in high-level junior tournaments at that point.
"We knew going into the season that basically he'd be a veteran for our team even though he's coming in as a freshman," Weg said.
When Jordan won medalist honors in the team's second meet of the year, Weg began to realize the kid had something special. 
"That's when we kind of knew, 'OK, he fits in with the No. 1s. He's competing. He can do it,'" Weg said.
The biggest change for Jordan was that junior golf is an individual sport, while high school golf has more of a team aspect. Weg sat him down and talked about the adjustment and asked him to help out the newer golfers. Jordan took the leadership role and began working with the No. 5 and 6 golfers.
He had his ups and downs throughout this season and finished third in the Northwest Conference with a 78 average. He went on to place seventh out of the 16 golfers at districts who advanced to state. Winning the title wasn't even on his mind; his preseason goal was just to make it to the tournament.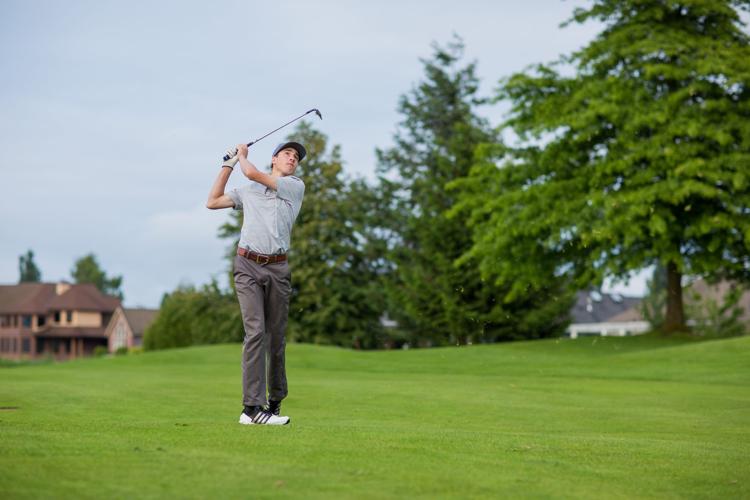 It wasn't until after the first day at state, when Jordan was tied for the lead at 73, that he and Weg realized winning it all was a real possibility.
"I just told myself, 'Just go out and shoot close to the same [as the day before] and you could be good,'" Jordan said.
Jordan, the only Lynden boys golfer to qualify for state, joined Weg for dinner that night and talked about everything but golf.
"We didn't talk too much about it," Weg said. "I didn't want to get him nervous."
On day two, with gusts pushing 25 mph on the Spokane course, officials took scores after the first nine holes. Medcalf birdied and bogied his way down the front nine before finding out he had a one-stroke lead over Burlington's Conrad Brown going into the back nine. Brown had won the district match against Jordan a week earlier.
Jordan and Weg knew Brown, who was in the group just head of Jordan, would play well, but figured par would be a good score on almost all the holes, especially with the wind. Jordan finished with one bogie on the back nine and parred the other eight. 
"My driving and my wedges into the green were just unbelievable," Jordan said.
In the final hole, a crowd gathered around the green. A few Sehome golfers who Jordan had gotten to know throughout the season asked Jordan what he had shot as he stepped off the green of the 18th hole. When he said 74, they told him that was good enough for the win.
Jordan and Weg recorded the score, waited 10 minutes until the official scores were put up on the leaderboard and saw Jordan's name at the top.
Many coaches and golfers at state were surprised and impressed to hear Jordan was just a freshman, Weg said. He became the first 2A boys golfer in 16 years to win state, and the first Lynden boys golfer to win state, since Tim Feenstra,  in 18 years.
"I don't know if it's quite sunken in to him how big of an accomplishment it is," Weg said. "He's got three more years. I told him he's set the bar pretty high for himself."
His golf IQ, etiquette and mental focus are more on par with that of a senior, and those qualities are what propelled him to victory, Weg said. He does not act like a freshman out on the course.
"He can think his way around the golf course," Weg said. "Just the way he's thinking about the shot, the wind. A lot of new golfers just think the yardage is what the yardage is, but really there's a lot of factors that come into play. He knows what the wind's going to do, he knows how to read the greens. He's very experienced for a freshman."
The mental aspect is what Jordan loves most about the game.
"I just had confidence in myself that I could do it," Jordan said. "You just have to take one hole at a time and think yourself through it. I tell myself, 'Next hole.'"