With Phase 2 advancement, games will be this Saturday
WHATCOM ­— It's official: Every Season 1 high school sport will see competition this week. Almost a full year after schools shut down in the COVID-19 pandemic, prep sports are back in the Northwest Conference. 
That was made possible by the word last week that all of Washington state is advanced to Phase 2 of the governor's Roadmap to Recovery plan, allowing all sports to resume within guidelines. First football games will be this Saturday, Feb. 20.
Previews of north Whatcom County teams continue, this time a look at football. 
The Lions returned to the semifinals of the state tournament again in the fall of 2019, but saw their season end with a loss to Steilacoom, good for a 9-3 record. 
A handful of seniors have graduated, notably leaders Steven DiLorenzo and Brock Heppner. 
Leading the pack this year will be senior quarterback Baylor Ayres, who split time with Heppner as the signal-caller last season. Senior running back Caleb Wheeler and junior wide receiver Kaleo Jandoc will help Ayres on the offensive side of the ball, but also will be key on defense. 
"[Baylor is] possibly one of the more polished passers we've had in a long time," head coach Blake VanDalen said. "That part of his game is great. He's always been extremely physical and a great runner."
VanDalen pointed out as other key players for this year's team: juniors Cade Slayton, Taivin VanDalen and Case Zweegman, and senior offensive and defensive lineman Matt Furdyk. 
"We've got a really big, senior-dominant o-line, which is great," VanDalen said. "We just have a ton of kids that have put in their time in the weight room and took the time off to get better individually."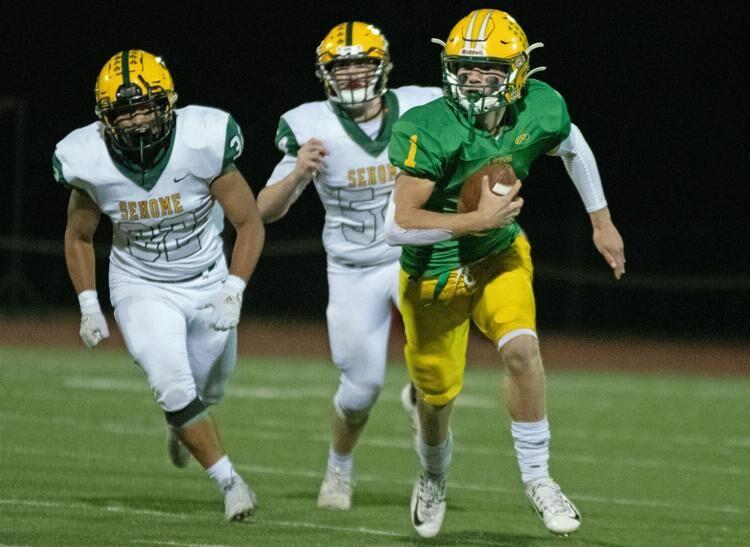 A trip to the state title game ended in heartbreak for the Lyncs in December 2019 as a late touchdown by Royal cemented a 26-22 win for the Knights and a second-place finish for Lynden Christian.
The Lyncs finished with an 11-2 record and a program with plenty of momentum going forward, until COVID intervened. Over the last two seasons, Lynden Christian has lost only four games.
Stepping in for the graduated Trajan Schouten at quarterback will be senior Logan Dykstra. Senior Cole Moorlag will be one of Dykstra's targets at receiver, but Moorlag was also an all-Northwest Conference 1A selection last season at defensive back. Senior Grant VanderVelden will anchor a defensive line that will certainly miss the dominance Zach Sipma brought last season. 
It was a down year for the Trojans, who finished the season with a 4-8 record. Meridian advanced to the state playoffs, but its season would end with a loss to Montesano. 
Returning for the Trojans in a condensed season are seniors Ethan Brooks, Mason Knutson, Wesley Kurz and Ethan Silves. 
The biggest departure for Meridian would be head coach Bob Ames after 46 seasons. Ames has the third-most wins as a football coach in state history and led the Trojans to three state titles during his time at the helm. 
Stepping into his place is Ames' son, Patrick, as a first-year head coach. Patrick has been an assistant coach for Meridian since 1999.
The Mounties saw their season end prematurely in the quarterfinals of the state tournament, losing to Connell 14-9.
Returning for Mount Baker will be senior quarterback Mason Jacoby, who threw for 13 touchdowns as a junior. He'll be looking for fellow seniors Toby Jefferson and Ayden Rodriguez out of the backfield and down the field, both all-Northwest Conference 1A selections last season.
Head coach Ron Lepper said Davin Beason and Aidan Corning will also be key for the Mounties in this shortened season. 
Heading into the season opener against Nooksack Valley this weekend, Lepper said the reality of it brings a sense of relief.
"I didn't know what I was going to say to them if we didn't make it [to Phase 2]," he said. "I don't know how that would have gone. It would have been a tough day at the office."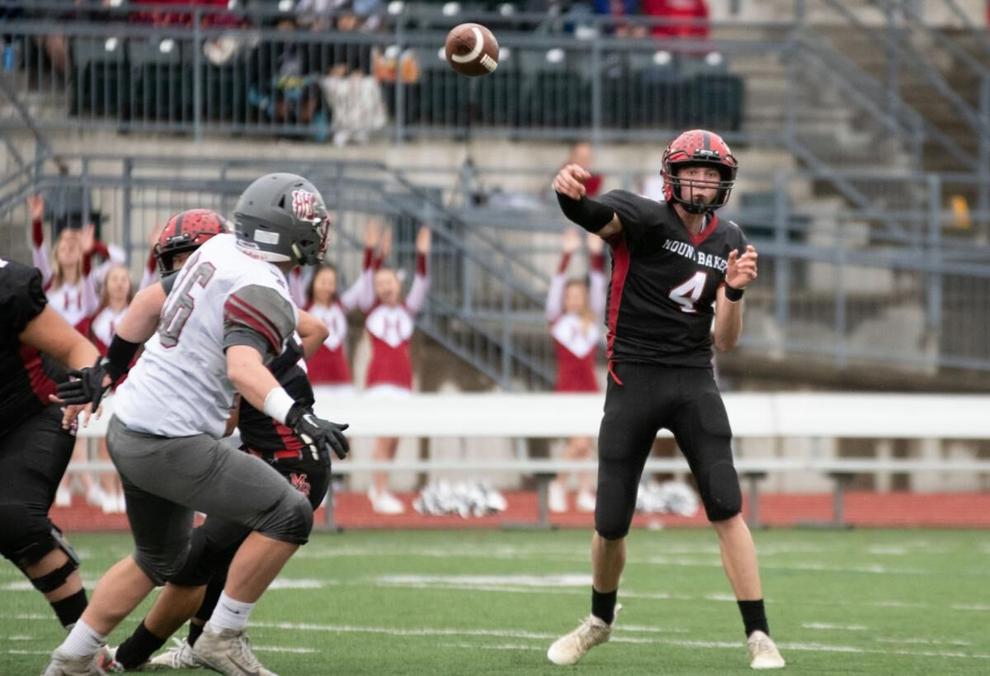 The Pioneers missed the state playoffs last season with a 3-7 record, but there's plenty to look forward to with this year's team. 
Returning for Nooksack Valley are seniors Liam Coppinger and Alex Clawson on the offensive line. Head coach Craig Bartl called Coppinger and Clawson the anchors up front.
The Pioneers will have some experience in the backfield with senior Scout Whittern returning at running back and junior Jordan Silva getting carries as well. 
Senior Cody Coppinger is out for the first couple of weeks of the season, but he should be the quarterback upon returning. In his place will be freshman Joey Brown taking snaps to start.
Advancing to Phase 2 brought out emotions from everyone, Bartl said.
"It was pretty exciting news," he said. "The kids have been waiting for this for a long time. To say they were excited is probably an understatement. The emotions they had — you can't describe it." 
The 3A Golden Eagles finished last season with a 5-5 record, losing to state runner-up and powerhouse O'Dea in a loser-out, winner-to-state matchup.
Ferndale returns a lot of young talent including sophomores Landen Hatchett and Isaiah Carlson. Hatchett started at center last year for the Golden Eagles and Carlson was featured in the backfield. Carlson has picked up interest from colleges in the extended offseason.
Junior Jazen Guillory will be a big part of the Golden Eagles' defense a year after being named an all-conference honorable mention.