Teams all still vying in Week 6 
WHATCOM ­— With five games in the books already, we're now in the heart of the regular football season, with crucial games coming each week — and teams hoping for more, of course, in state playoffs.
It's crunch time, it-all-counts time and bring-your-best-game time in Northwest Conference and Wesco North football.
Here's a look at the Week Six lineup: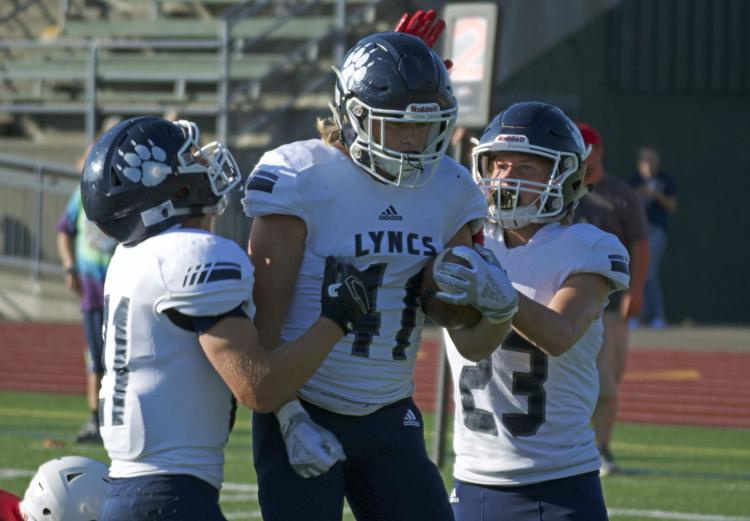 No. 5 Lynden Christian (3-1, 1-1 NWC 1A) at Meridian (1-4, 1-1 NWC 1A), 7 p.m. Friday
The Lyncs weren't too happy about being routed by Mount Baker two weeks ago on their home turf. So they took it out on Nooksack Valley last Friday, shelling the Pioneers 33-0 in a vital road test. Now the Lyncs seek to tack on another league road win as they travel to Laurel to take on the Trojans, who also fell victim to the Mounties, 42-14, last Friday.
Meridian has had the toughest schedule of 1A teams in the county to start the season, with brutal non-league battles against 2A Sedro-Woolley, defending 1A champ Colville and Amador, a powerful California school. It doesn't get any easier this week. While the Lyncs blew out the Pioneers by nearly five touchdowns, the Trojans escaped with a one-touchdown victory two weeks ago.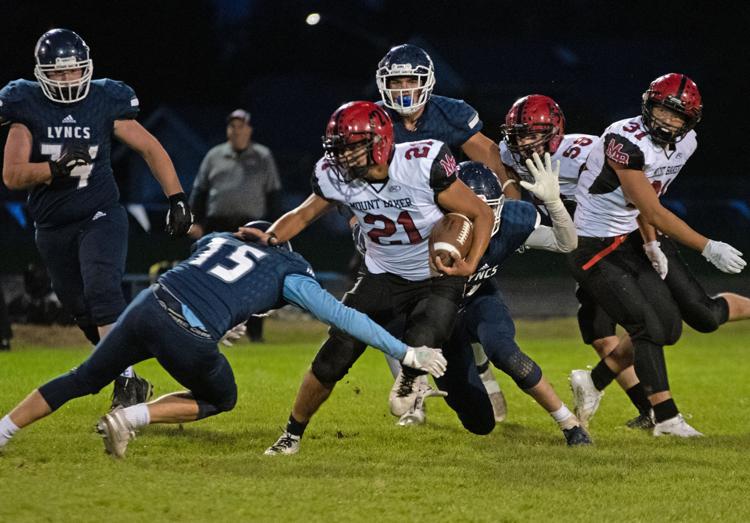 Nooksack Valley (2-3, 0-2 NWC 1A) at No. 2 Mount Baker (5-0, 2-0 1A NWC), 7 p.m. Friday
The Pioneers were rolling to start the season, nearly 3-0 if not for a failed two-point conversion in the opening Sehome game. But back-to-back league losses leave Nooksack trending downward. Their offense that was averaging nearly 28 points per game was shut down by the Lyncs last Friday.
The Mounties proved again they are worthy of their No. 2 state ranking by thoroughly dominating Meridian on the road. The Mounties, who return just three starters, have a first-year quarterback and all new offensive and defensive linemen, yet have orchestrated an impressive start. Coach Ron Lepper has the Mounties on fire with a grinding run game and wicked defense. Their closest game was a seven-point upset win over Class 2A second-ranked Lynden. Baker is looking to make a deep, deep run into the playoffs.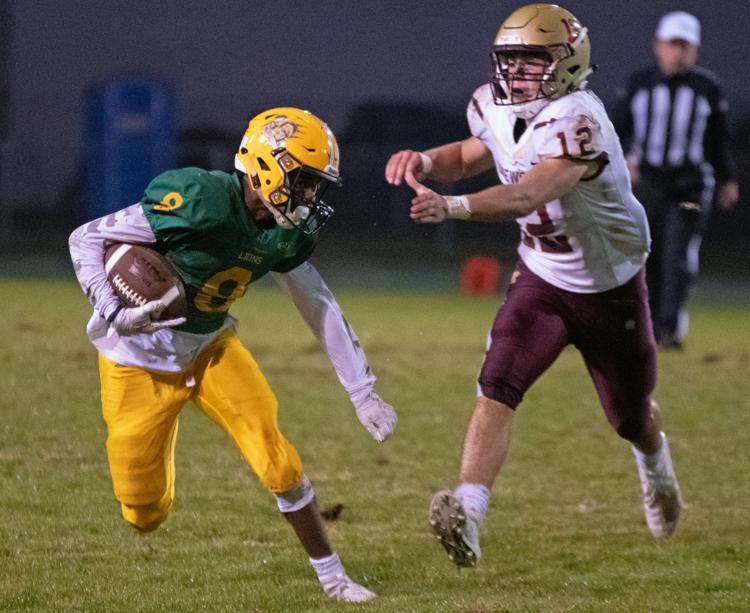 No. 2 Lynden (4-1, 2-0 NWC 2A Sky) at Burlington-Edison (1-4, 1-1 NWC 2A Sky), 7 p.m. Friday
For three straight weeks the Lions have faced an undefeated, ranked opponent, and won. First was then-second-ranked Steilacoom, next was then-second-ranked Archbishop Murphy and last Friday was No. 9 Lakewood. The results have quelled any concern about the Lions after they were upset by Mount Baker in Week One.
The Lions have averaged 34 points per game the last four weeks and have surrendered just 13 points total in the last two games. It's put them alone atop the NWC Sky Division with an unblemished 2-0 league record. A win against Burlington would set up a showdown versus Sedro-Woolley (4-1, 1-1 NWC 2A Sky) on Oct. 18, and a win against the Cubs would put the league title nearly in hand. The Lions finish the regular season against Blaine (1-4, 0-2 NWC Sky 2A), a team on a four-game losing skid.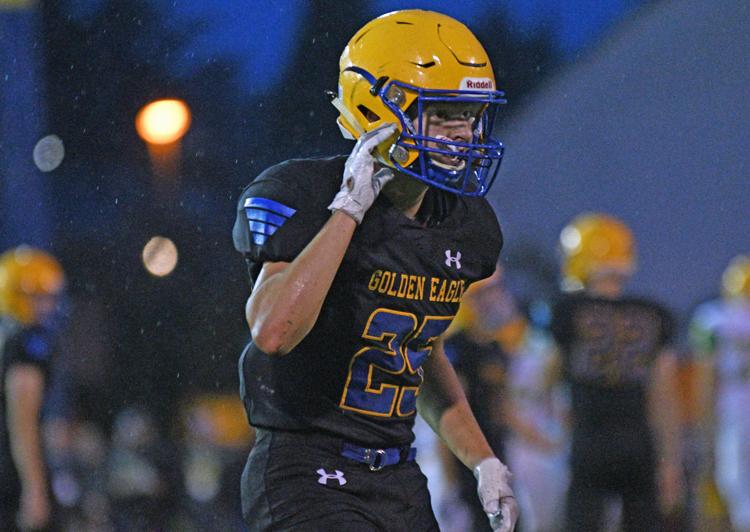 Ferndale (3-2, 3-0 Wesco 3A North) at Squalicum (3-2, 1-2 3A Wesco North), 6 p.m. Saturday at Civic Field
The Golden Eagles resurrected their season after starting 2-0 and have since reeled off three straight wins en route to a perfect league record. That includes a 48-28 victory over then-ninth-ranked Arlington two weeks ago. The Golden Eagles haven't just won either, they've decimated opponents the past three weeks with an average score of 46-21.
The Storm have rebounded from two-straight blowout losses in weeks two and three, where they put up just seven points per game. The past two weeks, both victories, saw them drop 56 on Marysville-Getchell and 48 on Meadowdale. With the county's leading rusher in sophomore Ben Schlenbaker, the Storm will look to make it three in a row against Ferndale.
Bellingham (1-4, 0-4 NWC 2A Lake) at Anacortes (0-1, 0-0 NWC 2A Lake), 7 p.m. Friday
The Red Raiders' lone win this season came against Sammamish, a team that hasn't won a game since November 2017. They came within four points of Cedarcrest, 22-18, on Sept. 27, and the rest of their three losses have been blowouts.
Only Bellingham's C-Team will lace up to take on an Anacortes team that opted out of a varsity schedule after only 10 upperclassmen turned out for football. The Seahawks went 0-9 in 2018 and suited up fewer than 20 players per game toward the end of the season.
The Red Raiders will get back into their regular-season slate against Mountlake Terrace (1-3, 0-1 NWC 2A Lake) at 7 p.m. Friday, Oct. 18, at Civic Field.
Cedarcrest (4-1, 1-0 NWC 2A Lake) at Sehome (3-2, 1-0 NWC 2A Lake), 7 p.m. Friday
The top two teams in the 2A Lake Division square off for the division lead. Sehome is on a two-game win streak after dropping two straight to Mount Baker and Centralia. The Mariners beat Mercer Island 28-14 two weeks ago and Mountlake Terrace 14-7 last Friday. 
Cedarcrest has the highest-scoring offense in the Lake division, putting up 26.8 points per game, while Sehome's offense, averaging 17.2 points per contest, has struggled during stretches. Three times this season the Mariners have been held to under 20 points, and their high-powered passing offense from a year ago hasn't met expectations. With two league games to go, the winner of this matchup will be on the fast track to the Lake league title.