Golden Eagles ride big runs all night to win over Mariners
BELLINGHAM — Up, over and in.
That's what was running through Ferndale junior Morgan Hayes' mind while she served during an 18-0 run by the Golden Eagles against Sehome Thursday night. 
Ferndale beat Sehome in straight sets 25-10, 25-14 and 25-10 to improve to 3-0 in the early goings of the season. 
The Mariners led 6-5 at one point in the first set, but that was the last time they would lead the rest of the set. That 18-0 run by the Golden Eagles put them ahead 23-6 before closing it out 25-10.
Ferndale coach Patti Hoelzle said the Golden Eagles' defense is what allowed that big swing to happen. 
"Really, we didn't let a single ball drop on our side, so our defense was really scrappy even when different types of balls were coming over and that was really key," she said. 
The Golden Eagles couldn't quite hold that momentum heading into the second set as some unforced errors put Sehome ahead.
Not too far ahead, though. 
Ferndale and Sehome were tied at 10-10 in the second set when another huge run came. The Golden Eagles outscored the Mariners 15-4 down the stretch to also take the second set. 
"Volleyball is a game of momentum. We just talk about wanting to get two points at a time and then reset ourselves," Hoelzle said. "Even if they get the ball back, we need to stop that ball right away and they executed that really well."
The Golden Eagles led early and cruised their way through the third and final set to complete the sweep of the Mariners.
Hayes said good communication and coming out aggressive helped Ferndale get the win. 
"We're really focusing on finding the court and really trusting our teammates, which is a big key," she said. "I think we're doing a really good job with all of it."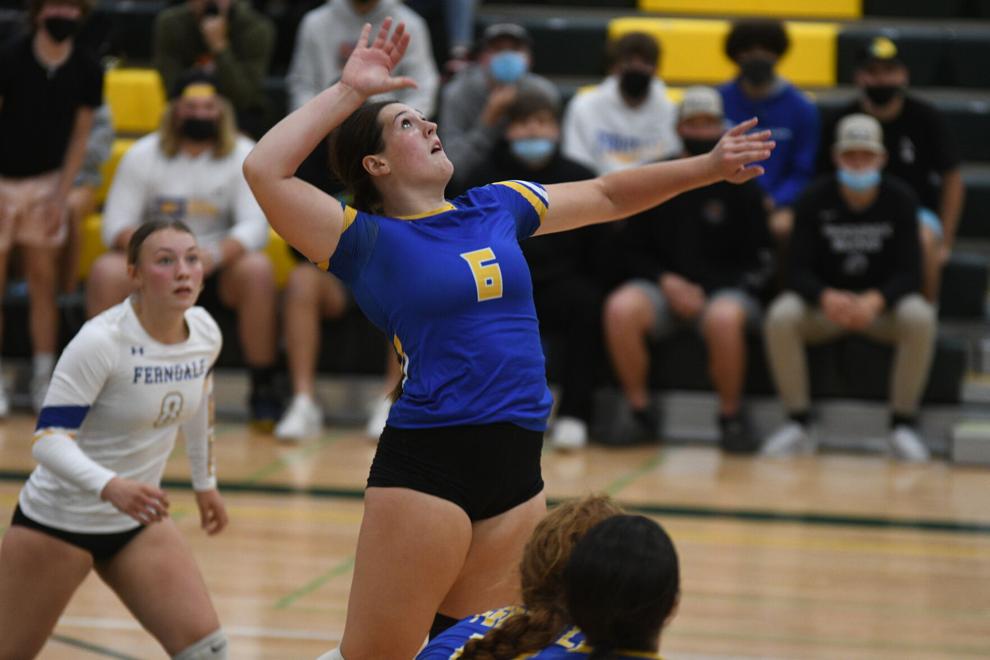 Hayes finished the match with a team-high seven aces to go with two kills and four digs. Sophomore Mallory Butenschoen led the team with 14 digs and also had two aces. Senior outside hitter Kaelee Bungard fired away for a team-high 11 kills.
Coming off a big win against Lynden earlier this week, Hoelzle said she thought a lot of that momentum carried over against Sehome. 
"We struggled in our first match against Baker, so resetting and playing as strong as we did in Lynden, I think there's been a little bit of a shift in their focus, their intensity, even in their celebrations," Hoelzle said. "I think they want something different than when they walked in at the start of the season and that will be the push toward postseason."
Ferndale will look to keep its hot start to the season rolling at 7 p.m. Tuesday night at home against Mount Vernon.