Alyvia Semu had 15 kills; Kaelee Bungard had three aces, six kills, 15 digs
OAK HARBOR — The Ferndale Golden Eagles looked a little rocky as they started against Oak Harbor Monday evening, but a time-out when Ferndale trailed 7-5 seemed to turn the situation around.
"Sometimes, this team just needs a little reminder of their worth, and that they're varsity-level elite athletes," head coach Patti Hoelzle said.
A kill by Avery Schneider started the Golden Eagles onto the right track, and they would tie the match at 9-9. The teams then traded points and leads battling to a 20-20 score. At the end, Alyvia Semu slammed home a kill, took over the serve, and Ferndale scored four consecutive points.
The Wildcats took the ball back before Semu could bring them to the magic 25, but an errant Oak Harbor serve did just that.
The Golden Eagles led early in the second set and managed to put it away, cleanly, along with the third.
Hoelzle said her team was quite tired on Mondayafter last week's tough matches against Lynden and Lynden Christian, but the fact that they didn't have to play Saturday was a big help.
"My girls were pretty tired and quite sore, so it was nice to have a weekend to rest," she said. "Monday games are always hard, especially driving down to Oak Harbor."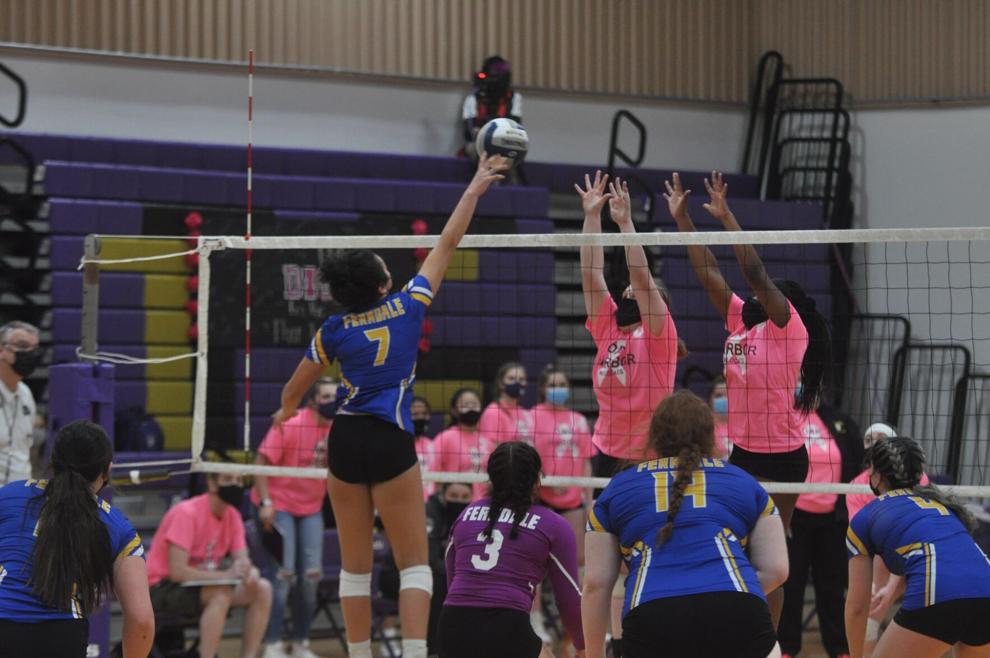 Part of the focus this week is on giving younger players some time on the court, Hoelzle said.
"It's our last week together, so we're just focused on having fun, making our teammates feel valued and getting some of our younger players in," she said. "That was our goal tonight and they all stepped in and played like varsity players. We have a lot of freshmen and sophomores on this team, so trying to develop this season is part of our goal this week."
Semu, a junior, said she appreciated giving some of the younger players some play time.
"It felt good," she said. "We got to have all the lowerclassmen on the court as well, so it was a really good team moment. We wanted to give them the opportunity this game. We wanted to work on growing as a team because next year we'll be playing together."
Semu finished the 3-0 shutout with 15 kills and six digs. Kaelee Bungard finished with six kills, 15 digs and three aces, and Liberty Miller also had 15 digs.
With the season winding down, Semu said she's sad it will be over with so soon after it started.
"Everything's just been jam-packed and it's pretty sad that we're ending soon, but it's just great that we get to play at all," Semu said.