Ferndale moves to 8-0, earns seventh straight sweep
FERNDALE -- The Golden Eagles continue to soar.
Ferndale has now won eight straight games to start the 2021 season, and they aren't just winning — they're dominating.
After another 3-0 win against Nooksack Valley on Thursday night, the Golden Eagles haven't lost a single set since their first match of the season. They began the year with a 3-1 victory over Mount Baker.
The team had three players finish with double-digit kills: seniors Kaelee Bungard, Alyvia Semu and Avery Schneider each had 10 on the evening.
Patti Hoelzle, Ferndale's head coach, said the team has been working hard in practice on their transition from defense to offense in order to set up their hitters.
"I was really proud of how my defense performed, we didn't let a lot of balls drop," Hoelzle said. "It's kind of just all of the puzzle pieces fitting together."
Despite the final score, the match was quite close for the first two sets. Ferndale seems to always get it in gear at just the right time.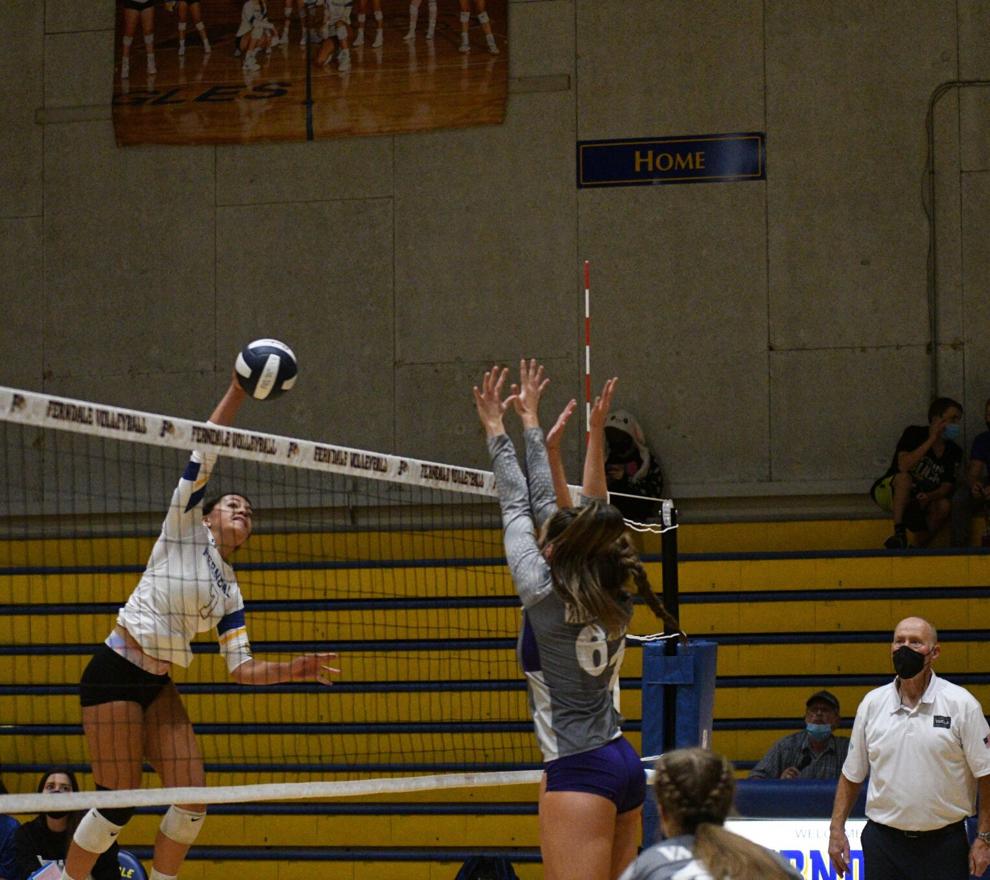 The first set began with Nooksack Valley jumping out to an early 5-1 lead. It was back-and-forth from there for the until the end approached. There were four lead changes and six ties in the initial set alone.
A 5-1 run by the Golden Eagles to go up 16-14 forced the Pioneers' first timeout. It was all Ferndale from there. They took the set 25-19.
The Pioneers had an early lead again the second, up 4-3. A 5-0 run by Ferndale brought a Nooksack Valley timeout. It was a hard-fought set by both teams for the remainder of the period.
Making a run of their own, the Pioneers tied the set at 21-all. Both teams exchanged a few more points, but Ferndale took the 2-0 lead with a 25-23 victory.
Ferndale began to run away with it in the third.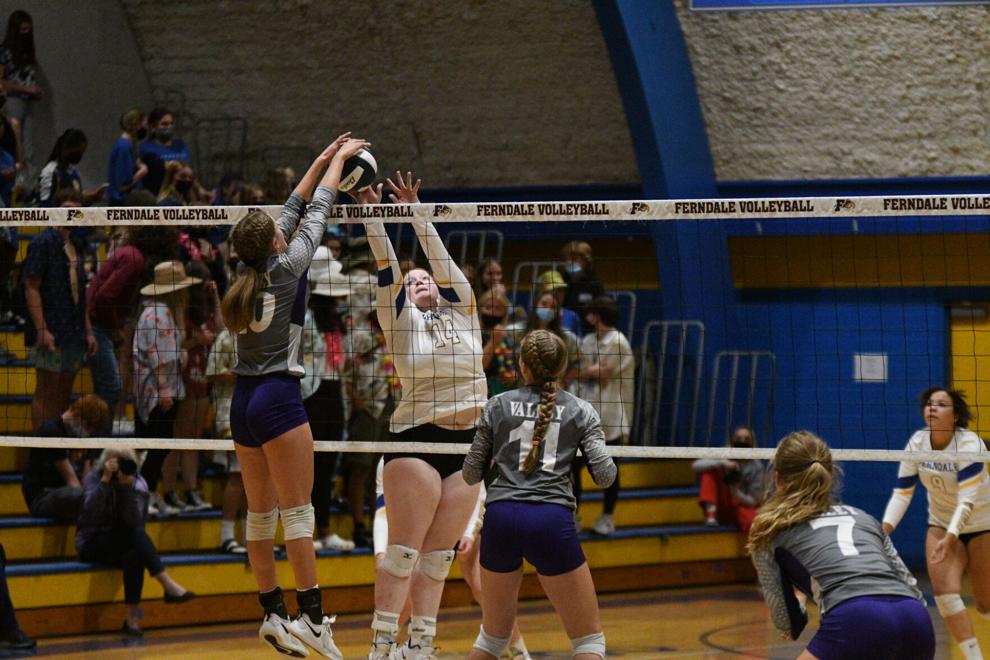 With junior Brookyln Cagle serving, the Golden Eagles sprinted out to a 7-0 lead. They kept that pace, stretching their lead to a 25-13 win in the third set.
Cagle finished the match with a whopping 40 assists and four aces, both team-highs. She added 13 digs to an already exceptional outing.
"[Brookyln] is so powerful that she can set sideline-to-sideline," Hoelzle said. "You saw it a couple times tonight, the defense is going one way and they don't have time to get all the way into their spots against the other pin hitter. So, it throws defenses off for sure."
Sophomore Mallory Butenschoen finished with a team-high 21 digs. Semu had nine digs of her own to bolster her evening as junior Morgan Hayes totaled four kills and eight digs.
For the Pioneers, sophomore Lainey Kimball and junior Hallie Kamphouse were tied for a team-high in kills with six. Senior Ellie Van Berkum led the team in digs with 19. Kamphouse and Kimball tallied 15 and 17 digs, respectfully, as well.
Katie Emmons, the Pioneers' head coach, said there were still plenty of positives to take away from the match. It's something they know they can learn from.
"They [Ferndale] have a lot of dynamic hitters," Emmons said. "That was something we were trying to adjust to, and account for, all night."
Nooksack Valley falls to 6-3 overall on the season and will host Lakewood on Monday, Oct. 11, for their next contest.
Ferndale travels to Burlington-Edison on Tuesday, Oct. 12, for a battle of two eight-win teams.
"Just like Nooksack had some strong hitters, we know that Burlington does too," Hoelzle said. "Burlington is one of the more disciplined teams that we play, so our offense might not work as well … we're ready for it, we're excited."